Attention Parents: Walmart Is Offering Deep Discounts on Baby Gear This Weekend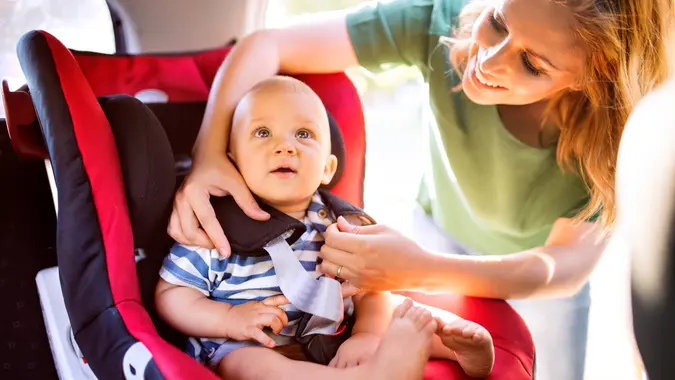 Halfpoint / Getty Images/iStockphoto
Parenthood's expensive and can cost around $233,000.
Walmart's baby item sale might help you in parental cost-cutting.
Amazon is also hosting its own baby-focused sale this month.
Parenthood can be hard, both on your emotions and on your wallet. Raising a child will cost you at least an estimated $233,000, according to a 2017 report from the U.S. Department of Agriculture. It doesn't really help that rearing children has only grown more expensive over time. The cost of raising kids jumped by about 40 percent between 2000 and 2010 alone. And babies, with their constant need for attention, necessitate spending money to replace baby items.
Fortunately, Walmart has you covered for postnatal purchases with its online Baby Savings Days sale, running until Feb. 28.
Expecting Parents, Check Out: 15 Real Parents Share the Best Money Moves They Made Before They Had Kids
Walmart Baby Items Sale
Walmart's Baby Savings Days sale lets shoppers and new parents take up to 30 percent off on essential baby items, such as strollers and cribs. Some of the deals going on right now include:
Make Your Money Work for You
Target, Walmart, Best Buy and More: Your Complete Price-Matching Guide
Walmart Baby Savings Day
In addition to its online baby sale, Walmart also announced a Baby Savings Day sale at its brick-and-mortar stores, taking place on Feb. 23. Many of the same items online will also be on sale in store. There will be roughly 3,000 participating Walmart locations. Call your local Walmart to see what deals you can snag.
Don't Miss: Comparing Grocery Buys at Target and Walmart, Section by Section
Amazon Baby Sale
Never one to be outdone when it comes to shopping, it looks like Amazon is having its own baby sale as well. The Amazon February Baby Sale will let shoppers save up to 20 percent on baby essentials. Some of those deals include:
Find out the Walmart shopping tricks that get you the most bang for your buck.
More on Money
We make money easy. Get weekly email updates, including expert advice to help you Live Richer™.
Deals and prices are accurate as of Feb. 21. Prices are subject to change.