When Is the Best Time To Buy Christmas Presents at These Popular Stores?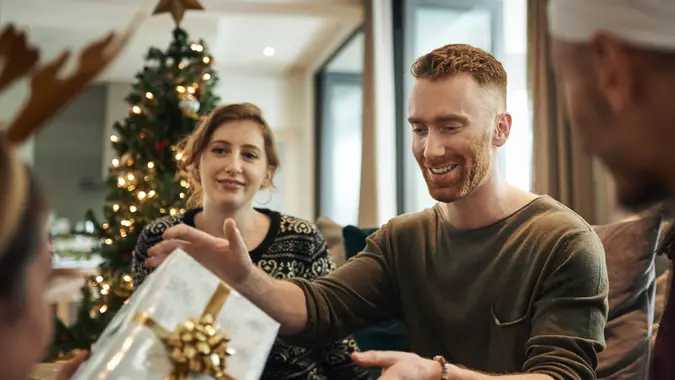 mapodile / Getty Images
It wasn't that long ago that holiday shoppers in search of great deals would scour the Black Friday ads while the Thanksgiving turkey cooked, circle the best buys and figure out a shopping strategy that sometimes included camping out overnight at a big-box store to grab something like that big-screen TV your family wants at an unheard of price.
Those days are gone.
Retailers now run early Black Friday sales throughout the weeks leading up to Thanksgiving weekend, with items conveniently available online, too, meaning you don't have to fight the crowds. And while one sale blends into another throughout November, some stores still have promotions so good that you won't want to miss them. Here's what you need to know about the new normal at your favorite holiday haunts and when you can expect the discounts to be deepest.
Amazon: Look Right Now
Amazon's Prime Days came and went in October, but that doesn't mean you won't find great holiday deals at the online giant. Amazon has early Black Friday deals that offer significant discounts, with some items as high as 78% off.
The deals are throughout the site from electronics to apparel to exercise gear to home décor. And absolutely everything in between.
Target: Shop on Sundays
Target is offering early Black Friday deals throughout November, and new weekly specials take effect each Sunday, through Thanksgiving weekend. Offers include discounts on what Target says are "new and popular items," which include toys, electronics and everyday essentials. You can get a sneak peek at the weekly ad on the Target website beginning the previous Friday. As an example of a previous ad item, Target offered 50% off the Beats Solo 3 bluetooth wireless headphones, slashed by $100 to $99.99.
Make Your Money Work for You
If you can't wait until the weekend to shop, Target is offering a Deal of the Day available in store and online. A new deal will be unveiled daily through Dec. 24, and the savings can be significant.
With Target's Price Match Guarantee, you'll be assured you won't pay more than you have to at items you buy at the store. If Target drops the price on something you already bought this season in store, it will refund the difference until Dec. 24.
Walmart: Three Events Kicking Off Nov. 7
Walmart is bringing back "Black Friday Deals for Days," which debuted in 2020 and continued last year. 
The world's largest retailer promises that it will squeeze its best deals of the holiday season into three events in November, followed by Cyber Monday.
Event 1 (Deals begin online Nov. 7 at 7 p.m. ET and continue in stores Nov. 9): Walmart+ Early Access runs noon to 7 p.m. ET on Nov. 7.
Event 2 (Deals begin online Nov. 14 at 7 p.m. ET and continue in stores Nov. 16): Walmart+ Early Access runs noon to 7 p.m. ET on Nov. 14.
Event 3 (Deals begin online Nov. 21 at 7 p.m. ET and continue in stores Nov. 25): Walmart+ Early Access runs noon to 7 p.m. on Nov. 21.
Cyber Monday (Nov. 28): Walmart will close out its month of savings with its Cyber Monday event.
Walmart teased some of the Nov. 7 deals on its website, and they include the Shark Pet Cordless Stick Vacuum, priced at $144 instead of $259, as well as a 55-inch TCL smart TV for $188.
Kohl's: Throughout November
Like Walmart, Kohl's is holding a month full of events in November, offering holiday savings to go along with Kohl's cash and 5% rewards for Kohl's Rewards members. The rewards earned in November are redeemable in December to help with that final shopping push.
The retailer's Black Friday Early Access sale is going on now through Nov. 10. On top of sale prices, shoppers will get an extra 15% off purchases in store and online and earn $10 in Kohl's Cash for every $50 spent.
Make Your Money Work for You
That sale is followed by two weekends Kohl's is calling Dashing Deal Days. Nov. 11 to 12 and Nov. 18 to 19, with special promotions even extending throughout the week. The highlights:
$10 Kohl's Cash earned for every $50 spent from Nov. 11 to Nov. 17
$10 off a $25 purchase Nov. 11 to Nov. 12
Extra 20% off purchases Nov. 11 to Nov. 19
30% off in-store purchases for active and former military personnel, veterans and their families from Nov. 11 to 13. Valid military ID is required.
All of that leads up to Black Friday sales that begin Nov. 20 and wrap up on Nov. 25. That week, customers in store and online can save an extra 15% on purchases and earn $15 for every $50 spent. Kohl's promises the best deals of all are to come online on Thanksgiving Day and continuing onto Black Friday with its "Flash Steals."
Cyber Days begin Nov. 26.
JCPenney: Keep An Eye on Nov. 18
JCPenney currently is offering select Black Friday deals online and in the store each week in November, but shoppers will get the most bang for their buck beginning Nov. 18. That's when members of the rewards program – it's free to join – will receive $10 in rewards for every $50 they spend on Black Friday sales through Nov. 30. The full Black Friday ad is available on the store website now to help customers make early shopping decisions.
Best Buy: Early Black Friday on Nov. 20
If you're in the market for tech gifts, it's hard to compete with Best Buy's holiday deals. While the retailer began offering holiday shopping deals last month, Best Buy goes into high gear on Nov. 20 with the early launch of the Black Friday sale.
Make Your Money Work for You
Best Buy Totaltech and My Best Buy members have exclusive access to some of the best deals on most Mondays throughout the season. On select Mondays, Totaltech members will have the chance to buy some of the hardest-to-find items on holiday wish lists, Best Buy announced.
More From GOBankingRates