Whole Food Grocery Deliveries Are Now Available Without Amazon Prime Membership — Is It Worth It?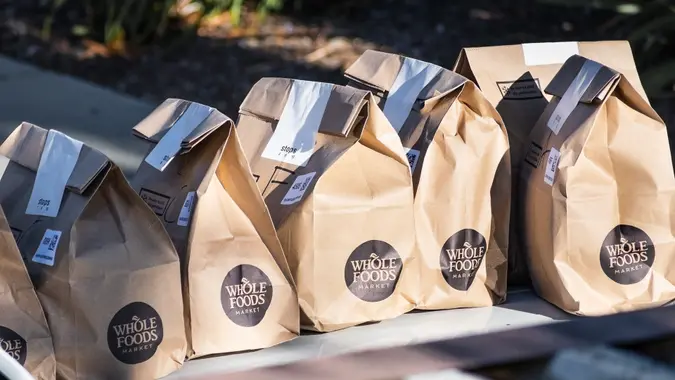 Sundry Photography / Getty Images
Amazon announced the expansion to non-Prime members of its grocery delivery and free pickup available to all customers "in all U.S. cities and towns where Amazon Fresh is available for Prime members," according to a Nov. 9 statement.
"This service expansion, previously available only to Prime members, makes it easier for all customers to get their grocery needs met both in-store and online," Amazon said in the statement.
The company said that a similar option will "soon" be available to Whole Foods shoppers, as well, but didn't provide a specific timeline for non-Prime members in the statement. It noted, however, that once fully launched across all Whole Foods Market locations, customers in more than 3,500 cities and towns across the U.S. will have access to two-hour grocery delivery from Amazon Fresh or Whole Foods Market.
"We're always looking for ways to make grocery shopping easy, fast, and affordable for all of our customers. Now, all customers can order groceries online for delivery or pickup from Amazon Fresh across the U.S., with Whole Foods Market coming soon — even if they don't have a Prime membership,"  Claire Peters, vice president of Amazon Fresh,  said in the statement. "This marks another step in Amazon's journey to build a best-in-class grocery shopping experience offering incredible selection, value, and convenience."
As Bloomberg reported, non-Prime members will be charged $4.95 to $13.95 for delivery. Meanwhile, Prime members now pay $6.95 to $9.95, with free deliveries with orders over $100.
In contrast, Walmart is cheaper, as a Walmart+ membership is $98/year and grocery delivery is free for orders at $35 and up, according to TechCrunch. Meanwhile, Walmart's non-members also pay less, at $7.95-$9.95 for delivery fees.
Make Your Money Work for You
More From GOBankingRates