How the Pandemic Hurt Travel Hotspots Like New York and Hawaii — and What Their Recovery Looks Like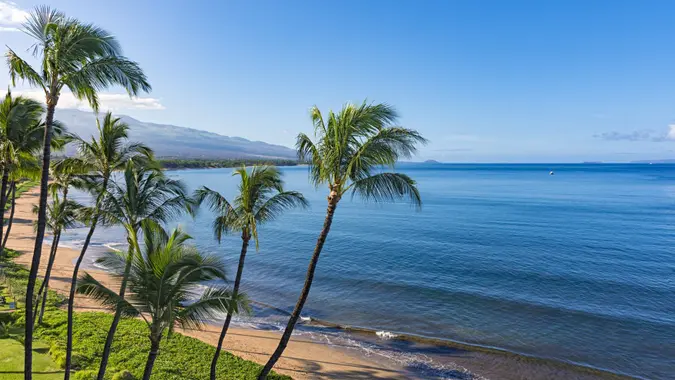 SMJoness / Getty Images/iStockphoto
When the pandemic shut down the world in March of 2020, the tourism industry came to a screeching halt. Popular U.S. destination cities like New Orleans that were used to raking in billions of dollars a year from people visiting from outside the area, were now pulling in pretty much nothing from tourists — for months. The city — and the state of Louisiana in general — was hit hard, and as a result, local businesses suffered.  
Keep in Mind: 13 Insider Secrets From Travel Agents That Will Save You Money
Read: The Best and Worst Airlines for Cheap Flights
"According to the U.S. Small Business Administration, in 2019, Louisiana had over 400,000 small businesses that employed over 50% of all Louisiana employees," Billy Nungesser, the lieutenant governor of Louisiana, told GOBankingRates. "Many of those were in or associated with our tourism industry."
These small businesses associated with tourism clung to life in the Bayou State and are now, as Nungesser describes them, financially fragile. 
"While the world was dealing with the pandemic, Louisiana was also hit by six hurricanes, two of them major, in a little over a year," Nungesser said. "Our seafood industry has been greatly impacted and is recovering from the storms. Many people come to Louisiana for our abundance of fresh and delicious seafood. Many of these fishing communities [consist] of small mom and pop businesses who supply restaurants in New Orleans and throughout the state with seafood."
Make Your Money Work for You
Driving Problems: How To Save Money on Rental Cars for Your Upcoming Trip
US Tourism Jobs Were Pummeled in 2020
In 2020, travel and tourism jobs within the U.S. as a whole slumped by 33.2% to 11.1 million (making up 7.5% of total U.S. employment). Globally, the tourism sector lost around 62 million jobs that year — a drop of 18.5% — according to the annual Economic Impact Report (EIR) from the World Travel & Tourism Council. 
This loss was felt sorely in places like New Orleans, where Nungesser said tourism is the largest employer — sustaining 62,000 hospitality jobs and saving every New Orleans household $3,587 in taxes.
"Tax revenues that New Orleans receives from tourism activities helps to make New Orleans a better place," Nungesser said. "As tourists spend in our city, we are able to afford more and more resources from the taxes they pay."
Indeed, New Orleans isn't the only touristy area in the U.S. that was all but decimated by the pandemic. Other globetrotter hotspots like Hawaii, Florida and New York were also crushed. 
Find Out: 35 Things Your Hotel Will Give You for Free
Make Your Money Work for You
Tourism Makes Up a Giant Chunk of State Economies
"In Hawaii, tourism makes up 21% of the state's economy, [with] tourists spending nearly $20 billion there each year — which brings in more than $2 billion in tax revenues each year," said Randall "Mr. Beach" Kaplan, a travel and beach expert. "It's similar in Florida: In 2019, 131.4 million visitors contributed $91.3 billion to Florida's economy, and tourism supported more than one and a half million jobs there. Its tourism industry brought in more than $6 billion in state taxes, and more than $5 billion in local taxes."
New York also saw its local economy painfully disrupted by the sharp decline in tourism.
"New York had 67 million tourists in 2019, which brought in tourism revenue of $80 billion," Kaplan said. "In 2020, the number dropped to 22 million, and tourism revenues fell to $20 billion."
When tourism in a certain area plunges, it's not just local jobs that become endangered; the health of the state's entire economy is flung into jeopardy. 
Small Businesses Suffer Most Profoundly
"Local economies have tremendous difficulties with fluctuating tourism," Kaplan said. "Millions of tourism-related businesses laid off or furloughed tens of millions of employees during Covid, and as unemployment skyrocketed, many millions of businesses closed their doors. This had a huge ripple effect on local economies. People who lost their jobs stopped spending, and states and cities saw tens of billions of dollars less in tax revenues."
Make Your Money Work for You
"When people think about how travel affects a local economy, most people think about the airlines and hotel industries," Kaplan said. "But what most people don't realize is that the travel industry is 83% small businesses such as restaurants, local merchants, tour guides — and the owners of these businesses don't have the resources or savings to survive."
States Reliant on Tourism Have Reason To Be Optimistic
Now that the U.S. has reopened its borders to international travelers, tourism is angling for a strong comeback. 
"We are just beginning to emerge from Covid in regards to tourism," said Jack Samuels, professor of hospitality and tourism at Montclair State University. "Hawaii has had continuing restrictions but they have made them better recently. Of course, as of November 8, America was reopened to foreign travel. When that occurred, we had a 450% increase in airline bookings from overseas." 
Interestingly, a tourist isn't technically defined as merely a visitor, at least, not in the hospitality industry. 
Make Your Money Work for You
"A tourist is defined as someone who stays overnight and is at least 100 miles away from home," Samuels said. "If they do not meet these qualifications, we usually call them excursionists."
During the peak of the pandemic, we saw a lot of excursionists, like people taking road trips, but not a lot of actual tourism. That seems to be turning around now. Travel bookings are soaring, even during months that are normally quiet. 
"In normal years, we see travel tail-off as summer turns to fall — kids are back in school, the weather cools off, and family vacations aren't happening," said Laurel Greatrix, vice president of communications and brand at Viator. "But this year, we saw the opposite — as Delta waned, travel bookings climbed." 
Greatrix noted that interest in domestic destinations remains high, as does surging interest in Europe. 
"During lockdown, travelers craved experience and adventure. That unfolded into unprecedented demand this summer in the places where restrictions eased the earliest: the U.S. and the Caribbean," Greatrix said. "Demand isn't dissipating as it normally does this time of year; instead, it's spreading across both seasons and regions. For example, even into October, Oahu is still one of the highest outperforming locations for Viator experiences with a nearly 500% increase over 2019. As vaccination rates rise globally, we are finding that bookings are increasing all across the world."
Make Your Money Work for You
More From GOBankingRates