Travel Experts Reveal the 11 Best Ways To Save On Your Next Vacation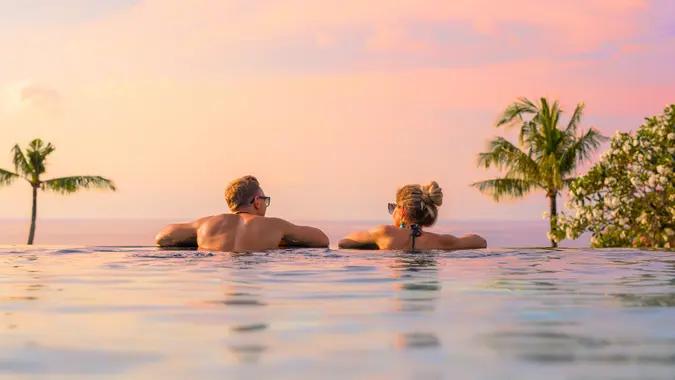 grinvalds / Getty Images/iStockphoto
Taking a staycation isn't the only way to save on travel costs this year. Whether you want the best ways to save money on vacation or you want to book a vacation for cheaper, there are many frugal paths to take. Keep reading to find out the best way to save for vacation.
11 Best Ways To Save For Vacation
When you want to start saving for your dream vacation it's important to set savings goals and stick to the strategies that will help you reach them. Whether it's earning extra cash or checking what your credit card offers for traveling, there are many options out there. Here are 11 best ways to save for vacation: 
Create a budget for your vacation early
Start a side hustle
Use credit card cash-back rewards
Skip hotels for short-term vacation rentals
Have flexible travel dates and locations
Stay in your connecting city
Keep a vacation high-yield savings account
Get a rental car for more days to get a discount rate
Find cheap plane tickets on Twitter
Use air miles to book two one-way tickets
Travel shortly after peak season
1. Create a Budget for Your Vacation Early 
One of the best ways to build a budget and start saving money for your vacation is to break down your paycheck into percentages. For example, a 50/30/20 budget breaks your spending into needs, wants and savings. When using this budget, you divide your after-tax income between each of the three categories:
50% is allocated to needs such as rent, mortgage or utilities.
30% is dedicated to wants such as dining out or gym memberships.
20% goes to savings, which in this case would be for your pending vacation.
As travel technically falls under the "want" category you could also put some of the 30% toward your vacation fund.
2. Start a Side Hustle
To earn some passive income to set aside for just your dream destination, you could start an easy online side gig. Your regular salary can be put towards all of your needs and important expenses, but your side hustle money can be exclusively for your travel fund. Here are some examples of easy ways to earn some extra cash:
Complete online surveys
Dropshipping
Online focus groups
Open an e-commerce store
Teach online courses
Make Your Money Work for You
3. Use Cash-Back Rewards on Credit Cards
Robert Firpo-Cappiello, editor-in-chief of Hospitality Technology at EnsembleIQ, has some advice for those looking to take advantage of credit card travel rewards. "Credit cards are the budget traveler's best friend and worst enemy," he said. "The right airline rewards card will shower you with free rewards points, free baggage checks and members-only deals. But, never borrow more than you can repay — otherwise, you'll end up paying for your trip many times over."
4. Skip Hotels for Short-Term Vacation Rentals
La Carmina, a top travel blogger and TV host, has found a happy medium between pricey hotels and crowded hostels. "Consider short-term apartment rentals," she said. "I've been able to rent spacious apartments in central locations for the price of a hostel stay."
5. Have Flexible Travel Dates and Locations
Johnny Jet, a travel blogger, plans his trips around which days and airports are offering the best prices. "My best tip is to be flexible," he said. "Not only with dates — fly Tuesday, Wednesday or Saturday — but times and airports. This is the best way to save on travel."
6. Stay In Your Connecting City
Kristin Wong, writer and journalist, offers a controversial piece of budget travel advice for how to save money on vacation. "Sometimes it's cheaper to book a flight where your destination city is actually the flight's connecting city," she said. "So, if you're flying to Phoenix from New York, you might actually find a cheaper flight from New York to LA with a stop in Phoenix."
Make Your Money Work for You
If you aren't sure how to book this type of flight, try Skiplagged, which finds these flights for you. "It's not an illegal practice, but the airlines hate it," said Wong. In fact, United Airlines tried to sue Skiplagged, but the lawsuit was dismissed.
If you're going to try this tip, just remember to travel light. "You don't want to check a bag that goes to the destination city when you're getting off at the stopover."
7. Keep a Vacation High-Yield Savings Account
Firpo-Cappiello offers a simple tip to make saving money for vacation practically mindless: open a vacation high-yield savings account rather than just keeping your money in a standard savings or checking account.
"Avid travelers should open an old-fashioned passbook saving account at a bank that is not convenient to get to," he said. "Put a portion of each paycheck away, and watch it grow until you're ready to travel — $100 per month for a year can pay for airfare almost anywhere."
8. Get a Rental Car for More Days to Get a Discount Rate
Surprisingly, you might be able to save money on a car rental by committing to a longer rental period.
Jeanette Pavini, Emmy Award winning investigative reporter, offers this tip. "Most rental companies start offering the weekly discount rate when you rent for a minimum of five days," Pavini said. "It might be worth it to rent the car for longer than you need just to qualify for this discount. I have done this myself and received a better rate for the week rental."
Make Your Money Work for You
Money Saving Expert Tip: Avoid One-Way Car Rentals

When renting a car, you can save money by avoiding one-way rentals. "While most companies let you return a car to any of their locations, you might pay for it," said Pavini. "Return the car to the same place you rented it from, or pay around twice as much."
9. Find Cheap Plane Tickets on Twitter
Ryan Gargiulo, blogger at Pause the Moment, recommends using Twitter to find deals on airfare. "A great way to save money on flights is to utilize Twitter lists and follow accounts such as @TheFlightDeal and @FareDealAlert," he said. Fire up those smartphones to save money for your vacation.
10. Use Air Miles to Book Two One-Way Tickets
If you want to use airline miles to book your summer travel, then follow this piece of advice from Jeffrey Ward of Savvy Navigator.
"Remember that seats open up 330 days (11 months) ahead of time," he said. "Book one-way awards exactly on the date that your seats open up for your outbound flight, and then another one-way award for your return trip home, however, many days or weeks later from the outbound."
11. Travel Shortly After Peak Season
Another way to save for vacation is to travel close to, but not during, peak travel season. When researching your vacation dates, find out when peak season is for your destination and book your trip closely after. You should be able to save a large chunk of money.
Final Take To GO 
Planning early for your trip can help you get a jump start on your dream vacation fund. Not only can you develop strategies to save while booking your next vacation but you can also devise plans to save during your vacation as well. The more you save on one trip will only help better set you up for the next one. 
Make Your Money Work for You
FAQ
Here are the answers to some of the most frequently asked questions regarding saving for a vacation.
How much money should I save for vacation?

Though it can vary greatly depending on what type of vacation you want to take and what your personal financial situation is, it's recommended you should save 10% to 15% of your net annual income.

Is $5,000 enough for a vacation?

Yes, $5,000 is enough for a week-long vacation or possibly more. Often, with this amount of money, you can afford an all-inclusive resort as well as pay for several day trips and excursions.

How do you do the 50/30/20 rule?

The 50/30/20 budget rule allocates percentages of your income to needs, wants and savings. When using this budget, you divide your after-tax income into 50% for needs, 30% for wants and 20% for savings.
Caitlyn Moorhead contributed to the reporting for this article.
Our in-house research team and on-site financial experts work together to create content that's accurate, impartial, and up to date. We fact-check every single statistic, quote and fact using trusted primary resources to make sure the information we provide is correct. You can learn more about GOBankingRates' processes and standards in our editorial policy.