The Way We Vacation Now: Survey Reveals Surprising Trends in Vacations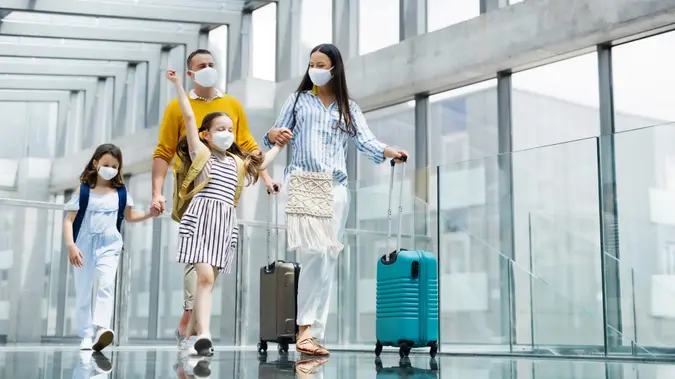 Halfpoint / Getty Images/iStockphoto
If COVID and crowds weren't considerations, travel expert Lauren Monitz would love to board a plane for Africa, Antarctica, or another big bucket list destination. But the Texas-based writer and social media strategist's latest vacation was a modest road trip to the neighboring state of Oklahoma that cost less than $1,000.
"I personally feel a bit uncomfortable in crowds still, so I'm seeking out places I know won't be packed and trying to find more off the grid, lesser known vacation spots," said Monitz, who writes about travel at The Down Lo.
Travel Prep: 10 Financial To-Dos Before Going on a Trip
See: 40 Pandemic Airport Secrets Only Insiders Know
She will be taking some domestic flights in the near future for work and family-related "oblication" trips, but is wary of unruly fellow travelers and cancelled flights.
"I'm preparing for the worst and hoping for the best. Personally, flying seems like more of a hassle than not lately, so I'm holding off on more long-haul trips," said Monitz, who's visited more than 35 countries to date.
Make Your Money Work for You
Many Americans share similar sentiments according to a recent survey by GOBankingRates. Road trips ruled for respondents who vacationed between July 2020 and July 2021, with 55.6% reporting they took their latest trip by car and 4% saying they traveled by RV. Another 3% traveled by bus, with 33.2% flying to their last vacation destination. Survey data from travel industry leaders including Airbnb and insurance provider Allianz Partners, also reported a strong trend toward domestic travel.
More: Road Trips Rule: Survey Indicates Road Trips Will Dominate Travel
Wow: The Death of Vacation Travel? Survey Shows Bad News for Travel Industry
"The pandemic made people think outside of their traditional trips. Our survey found that domestic travel won big over foreign trips as the uncertainty over foreign destinations kept Americans closer to home," said  Daniel Durazo, the company's U.S. director of marketing and communications. "Americans are eager to experience everything that the country has to offer, and that includes hotels in every price range and rental accommodations that bring them closer to the community they are visiting."
Hotels were the single most common accommodation choice in the GOBankingRates survey, with 47.8% of people who vacationed in the last year booking a room, But, when combined, other options proved more popular, with 15.4% choosing a short-term rental option like Airbnb, 8.2% camping or staying in an RV and  28.6% opting to stay with friends and family.
Make Your Money Work for You
Helpful: 13 Insider Secrets From Travel Agents That Will Save You Money
Find Out: 35 Things Your Hotel Will Give You for Free
"Visiting family and friends has historically been the top reason for leisure travel. This was accentuated even more prior to the rollout of the vaccines, where for many months there was limited ability to safely see friends and loved ones," said Tori Emerson Barnes, executive vice president for public affairs and policy at the U.S, Travel Association, a non-profit travel industry trade group.
A January report from Airbnb found taking trips to spend time with family and friends was the type of travel survey respondents missed most, with 51% saying they planned to visit immediate family first, 39% planning to see friends, and 33% vying to see extended family on their next trip. Once people were able, many rushed to reconnect with friends and family they may not have seen for months.
Read: 5 Ways Your Vacation Will Cost More Because of the Pandemic
Important: Why You Should Consider a Travel Agent To Book Post-Pandemic Travel
Make Your Money Work for You
Barnes said short-term rentals also experienced a surge in demand in the last 18 months and have fully recovered and even surpassed 2019 levels of demand, with occupancy reaching an all-time high of 70% in June 2021, 20% higher than June 2019. But experts say hotel demand is bouncing back as leisure travelers begin to adapt to pandemic travel and extend their travel goals beyond family visits.
"While many travelers preferred the ability to isolate their travel parties in vacation rentals, hotel demand is also strong," Barnes said, adding that a recently released report from the hospitality analytics firm STR actually upgraded its 2021 hotel forecast for the second time in three months, citing a surge in demand even though business and group travel is still lagging behind pre-pandemic levels.
Read: Cheap Places To Travel On $100 a Day Or Less
Learn: 35 Things Your Hotel Will Give You for Free
Stricter pandemic protocols for cleaning have helped drive demand, according to Stephen Au, a travel consultant and contributor to the travel site Upgraded Points.
"I think people were skeptical of the cleanliness practices implemented by hotels, but this is changing quickly with new, standardized programs being pushed out by large hotel brands," he said.
Deep discounts also tempted them to book rooms and routes, with 16.6% of GOBankingRates survey respondents saying hotel discounts were their biggest incentive to travel in the last year and 13.6% citing flight deals. Savvy shoppers who booked late last year or early in 2021 were likely able to score deals because of continued uncertainty about COVID and its impacts on summer travel, said Barnes.
"While deals and discounts are top motivators for travelers, travel discounts were harder to come by in recent months with summer leisure demand at record levels and many travel organizations facing supply constraints in terms of rooms available, air routes, and labor," she said.
Avoid: 30 Locations With the Priciest Vacation Rentals
Research: The Best and Worst Airlines for Cheap Flights
Many GOBankingRates survey respondents also cashed in credits for postponed or cancelled trips and redeemed reward points from airlines and credit card companies to pay for trips, with 54.2% using one of the three methods to cover at least part of their travel costs.
"A lot of travel credits issued during the pandemic were set to expire this year, so it's no surprise that people are using them up — even for travel later this year or next year. After all, it's better to use rewards for speculative travel than to let them expire," said travel expert Holly Johnson, co-founder of the travel and finance site Club Thrifty.
Savings accounts fortified by stimulus checks and the forced frugality of the pandemic lockdown also helped fund trips, with 58.4% of survey respondents saying they used savings to pay for part of their trip and 18.4% taking advantage of tax refunds and stimulus cash. Like Monitz, they also kept travel spending modest, with 41.2% spending $1,000 or less on their last vacation. Industry experts expect demand to keep climbing as consumers gain the confidence to take the trips they dreamed of — and saved for — during lockdown.
Find Out: How To Save Money on Rental Cars for Your Upcoming Trip
Advice: 10 Money-Saving Summer Travel Tips Only Insiders Know
Allianz Partners' data published this month indicated 66% of its customers anticipated taking a trip before the end of October compared with 22% who said they planned to take a trip within three months in a similar survey conducted in February. Domestic travel still dominated destinations in the August poll, with 55% saying they planned to stay in the continental U.S. The GOBankingRates survey also found 25.2% of respondents would choose to vacation in the continental U.S., even if cash and COVID weren't a concern, Europe ranked as the second choice at 18.6 %.
"This is a somewhat surprising result. I would've expected Europe or other international destinations to represent a higher percentage," said travel consultant Au. "This is perhaps because the general population as a whole is still not comfortable with the idea of 'post-pandemic travel' and are therefore anxious about traveling too far."
More From GOBankingRates
Methodology: GOBankingRates surveyed 500 Americans aged 18 and older from across the country, asking six different questions: (1) How much did you spend on your last vacation?; (2) How did you travel for your last vacation?; (3) Where did you stay on your last vacation?; (4) How did you pay for your last vacation? (Select all that apply); (5) What was your biggest incentive to travel?; and (6) If money and COVID/health restrictions were no object where would you choose to go on vacation?. All respondents had to pass a screener question of: Have you taken a vacation in the past year (July 2020 – July 2021)?, with an answer of "Yes". GOBankingRates used PureSpectrum's survey platform to conduct the poll.
Make Your Money Work for You