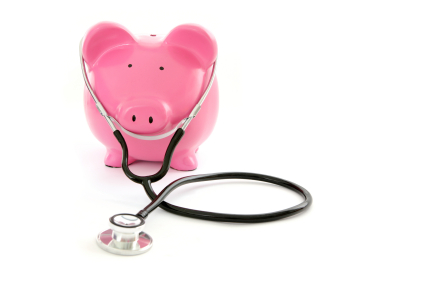 The health insurance industry has been gradually implementing the new laws set in the health reform bill. Changes to America's current health care system now allow millions of people to get the medical coverage they so desperately need.  However, now that having health insurance is mandatory for American citizens, figuring out how to pay for it is a top concern for many. A health savings account is one of the tools that can be used to plan for this new expense.
What is a Health Savings Account?
Health savings accounts (HSAs) have only been around since 2003, when President Bush signed the Medicare Bill.  The U.S. Treasury explains these specialty accounts have been "designed to help individuals save for future qualified medical and retiree health expenses on a tax-free basis."
10 million U.S. workers and their families
who have opted into high-deductible plans. The reserves can be used to pay for additional expenses not covered by the insurance policy.  Almost anyone (except for Medicare recipients or dependents) can open and make
HSA contributions
as there are no income or age limitations.
HSA Contribution Limits
As of 2013, HSA contribution limits are $3,100 for individuals and $6,250 for families.
HSA Minimum Deductible & Maximum Out-of-Pocket Expenses
The minimum annual deductible to use a health savings account is $1,250 for individual coverage and $2,500 for family coverage. Total annual out-of-pocket expenses can't be more than $6,250 for individuals and $12,500 for families.
Health Savings Account Pros and Cons
Pros of HSAs
Deposits into a health savings account are tax-deductible.
Withdrawals used to cover qualifying medical expenses are not taxed.
Interest earned is tax-deferred, and if used to pay for qualifying medical expenses, tax-free.
Those over age 55 can add an additional $1,000 to HSA contribution limits.
Some employers may make additional contributions to an employee's HSA as a perk.
Health savings account interest rates tend to be higher than typical savings accounts.
HSAs can be inherited.
Unlike a Flexible Spending Account, they money you deposit is yours forever.
Cons of HSAs
Since one's health is unpredictable, this cushion may not accurately prepare for future expenses.
Maintenance fees for HSA accounts can be high.
Only high-deductible insurance plan holders qualify.
Studies show those with an HSA go to the doctor less

If the HSA savings are not applied to appropriate medical expenses, penalties and a 10% tax will be assessed
There are two ways to contribute to an HSA: An employee may have a portion of each paycheck deducted or an individuals can establish an account and make deposits on their own. Either way, there are tax benefits associated with making HSA contributions. Employers cannot tax money allocated for HSA contributions and individuals can write-off the expense as an "above the line" deduction on tax forms.
Additionally, HSA accounts are indexed for cost of living increases so over time, you can save even more money and reap the rewards of your HSA account.