GameStop Investors Could Be in for a Tax Surprise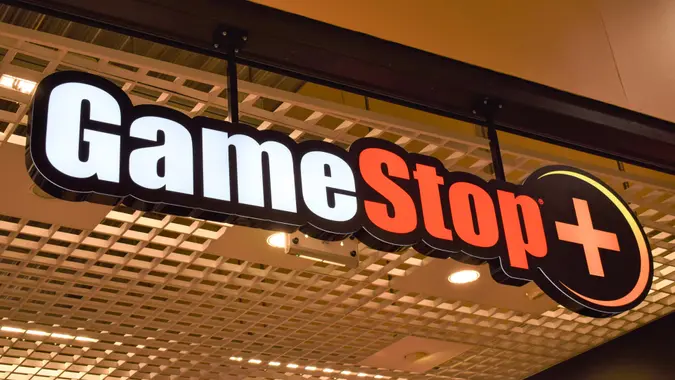 SiljeAO / Shutterstock.com
Perhaps more than anything else, the GameStop saga raised awareness about retail stock trading, the potential to make lots of money quickly and, as many learned as the stock began to fall almost as quickly as it rose, the risk of losing big, too. But for those who cashed out after turning their thousands into hundreds of thousands — or tens of thousands into millions — they might be facing a springtime surprise next year: capital gains tax.
See: 15 Best Tax Tips for Investors
Find: Your Step-by-Step Guide to Approaching Taxes in 2021

What Is Capital Gains Tax?
Capital gains tax is money you owe based on profits from assets you sold. If you've ever sold a home and didn't use all the money to pay off your mortgage and put a down payment on a new home, you probably had to pay capital gains tax on the profits. If you lived in that home for more than a year, you were taxed at a rate of 0%, 15% or 20%, depending on your overall taxable income.
If your income is less than $80,000, you may not have to pay capital gains tax on long-term investment profits at all. If you made $80,000 or more but less than $441,450 (single or $496,600 for married filing jointly) you'll be taxed at a rate of 15%.
If your income exceeds these thresholds, you could pay capital gains of 20% or more.
See: It's Not Too Late to Get These Tax Breaks for 2020
Find: Why You Should Start Thinking About Your Taxes in February
But short-term capital gains, or investments held for less than a year, are subject to short-term capital gains taxes, which are taxed based on your income tax bracket. That means those in the highest tax bracket could pay up to 37% on their GameStop stock earnings if they didn't hold the stocks for 12 months prior to selling.
"Massive gains are great, but the recent trading frenzy is going to bring out a lot of short-term taxable gains, which have a much higher tax liability than the long-term capital gains many investors may be used to," says Tony Molina, CPA, a product specialist manager at the fintech company Wealthfront. "But the good news is that there are ways to offset these gains to potentially lower your tax bill." 
See: What Are the 2020-2021 Federal Tax Brackets and Tax Rates?
Find: Here's How to Cheat Your Tax Bracket — Legally
The Good News About Capital Gains Tax
As Molina suggests, there's some good news about capital gains tax and the tax brackets. Because the IRS uses marginal tax brackets, even if a well-timed sale of your stock turned you into an overnight millionaire, you're only taxed at the highest tax rate on income that falls into that bracket. In other words, the first $9,950 of your income is taxed at 10%, income between $9,950 and $40,525 will be taxed at 22% in 2021, and so on. Any income over $523,600 ($628,300 for married couples filing jointly) gets taxed at the highest rate of 37% in 2021.
If this sounds confusing, well, that's one reason people use tax software to calculate their tax bill or tax refund automatically. But if your earnings will be significantly higher in 2021 due to short-term capital gains, it's wise to consult with a tax accountant.
See: How to File Self-Employment Taxes: A Step-by-Step Guide
Find: 8 Reasons Your Taxes May Increase Dramatically Under the Biden Administration
"Deductions can vary dramatically from person to person," says Wade Schlosser, founder and CEO of Solvable. "Consult a CPA to determine what policy changes and tax legislation changes could affect your tax bill and investing strategies in the coming years." 
And if you haven't sold your stocks yet but are still showing gains on paper? Don't make a move just yet, experts advise. "Individuals who have appreciated holdings should speak with both a financial advisor and CPA to coordinate a hold or exit strategy for the best after tax results," Schlosser says. 
See: 10 Tax Loopholes That Could Save You Thousands
Find: Doing Your Own Taxes? Make Sure You Follow These 15 Tips
What Can You Deduct to Keep More of Your Money?
If you sold any stocks at a loss in 2021, you may be able to deduct those losses from your capital gains. Of course, the initial money you invested is also deducted — you're only paying taxes on your profits. You may be able to deduct additional expenses, such as subscriptions to investment advice platforms and websites, plus your smartphone, computer and a portion of your internet service that you use for stock trading and investment.
You can also donate your gains to a charity and take the deduction, thereby reducing your taxable income, which many GameStop investors have announced intentions of doing.
However, if you donate a disproportionate amount of your income to charity (in the IRS's opinion) it may trigger an audit. It's important to keep receipts for all charitable donations and ensure you're donating to a legitimate 501(c)(3) organization.
See: What Actually Happens if You Don't Pay Your Taxes
Find: 6 Reasons Why You Shouldn't Procrastinate on Your Taxes
Additional Ways to Minimize Your 2021 Tax Liability
Experts also have other methods to minimize tax liability and offset short-terms capital gains tax. Molina recommends selling securities at a loss to offset capital gains. "This strategy is called tax-loss harvesting and can limit your tax liability over the long term, especially in volatile markets like we currently see," he says. So, if you bought GME at a high and watched your investment dwindle over the past week, now could be a good time to sell. 
You can also reduce your tax burden by lowering your taxable income. "Remember, because capital gains contribute to your ordinary income, big wins could result in pushing you up to a higher tax bracket," Molina says.
Both Molina and Schlosser recommend sheltering money in retirement accounts such as a 401(k), which reduces your adjusted gross income. 
See: What a $100K Salary Looks Like After Taxes in Your State
Find: How to Avoid Paying Taxes Legally — and the 11 Craziest Ways People Have Done It
Schlosser recommends potentially using your stock windfall as a down payment on a first home. "You can write off the interest to lower your tax burden," he suggests. Additionally, if Congress passes the first-time homebuyer tax credit Biden proposed, you might even see more money in your bank account.   
Finally, Molina advises, avoid any financial moves that will increase your tax burden even more. "For example," he says, "if you hold company equity [or other stocks or investments], you may consider waiting to sell any until you've held [them] for a whole year, which results in a lower tax rate as a long-term gain instead."
See: IRS Delayed Refunds Last Year for Millions of Taxpayers — Here's How to Get Yours Faster
Find: Americans in These 5 States Have the Lowest Tax Bills, Study Finds
Don't Fear the Taxes
If you're facing a windfall thanks to last week's events, or you're planning to sell at a profit soon, contact a professional tax accountant now to discuss the best way to save or invest your money to prepare for a larger-than-usual tax bill and to reduce your tax liability.
The good news is that it's still early in the year. You can continue tracking all your expenses related to stock trading and investing through 2021. It's important to have a paper trail to prove your tax deductions that offset your profits.
More From GOBankingRates: