Armed Forces Bank Review: It Pays to Be in the Military
See if Armed Forces Bank's products are right for you.
Armed Forces Bank is a family-owned institution that's been serving both military and civilian customers for more than a century. Banking with Armed Forces means you have access to checking accounts, a money market account, mobile check deposit, personal loans, credit cards and more. Learn what these products can do for you, and if Armed Forces is the type of bank you need.
Armed Forces Bank Review
Armed Forces Bank offers a standard suite of banking services. Customers can open a checking or savings account, apply and qualify for credit cards, or take out loans. The bank offers both online and mobile banking for convenience. Business owners can take advantage of Armed Forces' business banking service, which includes how-to guides on making deposits and initiating transfers. Its website has a section on financial education — things like budgeting and avoiding overdrafts — that you can take advantage of whether you're a member or not. Armed Forces Bank locations are scattered throughout the U.S., covering more than 15 states and usually located close to a military base.
Related: 10 Best Military Banks and Credit Unions of 2018
Its Recruit Checking Account is geared toward recruits or those who are under 18. With this account, recruits in basic training can receive their Defense Finance and Accounting Services funds one business day in advance. This Military Early Pay option is also available for active-duty and retired service members who already have an Armed Forces checking or savings account.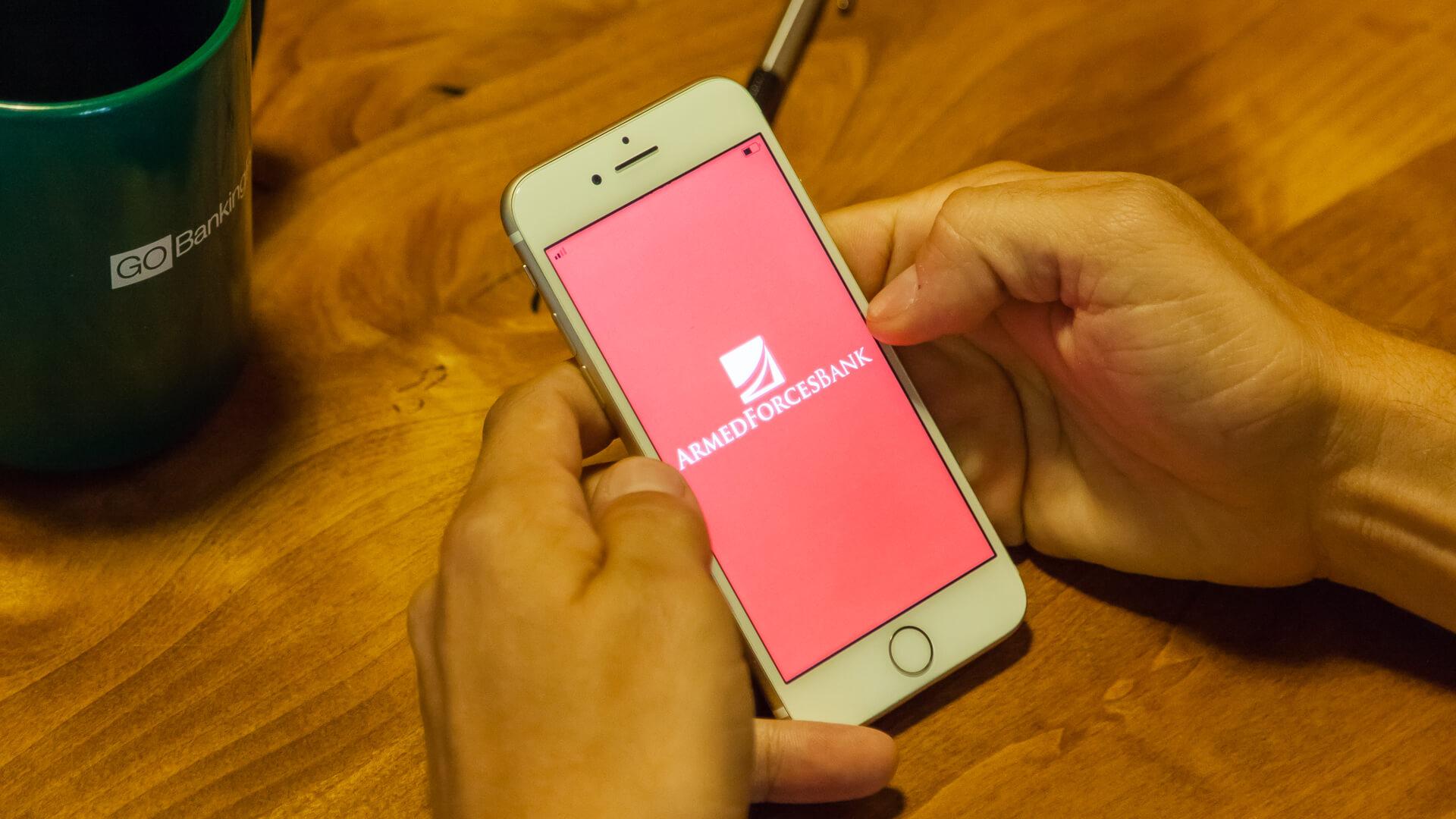 Armed Forces Bank Products and Services
Here's an overview of the products available at Armed Forces Bank:
Checking Account
Armed Forces lets you choose between Access Checking and Elite Checking. Both accounts require a $25 deposit, and both come with a free Visa debit card, free overdraft protection transfers and free money orders, as well as access to more than 30,000 MoneyPass Network ATMs. Elite Checking, however, earns you interest depending on your account balance. A balance of $25 to $10,000 will net you 0.05% APY, whereas anything more than $50,000 gets you 0.10% APY. Compare the best checking account rates in every state.
Savings Account
Customers have four options when it comes to building their wealth through Armed Forces:
A regular savings account
A premier money market account
CDs
Student savings
Accounts linked to an Armed Forces debit card have the option of Saving Cents, which rounds up purchases to the nearest dollar and deposits the difference to a savings account. All accounts are compatible with online banking, and you can waive the paper statement fee of $4.50 by opting for electronic statements. CDs come with free paper statements.
Savings Options
Minimum Opening Deposit
Monthly Service Fee
Monthly Fee Waiver
Savings
$0 to$25; waived if you sign up for the Saving Cents feature
$0 to $5
Keep a balance of $100 per billing cycle
Money Market
$25
$0 to $10
Keep a balance of $1,000 per billing cycle or maintain an average monthly balance of $5,000 per billing cycle
CD
$500
N/A
N/A
Student Savings
$0
N/A
N/A
Information accurate as of Aug. 8, 2018.
Armed Forces CD products have terms ranging from 30 days to five years. Follow these tips for choosing a CD account.
CD Rates
Term
APY
30 days
0.15%
9 months
0.40%
1 year
0.75%
2 years
1.10%
3 years
1.40%
4 years
1.60%
5 years
1.75%
Rates accurate as of Aug. 8, 2018. Additional Armed Forces Bank CDs are available.
Credit Cards
Armed Forces' two credit cards are focused on either people with established credit or those who need to build it. The Visa credit card can go as low as 9.99% APR, has a credit line of up to $10,000 and comes with no annual fee. The Credit Builder Secured Visa Credit Card, meant for those needing to build credit, has a lower limit of $3,000, but an annual fee of $25 and a flat 22.74% APR whatever your creditworthiness is.
Read More: 10 Best Credit Cards for Building Credit
Pros and Cons of Armed Forces Bank
Banking is a big decision that impacts your financial livelihood. Consider if Armed Forces Bank is the bank for you.
Advantages
Early pay option for customers who are active or retired military service members
Saving Cents lets you passively accumulate savings
Low APR for its Visa Credit Card
Disadvantages
If you're not military, product offerings are fairly standard
The Credit Builder Secured Visa card has a higher annual fee
Limited branch options depending on location
The Bottom Line
Military customers will benefit most from Armed Forces Bank, which shouldn't come as a surprise, given the name. Early pay makes a big impact on budgeting. Its financial education tools provide useful knowledge that'll help your wallet, but you also don't need to be a member to access it. Its CD rates come with higher APY than most brick-and-mortar banks. Interest checking accounts provide a nice boost for your funds, but the tier-based Elite Checking has such low rates that it might be hard to take full advantage of. Ultimately, banking with Armed Forces likely makes the most sense if you're already a part of the U.S. military or are planning on joining.
Click through to learn how to join a military credit union without joining the service.
More on Banking
This content is not provided by the companies mentioned. Any opinions, analyses, reviews or recommendations expressed in this article are those of the author alone and have not been reviewed, approved, or otherwise endorsed by Armed Forces Bank.