Here's Your Bank of the West Routing Number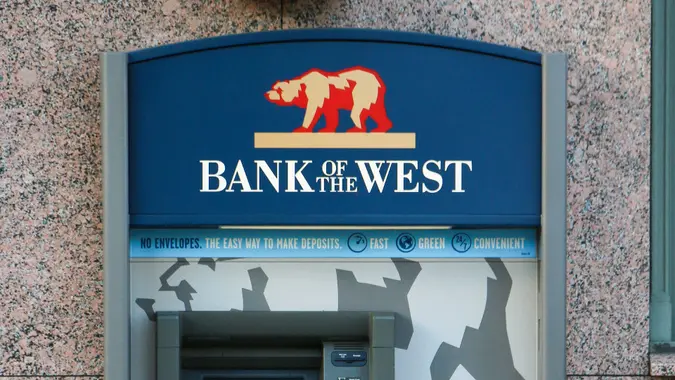 Supannee_Hickman / Shutterstock.com
Bank of the West is headquartered in San Francisco with branches in 24 different states. You'll need to know your Bank of the West routing number when setting up direct deposit of a paycheck or income tax refund, paying a bill online, ordering new checks or sending a wire transfer.
You can usually find the routing number at your bank's website or by speaking to a customer service representative. You can also quickly find your bank routing number on a check or personalized deposit slip.
Bank of the West Routing Number
Bank of the West Routing Number
121100782
How To Find Your Routing Number
You can find your Bank of the West routing number above, as well as on a paper check. For checking account transactions, your Bank of the West routing transit number is 121100782. On a paper check, this number appears in the lower left-hand corner as the first nine digits in a sequence of numbers along the bottom. The nine digits indicate a financial institution's Federal Reserve Bank district and branch and identify the particular brick-and-mortar or online bank, credit union or automated clearinghouse.
The ABA routing number is a nine-digit numerical code used to identify a financial institution. The American Bankers Association created these numbers in 1910 to help route payment instruments to the bank responsible for honoring them.
The first two digits — 12 for Bank of the West — indicate in which Federal Reserve Bank district your bank is located. Bank of the West belongs to the San Francisco district of the Federal Reserve. The next two digits — 11 — indicate the Federal Reserve Bank branch in that district that is assigned to processing transactions for your bank. The following four digits in the ABA routing number — 0078 — identify Bank of the West. The final digit of the nine-digit ABA number represents a mathematical calculation done to prove the validity of the routing number.
Bank of the West Wire Transfers
For Bank of the West wire transfers or transactions involving any types of accounts other than checking accounts, you should contact your local Bank of the West branch as well as the receiving bank to be sure you have accurate information.
If the routing and account number you provide are inconsistent with the recipient's name, Bank of the West can transfer the money on the basis of the routing and account number alone, per its Wire Transfer Agreement terms and conditions.
When sending an international wire transfer, you will also need a code assigned by the Society for Worldwide Interbank Financial Telecommunication. SWIFT is a global organization headquartered in Belgium that provides secure financial messaging services and sets standards for international transaction processing.
Here's the SWIFT code for Bank of the West:
Bank of the West SWIFT Code
BWSTUS66
A SWIFT code's first four characters represent the bank, the next two are the country code, and the final two are a location code. An optional three characters can be used at the end to specify a bank branch.
Why Your Bank Might Have Multiple ABA Routing Numbers
A bank's primary routing number is assigned based on its principal location. The ABA permits banks, credit unions and automated clearinghouses to receive additional routing numbers as needed to keep payments and collections routed properly.
Because wire transfers are designed to happen more quickly than other transactions, they're designated by a separate routing number. The bank can then prioritize the processing of these wire transactions before handling less urgent transactions. Without separate routing numbers, it would not be able to do this efficiently.
If your bank has many locations in many states, it might use different routing numbers to help it route transactions to the correct branches. A bank might receive up to four additional routing numbers to keep transactions routed correctly.
To receive more numbers, the bank must demonstrate to the Routing Number Administrative Board that there is a business need for more numbers, and that additional numbers will not delay collection or increase costs.
Information is accurate as of Jan. 25, 2023.
Editorial Note: This content is not provided by any entity covered in this article. Any opinions, analyses, reviews, ratings or recommendations expressed in this article are those of the author alone and have not been reviewed, approved or otherwise endorsed by any entity named in this article.