Newest TIAA Bank Promotions, Bonuses and Offers: August 2020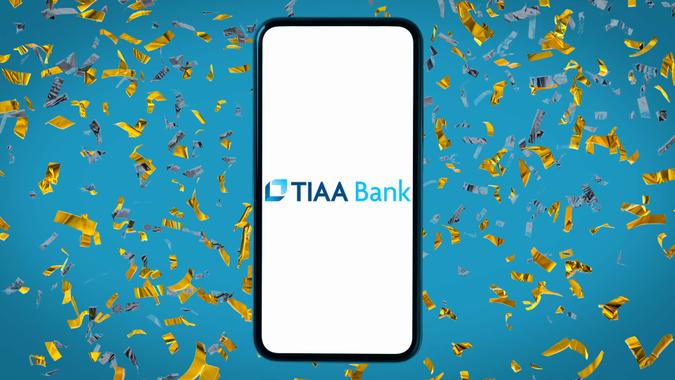 The Teachers Insurance and Annuity Association of America, or TIAA, was founded in 1918 to assist with the financial needs of teachers. Today, TIAA Bank has extended its financial services to all people who work at not-for-profit companies.
Like many banks, TIAA offers bonuses and other promotions to attract new customers, but many customers might not know about them. Keep reading to learn about TIAA Bank's promotions and other perks for August 2020.
Current TIAA Promotions
TIAA doesn't have any special promotions on tap this month, but it does offer other ways to save money or boost your account balance. Read on for more details.
TIAA Yield Pledge Promise
TIAA offers two high-yield accounts:
Yield Pledge Checking
Yield Pledge Money Market
These accounts come with TIAA's Yield Pledge, which guarantees an annual percentage yield ranking in the top 5% of competitive accounts. The bank promises to review the rates of similar banks each month and adjust its rates to keep them competitive.
No TIAA coupon code is required to enjoy this perk.
Fee-Free Accounts
Bank fees for everything from account maintenance to ATM charges can add up in a hurry if you don't monitor them closely. Some banks give customers ways to avoid these fees. Others — like TIAA — offer and advertise fee-free accounts.
At TIAA, the Yield Pledge interest checking and money market accounts — as well as its basic checking and savings accounts — all have no monthly maintenance fee. Customers are also reimbursed for ATM charges up to $15 per month.
Over time, avoiding these extra charges can lead to big savings that might be worth more than a cash bonus for opening a new account.
Introductory APY
New TIAA customers can take advantage of an introductory APY on select interest-earning accounts. The introductory rate applies to balances up to $250,000 in Yield Pledge Money Market and Yield Pledge Checking accounts.
At the end of the first year, the APY returns to the tiered rate based on the account balance. Accounts with the highest balances enjoy the highest APY.
How To Open a TIAA Account
To take advantage of TIAA's perks, you need an account. Start banking with TIAA by following these steps:
Go to TIAA's homepage.
Click on "Open an account" below the login section.
Select the account you want to open.
Fill out the online application and follow the onscreen prompts.
If you want to open an IRA, Trust or Custodial account, you'll have to speak with a representative by calling 855-291-1840 between 8 a.m. and 11 p.m. ET.
To open a business account, you need to speak with an account specialist at 866-371-3831.
What Do I Need to Open a TIAA Bank Account?
When you apply for a TIAA bank account, you'll have to provide the following information:
Name and address
Date of birth
Taxpayer Identification Number or Social Security number
Other identifying documents
The bank might ask you for additional information if it needs to verify your identity further.
How Much Money Do You Need To Open a Bank Account at TIAA?
The initial deposit required to open an account at TIAA depends on the type of account. You can open a Basic Checking or Basic Savings account with as little as $25. The minimum opening deposit for a Yield Pledge Checking account is $100. You'll need $500 to open a Yield Pledge Money Market account, $1,000 to open a Basic CD account.
Is TIAA the Right Bank for You?
Although TIAA doesn't have any cash bonuses available this month, it still has plenty to offer to customers in search of fee-free banking and competitive rates. Whether it's the right bank for you depends on your personal financial needs.
Check back each month for updates and new promotions as they are available. If none of the above promotions seem like a good fit for you, there are also a number of other banks offering promotions this month.
Information on promotions is accurate as of July 29, 2020. Additional requirements may apply. Offers and terms are subject to change.
This content is not provided by TIAA Bank. Any opinions, analyses, reviews or recommendations expressed in this article are those of the author alone and have not been reviewed, approved or otherwise endorsed by TIAA Bank.
This article has been updated with additional reporting since its original publication.