Citibank Hours: Full Hours & Holidays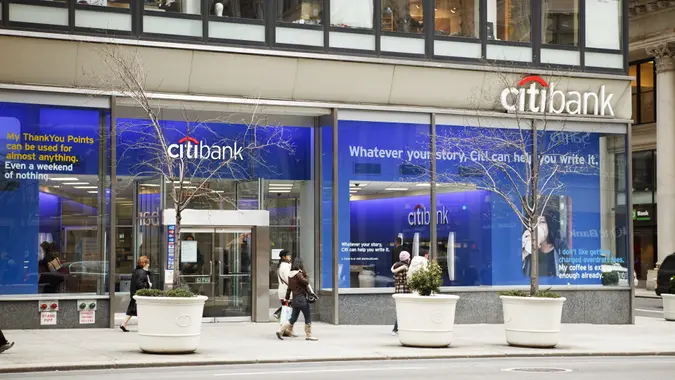 DW labs Incorporated / Shutterstock.com
Citibank is one of the largest financial institutions in the world. It offers global financial services and has roughly 200 million customer accounts, operating in more than 160 countries around the world. Since it was founded in 1812 as the City Bank of New York, Citibank has grown into one of the most popular financial institutions offering both brick-and-mortar and online banking.
If you bank with Citibank, knowing when the bank opens and closes is essential. Keep reading to find out when you can visit Citibank during regular hours and whether branches are open on weekends and holidays.
Citibank Hours for Holidays
Like most U.S. banks, Citibank's branches close on federal holidays and certain state holidays. Here's a quick summary of Citibank's 2022 federal holiday list:
| Citibank Holiday Schedule | Open/Closed |
| --- | --- |
| New Year's Day — Jan. 1 | Closed |
| Martin Luther King Jr. Day — Jan. 17 | Closed |
| Presidents Day — Feb. 21 | Closed |
| Good Friday — Apr. 15 | Open |
| Easter Sunday — Apr. 17 | Closed |
| Easter Monday — Apr. 18 | Open |
| Memorial Day — May 30 | Closed |
| Independence Day — July 4 | Closed |
| Labor Day — Sept. 5 | Closed |
| Columbus Day — Oct. 10 | Closed |
| Veterans Day — Nov. 11 | Closed |
| Thanksgiving Day — Nov. 24 | Closed |
| Christmas Eve (daytime) — Dec. 24 | Open (Closes at 3 p.m.) |
| Christmas Day — Dec. 25 | Closed |
Although Citibank's physical locations are closed on holidays, you can bank online using the mobile app or Citibank's automated system for after-hours and holidays.
Regular Citibank Hours
Citibank does not provide specific guidance for its hours of operation since these vary by branch. However, most of its bank locations maintain standard operating hours.
Like most banks in the U.S., Citibank typically opens at 9 a.m. and closes at 5 p.m, Monday through Friday. On Saturdays, the bank will open for a half-day from 9 a.m. to 2 p.m., or 10 a.m. to 2 p.m. Citibank ATMs are open 24 hours, seven days a week.
Keep in mind that the bank's hours vary by branch. If you're planning to visit a Citibank near you, your best bet is to search for the nearest location online or use a branch locator to confirm the hours of operation. Using a branch locator, simply enter your ZIP code, an address, city or state to find the nearest location.
Citibank Hours
| Day | Hours |
| --- | --- |
| Sunday | Closed |
| Monday | 9 a.m. to 5 p.m. |
| Tuesday | 9 a.m. to 5 p.m. |
| Wednesday | 9 a.m. to 5 p.m. |
| Thursday | 9 a.m. to 5 p.m. |
| Friday | 9 a.m. to 5 p.m. |
| Saturday | Varies: 9 a.m to 2 p.m. or 10 a.m to 2 p.m. |
Is Citibank Open 7 Days a Week?
In most cases, Citibank branches are open six days a week, Monday through Saturday. If you need banking services on Sunday, you'll have to visit an ATM, use the mobile app or bank online. Certain Citibank branches are closed on Saturday, so it's always best to verify the hours of operation for the location you're planning to visit.
Is Citibank Open on Weekends?
Most Citibank locations are open on Saturdays, but not all of them. The hours of operation vary by branch but are typically 9 a.m. to 2 p.m or 10 a.m. to 2 p.m. Nearly all Citibank locations are closed on Sundays for banking activities, though some branches open for four hours — from 10 a.m. to 2 p.m.
How To Bank With Citibank Outside Business Hours
If you need banking services outside Citibank's normal hours, there are a couple of options to consider. First, you can visit any ATM to check your balance, withdraw cash, deposit cash and check deposits or transfer funds between linked accounts. You can also use your mobile banking app to perform similar services along with added benefits, including Zelle transfers.
Citibank Contact Information
To verify business hours, call 800-374-9700 for Citibank's general customer service. For more information on its products and services, Citibank provides contact information by department, such as banking, personal loans and more. Plus, Citibank has 24/7 customer support.
You can also contact Citibank via:
Social media: Visit Twitter @AskCiti to confirm business hours.
Local branch verification: Visit Citibank's website and search for the branch locations near you by entering your zip code. Once you find a location, call to verify business hours.
GOBankingRates' Best Banks 2023
Good To Know

There's one more option if you don't like making calls — just sign in to the Citi Mobile app and send a message. You'll be notified as soon as a representative responds.
Information accurate as of Apr. 15, 2022.
Editorial Note: This content is not provided by Citibank. Any opinions, analyses, reviews or recommendations expressed in this article are those of the author alone and have not been endorsed by Citibank.