How to Deposit Cash to an Online Bank Account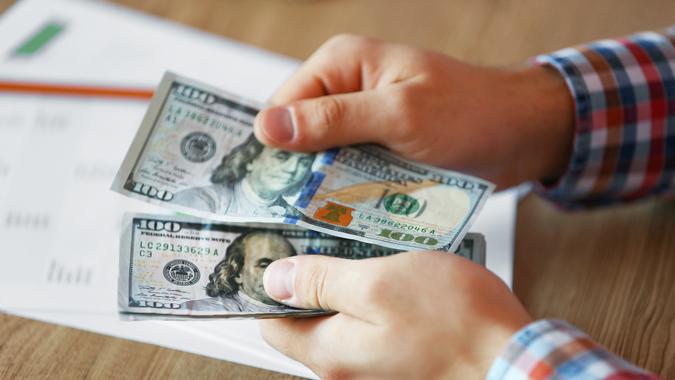 Africa Studio / Shutterstock.com
Direct banks — also known as branchless banks or online-only banks — are gaining impressive favor among consumers, according to the J.D. Power 2017 U.S. Direct Banking Satisfaction Study. An online-only bank is a bank that conducts all business online — it has no physical branches.
Although only 6 percent of the total banking deposits in the U.S. are completed via internet banking, the study indicates rapid growth in this growing market. As more online-only accounts are opened, more people will need to make cash deposits — which might include ATM deposits — into their online accounts. Depositing cash into even the best online-only banks can be tricky, so keep reading to learn how.
Ways to Deposit Cash Into an Online Bank
If you use an online bank and anticipate making cash deposits, save time and avoid unnecessary fees by knowing your options in advance. Here are four ways to deposit cash into an online bank account:
1. Reloadable Prepaid Debit Card
If you make frequent cash deposits, using a reloadable prepaid debit card might make sense. You can link your card to your online bank account and deposit funds into your bank whenever you want. Here's how to activate your card and link it to your bank account:
Register your reloadable prepaid debit card online.
Load funds onto your card at a retail store or bank.
Search the card's website to find out how to link an online bank account to your card.
Follow instructions for linking your bank account to your card.
Transfer the funds to your online bank account as needed.
Pros
Reloadable, prepaid debit cards are available at retail stores and online.
You can save money on fees if you shop around.
Cons
It might take several days for funds to transfer to your bank account. For example, it usually takes two to three business days for funds to be transferred, according to the Bluebird American Express website.
2. Put Cash in a Traditional Checking Account and Transfer It Online
If you choose to keep a traditional checking account, look for one with no monthly fees or very low monthly fees. For example, the Bank of America Core Checking Account is free if you maintain a monthly balance of $1,500 or make a monthly direct deposit of at least $250.
Using your traditional bank to deposit cash and move it to your online bank account might be an easy solution. To get started, go to your traditional bank's branch or ATM and deposit cash, then move the money electronically from your traditional account to your online account. Wells Fargo, for example, allows bank-to-bank transfers after a verification process, which could take three to five days.
Pros
You can take advantage of in-person bank services from your brick-and-mortar bank.
You'll have access to two different sets of bank promotions and offerings.
Cons
You'll have to keep track of two bank accounts with two different financial institutions.
Going to a branch can be time-consuming.
3. Get a Money Order
Money orders are basically prepaid checks. You can purchase a money order through financial institutions, the U.S. Postal Service and some big-box stores like Walmart.
To purchase a money order, you must provide the payee's name and address. When you want to deposit the money into your online account, use the online bank's name and address.
You'll typically pay a minimal fee for a money order. For example, USPS charges $1.20 for a money order of up to $500 and $1.60 for one from $500.01 to $1,000. You can also buy money orders from payday loan companies like Moneytree, which offers them for free if you cash a check or take out a loan with them.
Once you've filled out the money order, mail it to your bank. Or, if your bank offers a mobile banking app, just use your smartphone to snap a photo of the back and front of the money order and deposit it that way.
Bank policies on money orders, however, vary by financial institution. Ally Bank and Capital One 360, for example, don't allow customers to deposit money orders remotely — but you can send them in the mail. Check with your online bank in advance to make sure it accepts money orders for deposit and keep the money order receipt until you confirm your bank has received and deposited the funds.
Pros
Money orders are available at banks, credit unions, stores and USPS.
You can find inexpensive money orders if you shop around.
Cons
Using money orders requires an extra step when you're depositing cash.
The amount you can get a money order for is limited. USPS, for example, has a $1,000 limit for domestic money orders.
4. Make a Deposit at a Cash-Accepting ATM
Can you deposit cash at an ATM? Sure. Using an ATM is an easy way to deposit cash if your online bank allows it. Select ATMs — those connected to or that are part of an agreement with your banking institution — have the capability to accept cash and check deposits that will post to your account. Here's how to deposit cash using an ATM:
Insert your ATM card into the machine and enter your PIN.
Look for a "Deposit" option on the screen. If there's not a deposit option, the ATM doesn't accept deposits.
Choose the account to which you want to deposit your cash.
Select the "deposit cash" option.
Flatten out the bills and unfold the corners before inserting them into the machine.
Some ATMs offer the option of printing an itemized list of the bills deposited — in addition to the total amount of cash deposited — on your receipt. Select the option if you wish.
Take your receipt and card.
Some online banks participate in deposit sharing. State Farm Bank, for example, not only allows customers to make deposits at select, full-service State Farm Bank ATMs, but also lets customers make deposits at ATMs owned by financial institutions that participate in deposit sharing.
Some online banks, however — like Ally Bank and Discover Bank — do not accept ATM cash deposits. Others accept limited cash deposits, like SunTrust Bank, which allows customers only 40 bills per deposit.
Before heading to an ATM, check the ATM locator and information on your ATM provider's website to see which ones do accept cash. Search for specific ATMs instead of searching the phrase, "ATM near me." The best way to find out if your online bank offers an ATM cash deposit option or deposit sharing might be to call the bank directly and ask.
Pros:
Cash deposits to ATMs are typically credited instantly.
Some online banks don't require deposit slips or envelopes to make ATM deposits.
Cons:
Most online banks do not process cash deposits via ATM.
Not all ATMs in a bank's network accept cash deposits.