How To Deposit Money Into Your Bank Account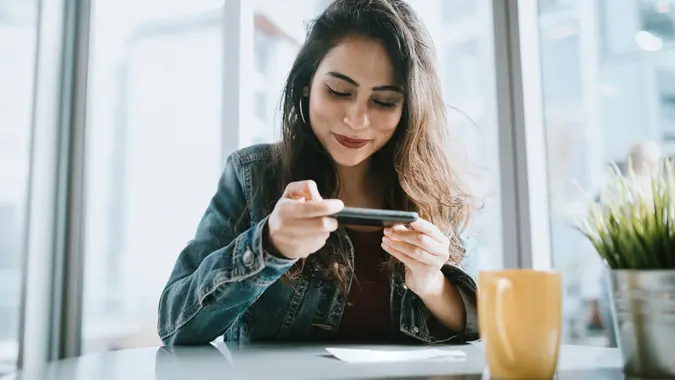 RyanJLane / Getty Images
Depositing money into your bank account safeguards the funds and makes them available for you to spend or withdraw when you need it. Deposits are an essential banking task, and there's more than one way to make them. Keep reading to learn about different ways to deposit your paychecks, cash and other forms of money into your checking or savings account.
How To Deposit Money at a Bank or Credit Union Branch
Depositing money in person at a bank or credit union branch is the easiest way to add cash to your account. It's also the most versatile way in terms of the types of payments you can deposit and the number and dollar amount of payments you can deposit at one time.
You usually need to fill out a deposit slip to deposit money at your bank branch. Each bank has its own deposit slip with the bank's name and perhaps its routing number on it. You can use the preprinted deposit slips the bank or credit union provided when you opened your account, or you can use one of the blank slips typically provided inside the lobby. Filling it out properly ensures that your money is deposited into your account correctly and without delay.
How To Fill Out A Deposit Slip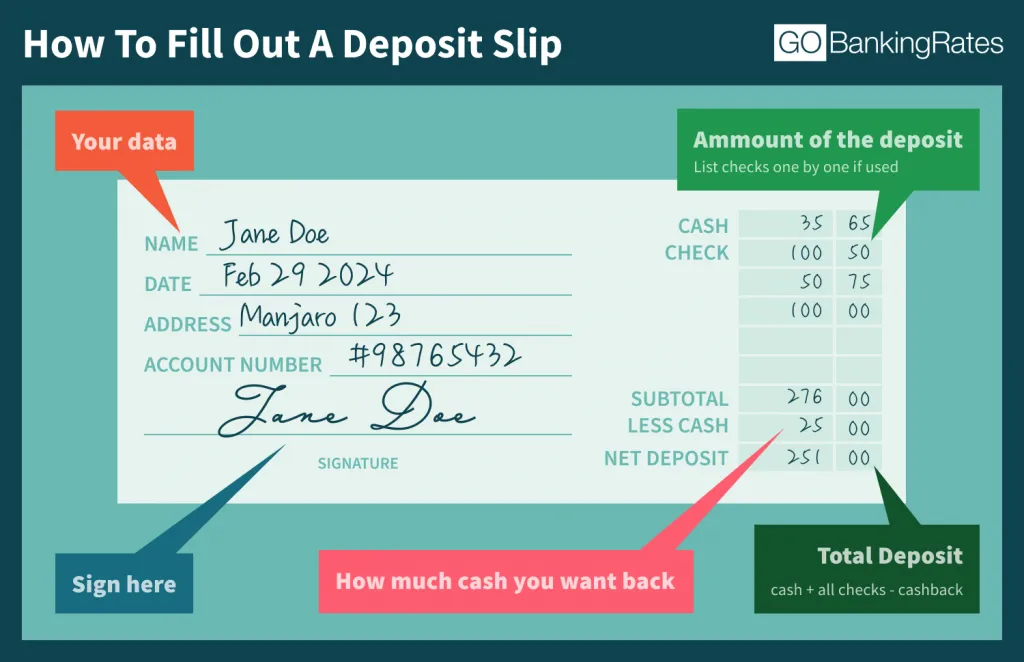 Your name: Print your first name, middle initial and last name on this line.
Your address: Print your street address, city, state and ZIP code in the assigned spaces.
Your account number: The account number is usually found in the center section of numbers at the bottom of the checks in your checkbook, or on monthly statements for your checking or savings account. You can also find it when you log in to your online account.
Date of the deposit: Print the date you're making the deposit.
Amount of the deposit: On what will usually be the right side of the deposit slip, you'll see several lines with designated single-space boxes meant to hold a single number. List the total amount of cash you're depositing in the space indicated, and list each check separately, writing the check number on the line and the corresponding check amount in the box.
Cash back: For check deposits from which you're taking back some cash, write how much cash you want back on the designated line.
Total deposit: Add up the individual deposits and write the amount in the subtotal box. Subtract any cash-back amount, and write the amount that remains in the "total" space.
Keep in mind that checks generally must be endorsed before you can deposit them.
How To Deposit Money at an ATM
You can make cash or check deposits at any ATM that accepts them, even if the ATM is outside of your bank's network. However, expect a delay if you're not using your own bank's machine.
Count your cash and endorse your checks before you arrive at the ATM. Once there, insert your debit or ATM card and follow the on-screen prompts to make your deposit. These are the steps you'll likely need to follow to make an ATM deposit:
Insert your debit card and punch in your PIN to access your account. Alternatively, use a mobile wallet for a no-contact ATM transaction.
Select "deposit" from the transaction types available.
Select the account you want to receive the money.
Insert your cash into an envelope if one is provided, and write any information indicated on the envelope. Insert the cash and/or checks into the machine when prompted.
Wait for your receipt. Keep it in a safe place in case there's a problem with your deposit.
Good To Know

Note that some banks place restrictions on ATM deposits. Wells Fargo, for example, doesn't allow foreign check or currency deposits, and it limits deposits to 30 checks or bills.
How To Make a Mobile Check Deposit
If you make a mobile check deposit, you don't need to fill out a deposit slip. For most banks, you'll just access your bank account online with a mobile banking app on your smartphone.
Here are the steps to do that:
Log in to your account.
Snap a photo of your check.
Confirm the dollar amount and other details as requested.
Your mobile deposit is made.
Before you try to deposit anything other than a personal, business, cashier's or government check drawn from a U.S. bank, check to make sure your bank's mobile deposit feature allows it. Bank of America, for example, doesn't allow mobile deposits of traveler's checks or money orders.
More Ways To Deposit Money Into Your Bank Account
Standard in-branch, ATM and mobile deposits aren't your only options for depositing money. Here are some more:
Direct deposit: Direct deposit lets you receive recurring payments, such as paychecks and government benefits, directly to your bank account. You can enroll online to receive government benefits this way. To have your paychecks direct deposited, fill out a direct deposit form provided by your bank or employer.
Account transfer: If you have more than one account at your bank, you can use mobile or online banking to deposit funds by transferring them from another account.
External transfer: Some financial institutions let you link accounts held by different banks. Once you've connected the accounts by following the bank's instructions, which you'll generally find in online banking, you can transfer money between the accounts.
Wire transfer: If someone wants to send you money from their account at a different bank, or from a service like Western Union or MoneyGram, they can schedule a wire transfer. Although you and they might be charged a fee, wire transfers are secure and can be initiated quickly in most cases. However, you'll have to share your bank information with the individual sending you money, so don't agree to a transfer from a business or individual you don't know well.
Peer-to-peer transfer: Money-transfer apps and platforms like Zelle, Venmo and PayPal let you receive money from other people. You can then transfer the payment to your linked bank account if the app doesn't send it there automatically. Note that transaction amounts might be limited, and you could incur a fee.
When Will Your Deposited Funds Be Available?
Your bank has a funds availability policy that determines how long you'll need to wait before you'll have access to your noncash deposits. Many banks allow you to take a set amount of money, such as $100, immediately. The rest is then available to you on the designated day.
Kim Olson contributed to the reporting for this article.
Our in-house research team and on-site financial experts work together to create content that's accurate, impartial, and up to date. We fact-check every single statistic, quote and fact using trusted primary resources to make sure the information we provide is correct. You can learn more about GOBankingRates' processes and standards in our editorial policy.