Making This Mistake at Your Bank Can Cost You $10,221
Examining your banking habits could save you a bundle over time.
Being careless with a few dollars here and there can end up costing you a small fortune over time. Whether it's accidentally overdrawing your bank account or choosing an out-of-network ATM in a pinch, you're essentially throwing away money that could be earning interest in a high-yield savings account. Paying the occasional banking fee might not seem like a big deal at first, but those mistakes can really add up.
Find out how you can stop yourself from losing thousands of dollars over your lifetime — and missing out on major opportunities to grow your wealth.
Bank Fees Can Snowball Into Thousands in Lost Savings
Many banks charge different types of fees for things such as overdrafts and non-sufficient funds. Depending on the bank account, you might even get slapped with monthly maintenance fees or monthly service fees. A GOBankingRates survey found that the average American pays $7 in banking fees every month.
Common Bank Fees
Estimated Costs
Monthly maintenance fee (savings)
$1-$10
Monthly service fee (checking)
$3-$20
Non-sufficient funds
$25-$37
Overdraft
$34-$36
Transfer from savings
$10-$12.50
Estimated amounts for common bank fees were sourced from GOBankingRates' database and the Center for Responsible Lending.
If you put that $7 each month into a savings account with an annual percentage yield of 0.09%, that would add up to an additional $91 in savings each year. Over a lifetime, that would amount to $5,274 if the money had been deposited in an average savings account — or a staggering $10,221 with a high-interest savings account that has a 2.05% APY, such as the one offered by Bank5 Connect.
Sponsors of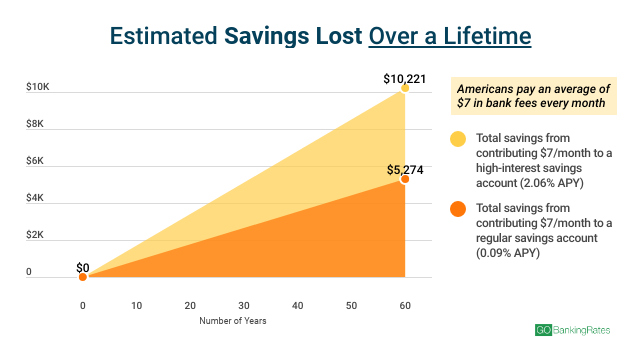 "I purposely choose my banks to avoid fees and open up checking accounts with low or no monthly minimums, so I don't have to think about fees," said banking consumer Stacy Caprio. "I also make sure there are no fees for writing checks or simply having cash in the bank. I'm doing the bank a favor by putting my cash there, and I know there are plenty of banks who don't charge unreasonable fees, so I stay far away from those that do."
However, many Americans don't share Caprio's mindset. Even though 34% of the respondents in GOBankingRates' survey stated that their goal was to save more money in a regular savings account, most aren't considering shopping for a better bank. In fact, 88% of the respondents stated they weren't planning to switch banks in 2019 — even if their bank charges unnecessary fees.
As long as Americans keep paying various monthly maintenance fees, overdraft fees, out-of-network ATM charges and more, they'll find less money in their bank accounts to put toward their financial goals.
Sponsors of
Read More: 62% of Americans Don't Know Banking Basics — and It's Costing Them
Overdraft Fees Quickly Add Up
The average overdraft fee among the five biggest banks is approximately $35 — which means if you're not careful enough, you could end up wasting a hefty amount of change on essentially nothing. For example, overdrawing your account just twice a month will cost you a whopping $70.
If you still think overdraft fees aren't that big of a deal, consider the big picture: If you overdraft once a month for 30 years, you would waste $12,528. If you overdraft twice a month for 30 years, the amount would double to a jaw-dropping $25,056 — and that's money you could have been stashing in a high-interest savings account.
Here's a breakdown of how much each major bank charges for overdrawing your account:
| | |
| --- | --- |
| Bank | Fee Amount |
| Chase overdraft fee | $34 |
| Bank of America overdraft fee | $35 |
| Wells Fargo overdraft fee | $35 |
| Citibank overdraft fee | $34 |
| U.S. Bank overdraft fee | $36 |
When it comes to fears about banking, only 13% of Americans are most scared of incurring bank fees, according to GOBankingRates' survey. Respondents were much more afraid of someone stealing their account and/or personal information, someone stealing money from their account, or losing their bank debit card and/or credit card. However, overdraft fees shouldn't be deemed trivial.
Sponsors of
"The cost of an overdraft fee might not seem make-or-break, but it's important to remember that financial hardship is often what leads one to overdraw in the first place," said Sean Messier, a credit industry analyst. "An overdraft fee on top of whatever other debts or financial obligations you're already struggling with could cause serious mental and financial stress."
Find Out: Here's Your Charles Schwab Routing Number
Don't Overlook ATM Fees
The average ATM fee is only $2.50, and the five largest banks in the U.S. — Chase, Bank of America, Wells Fargo, Citibank and U.S. Bank — all charge that amount. Although out-of-network ATM fees are much less expensive than overdraft fees, that doesn't mean they can't be a drain on your finances.
For example, if you make an out-of-network ATM transaction every other day for the next 30 years, you'll rack up $13,650 in fees. If you happen to make the same type of transaction every day for the next 30 years, you'll spend a staggering $27,375 on out-of-network fees.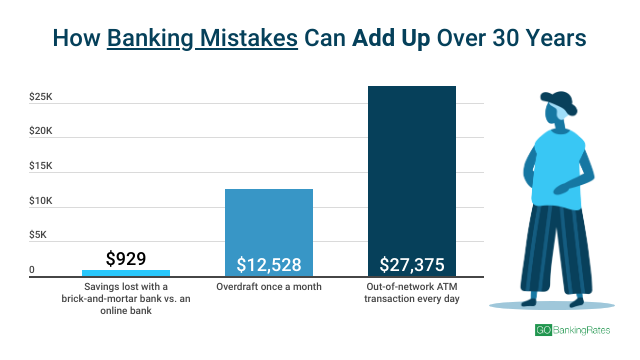 The mindless act of wasting money on unnecessary fees can heavily impact your financial goals. Just one year of using an out-of-network ATM every other day equals approximately $456. Those fees could easily be redirected to the No. 1 savings goal of the respondents in GOBankingRates' survey: saving more money for emergencies.
Sponsors of
So, what's the best way to avoid ATM fees? "Do some research about ATMs," said Cyndie Martini, CEO and president of Member Access Processing, America's largest aggregator of card services for credit unions. "Banks and credit unions typically offer a network of surcharge-free ATMs, usually listed on their websites. If you need cash, get cash back when you use your card at the grocery or other stores offering cash back."
Related: 38 Best Bank Account Promotions for Summer 2019

The Best Interest Rates Make a Huge Difference
Shopping around for the best interest rate on deposit accounts is well worth it when you understand exactly what you have to gain.
For example, let's say your current bank offers the national savings rate of 0.10%, which means — over the course of 30 years at a daily compounding rate — you can earn approximately $30 for every $1,000 you save. Now, if you shop around and find a bank offering a rate of 0.85% — which is one of the best savings account interest rates available — you can earn approximately $290 for every $1,000 you save. In this case, not shopping around forces you to miss out on nearly 10 times the amount of interest earned over 30 years.
Sponsors of
Here's a look at the national rates and rate caps for different types of deposit accounts:
Deposit Accounts
National Rates
Rate Caps
Savings
0.10%
0.85%
Interest checking
0.06%
0.81%
Money market
0.19%
0.94%
One-month CD
0.12%
0.87%
Three-month CD
0.21%
0.96%
Six-month CD
0.41%
1.16%
12-month CD
0.65%
1.40%
24-month CD
0.84%
1.59%
36-month CD
0.97%
1.72%
48-month CD
1.06%
1.81%
60-month CD
1.23%
1.98%
National rates for deposit products were sourced from the Federal Deposit Insurance Corp. for the week of June 3, 2019.

Aside from certificates of deposit, some of the best rates are attached to money market accounts, interest checking accounts or high-yield savings accounts. However, according to a separate GOBankingRates survey, only 7% of Americans are putting money into high-yield savings accounts — which means many people aren't earning the highest interest rates available.
Related: Cashier's Check vs. Certified Check 
Why You Should Switch To an Online Bank
Overall, there are many reasons to switch to an online bank:
Online banks have less overhead than brick-and-mortar banks, so they can pass those savings on to customers.
They often have sizable fee-free ATM networks.
Online banks offset their already low fees with higher interest rates on checking and savings accounts, according to Messier.
The average savings interest rate at the five biggest online banks — Ally Bank; American Express National Bank, Member FDIC; Synchrony Bank; CIT Bank; and E-Trade Bank — is a whopping 2.21%. In stark contrast, the average savings interest rate at the five largest brick-and-mortar banks is only 0.40%.
Sponsors of
To contextualize these interest rates, for every $1,000 you deposit in an online savings account with a 2.21% APY compounded daily, you'll earn $1,940.57 over 30 years. For every $1,000 you deposit in a brick-and-mortar savings account with a 0.40% APY compounded daily, you'll earn only $1,012.07 over 30 years — a difference of more than $900. Depending on the total amount of your deposit, you could lose thousands of dollars in potential interest over your lifetime if you choose to save your money in a brick-and-mortar bank instead of an online bank.
Alarmingly, only 22% of respondents in GOBankingRates' survey said they have deposit accounts with online banks — which means the majority of Americans could be making a very expensive mistake. Don't take for granted that you're getting the best deal at your current bank. Instead, shop around for a bank that will give you the best rates and allow you to reach your savings goals faster.
Earn More: Best Checking Account Bonuses, Promotions and Offers
Click through to discover savings tricks from regular people who are sitting on millions.
More on Banking
Gabrielle Olya and Grace Lin contributed to the reporting for this article.