Huntington Bank Hours: What Time Does Huntington Bank Open and Close?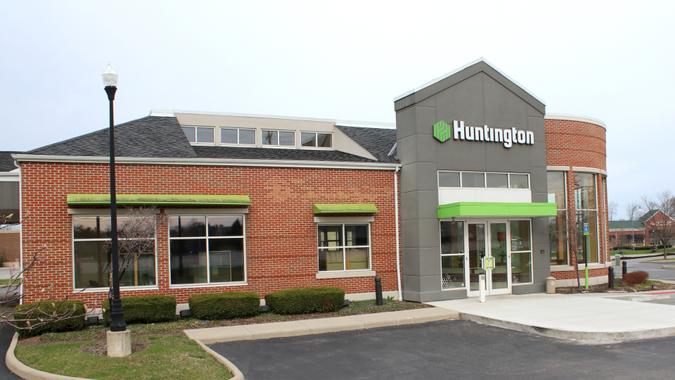 ©iStock.com
Huntington National Bank is one of the oldest banks in the United States, founded in 1866. Huntington National Bank and TCF National Bank have recently joined hands. The combined worth of these banks is around $142 billion in deposits, $175 billion in assets, and $116 billion in loans.
Huntington bank is known for customer-friendly business checking accounts, a generous overdraft policy and easy-to-use online banking. Furthermore, the bank acts as a guide to help its customers struggling in the pandemic. Huntington Bank is currently offering three checking account promotions for new customers.
Below, you'll find out about Huntington Bank hours on regular days, weekends and holidays. You can also find out how you can bank with them outside of business hours.
Huntington Bank Hours for Normal Days
As it has more than 800 branches in the country, Huntington Bank's hours may differ from location to location. Therefore, if you're planning to make a trip to a local branch, better find the nearest location on the internet and double check business hours.
Like many businesses, Huntington Bank hours have also changed because of the pandemic. Before the pandemic, Huntington Bank hours were either 9:00 am to 5:00 pm, or 9:00 am to 6:00 pm during weekdays.
Due to the pandemic, some of its branches start at 10:00 am and close as early as 4:00 pm. On Saturdays, some branches start at 9:00 a.m. and close at 2:00 p.m., while others remain closed.
The good news is that all the branches of Huntington Bank have reopened lobbies, which had been closed due to the pandemic.
Apart from branches, Huntington Bank's drive-thru ATM locations are available 24/7.
Is Huntington Bank Open 7 Days a Week?
Most Huntington Bank branches operate six days a week, from Monday to Saturday.
However, if you want to use banking services on Sunday, you can use the ATM service that is available 24/7. Also, you can do banking anytime with the help of Huntington Bank's online app.
Is Huntington Bank Open on the Weekends?
Many Huntington bank branches are open on weekends, but not all of them. You can either check business hours through the internet or by making a phone call to the nearest Huntington branch to check if it operates on weekends and when.
Huntington Bank Hours for Holidays
Like most other national banks, Huntington Bank's hours during holidays follow the same schedule. This means its branches are closed during federal holidays. In the following table, you can find out Huntington Bank's holiday schedule during 2022:
| Holiday | Date | Closure Schedule |
| --- | --- | --- |
| New Year's Day | January 1 | Closed |
| Martin Luther King, Jr. Day | January 17 | Closed |
| Valentine's Day | February 21 | Open |
| Presidents' Day | February 15 | Closed |
| St. Patrick's Day | March 17 | Open |
| Memorial Day | May 30 | Closed |
| Independence Day | July 4 | Closed |
| Labor Day | September 5 | Closed |
| Columbus Day | October 10 | Closed |
| Veterans Day | November 11 | Closed |
| Thanksgiving Day | November 24 | Closed |
| Black Friday | November 25 | Open |
| Christmas Eve | December 24 | Open |
| Christmas Day | December 25 | Closed |
How To Bank With Huntington Bank Outside of Business Hours
If you want to bank outside of Huntington Bank's usual operating hours, you have two options. You can use the ATM banking service, which is available 24/7. Alternatively, you can bank online using the mobile app .
With these banking options, you can:
Check your balance
Deposit or withdraw cash
Deposit checks
Transfer funds to another account
Huntington Bank Contact Information
For any banking-related query, you can contact Huntington Bank customer service. Below are the details of Huntington Bank customer support based on query type:
For General Queries
If you're a customer based in the U.S., here's what you'll need:
Phone: 800-480-2265
Hours: 7:00 a.m. and 7:00 p.m EST daily
For international customers:
Phone: +1 616-355-8828
Hours: 7:00 a.m. and 7:00 p.m. EST daily
For Business Banking
Here's the information for business banking customers.
Phone: 800-480-2001
Hours: Monday to Friday, 8:00 a.m. to 7:00 p.m. EST; Saturday 8:00 a.m. to 2:00 p.m. EST; Sunday, closed
Credit Card Customer Service
For credit card customers:
Phone: 800-340-4165
Hours: Available daily 24/7
Final Take
Check the hours of your local Huntington Bank branch. If the location nearest you is closed, you can always go to an ATM or bank online.
Information is accurate as of Apr. 15, 2022.