Huntington Bank Hours: Full Hours and Holidays in 2023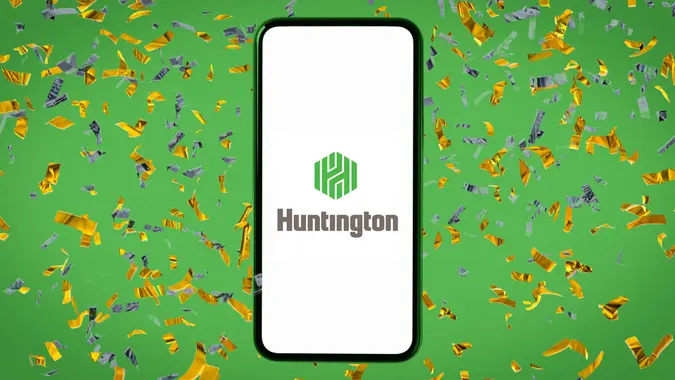 The Huntington National Bank is one of the oldest banks in the U.S., founded in 1866. Huntington Bank is known for customer-friendly business checking accounts, a generous overdraft policy and easy-to-use online banking.
Below, you'll find out about Huntington Bank's hours on regular days, weekends and holidays. You can also find out how you can bank outside of business hours.
Huntington Bank Hours on Weekdays
Since it has over 1,000 branches, Huntington Bank's hours differ from location to location. If you're planning to make a trip to a local branch, you can find the nearest location and double-check business hours on Huntington Bank's branch locator.
Most branches are open from 9 a.m. to 5 p.m. Monday through Friday, with some closing earlier at 4 p.m. Many branches are open an hour later than usual on Friday. Some are open from 9 a.m. to 12 p.m. on Saturday.
Apart from branches, Huntington Bank's drive-thru ATM locations are available 24/7. These can also be found on the branch locator.
Is Huntington Bank Open 7 Days a Week?
Many Huntington Bank branches operate six days a week, from Monday to Saturday.
However, if you want to use banking services on Sunday, you can use the 24/7 ATM service or bank anytime through Huntington's mobile app or online banking platform.
Is Huntington Bank Open on the Weekends?
Many Huntington Bank branches are open on Saturday, but not all of them — and the ones that are may only be open for part of the day. You can check business hours through the branch locator or make a phone call to the nearest Huntington Bank branch to check if it operates on weekends and when.
Huntington Bank Hours for Holidays
Here's a look at Huntington Bank's holiday schedule for 2023:
Holiday
Date
Closure Schedule
New Year's Day
Sunday, Jan. 1 — observed Monday, Jan. 2
Closed
Martin Luther King Jr. Day
Monday, Jan. 16
Closed
Valentine's Day
Tuesday, Feb. 14
Open
Presidents Day
Monday, Feb. 20
Closed
St. Patrick's Day
Friday, March 17
Open
Memorial Day
Monday, May 29
Closed
Juneteenth
Monday, June 19
Closed
Independence Day
Tuesday, July 4
Closed
Labor Day
Monday, Sept. 4
Closed
Columbus Day
Indigenous Peoples Day
Monday, Oct. 9
Open
Veterans Day
Saturday, Nov. 11 — observed Friday, Nov. 10
Closed
Thanksgiving Day
Thursday, Nov. 23
Closed
Black Friday
Friday, Nov. 24
Open
Christmas Eve
Sunday, Dec. 24
Closed
Christmas Day
Monday, Dec. 25
Closed
How To Bank With Huntington Bank Outside of Business Hours
If you want to bank outside of Huntington Bank's usual operating hours, you have a few options. You can use the ATM banking service, which is available 24/7. Alternatively, you can use Huntington's mobile app.
With these banking options, you can:
Check your balance
Deposit or withdraw cash
Deposit checks
Transfer funds to another account
Huntington Bank Contact Information
For any banking-related query, you can contact Huntington Bank's customer service at the numbers listed below.
General Queries
For U.S.-based customers:
Phone: 800-480-2265
Hours: 7 a.m. to 8 p.m. ET daily
For customers calling from outside of the U.S.:
Phone: 1-616-355-8828
Hours: 7 a.m. to 8 p.m. ET daily
Business Banking Customer Service
For business banking customers:
Phone: 800-480-2001
Hours:

Monday through Friday, 8 a.m. to 8 p.m. ET
Saturday, 8 a.m. to 2 p.m. ET
Credit Card Customer Service
For credit card customers:
Phone: 800-340-4165
Hours: 24/7
Insurance Customer Service
For insurance customers:
Phone: 888-576-7900
Hours: Monday through Friday, 8 a.m. to 5 p.m. ET
Caitlyn Moorhead contributed to the reporting for this article.
Editorial Note: This content is not provided by any entity covered in this article. Any opinions, analyses, reviews, ratings or recommendations expressed in this article are those of the author alone and have not been reviewed, approved or otherwise endorsed by any entity named in this article.