What Are KeyBank's Hours? Regular and Holiday Schedule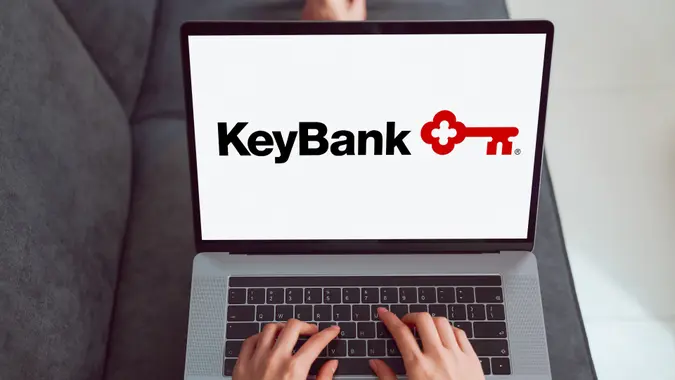 Sitthiphong / Getty Images/iStockphoto
KeyBank, owned by KeyCorp, is one of the largest bank-based financial services companies in the U.S. It has over 1,000 branches across 15 states and offers consumer and commercial banking products and services. If you need service at a branch location, read on to find out about KeyBank's hours of operation.
What Are KeyBank's Hours?
KeyBank hours vary by branch, and you can use the branch locator on the KeyBank website to determine hours for your preferred location. Many open at 9:00 a.m. and close at 4:00 p.m. or 5:00 p.m., Monday through Friday. Some branches also have Saturday hours from 9:00 a.m. to 12:00 p.m.
Some KeyBank branches require an appointment for an in-lobby visit. You can schedule one on the KeyBank website or by calling the KeyBank Customer Service Center.
Here are KeyBank's typical hours.
| Day | Hours |
| --- | --- |
| Monday through Friday | 9 a.m. to 5 p.m. |
| Saturday | 9 a.m. to 12 p.m. |
| Sunday | Closed |
KeyBank's Holiday Hours
For the most part, KeyBank observes the federal holiday schedule and closes its branches on federally-recognized holidays, but there are a few exceptions. Here are the holidays that KeyBank will be closed in 2023.
Holiday
Date
New Year's Day
Sunday, Jan. 1
Observed Monday, Jan. 2
Martin Luther King, Jr. Day
Monday, Jan. 16
Presidents Day
Monday, Feb. 20
Memorial Day
Monday, May 29
Juneteenth National Independence Day
Monday, June 19
Independence Day
Tuesday, July 4
Pioneer Day (Utah branches only)
Monday, July 24
Labor Day
Monday, Sept. 4
Columbus Day/Indigenous Peoples Day (Utah branches open)
Monday, Oct. 9
Veterans Day
Saturday, Nov. 11
Thanksgiving Day
Thursday, Nov. 23
Christmas Day
Monday, Dec. 25
Banking With KeyBank Outside of Business Hours
You can complete many KeyBank transactions using online banking, the mobile app or a KeyBank ATM.
Through your online account or the app, you can check your balance, initiate transfers, pay bills, manage your credit cards and other banking tasks. ATMs allow you to make deposits of checks and cash, withdraw cash, check your balance and make transfers, among other things — although not all ATMs offer every service.
How To Contact the KeyBank Customer Service Center
If you need help with a KeyBank account, you might not need to visit a local branch. You can contact the KeyBank Customer Service Center through live chat and telephone. KeyBank also offers the KeyBank Assistant, a virtual assistant that can help with simple inquiries.
Live Chat
You can chat with a customer service representative by logging in to online banking and selecting "Live Chat" under the "Customer Service" option. Live chat hours are:
Monday to Friday, 7:00 a.m. to 12:00 a.m. EST
Saturday and Sunday, 8:00 a.m. to 9:00 p.m. EST
By Phone
For help with online or mobile banking, call 800-539-1539. Hours are as follows:
Monday to Friday, 7:00 a.m. to 12:00 a.m. EST
Saturday and Sunday, 8:00 a.m. to 9:00 p.m. EST
For questions not related to online or mobile banking, you can call 800-539-2968 to speak with a representative 24 hours a day, seven days a week.
Takeaway
Even during business hours, some KeyBank branches require an appointment for a lobby visit. Before making an appointment, see if your transaction or issue can be handled on the KeyBank website, via online banking or the mobile app, or by contacting the KeyBank Customer Service Center. You can also apply for loans and open accounts online, including checking, savings, CDs and credit cards.
FAQ
Here are a few common KeyBank account questions and answers.
How much can you withdraw from KeyBank ATMs per day?

Daily ATM withdrawal limits for KeyBank customers vary by card type, but are likely to be between $300 and $1,000.
To determine your card's daily withdrawal limit, check your account's Agreement and Disclosure statement. You can request a daily limit increase by visiting any KeyBank branch.

What is the limit on KeyBank mobile deposits?

KeyBank's rolling 30-day limit on mobile deposits is either $7,500 or $20,000, depending on your account type.
For instance, if you have a Key Smart Checking account, you can make up to $7,500 in mobile deposits during any 30-day period, while the rolling limit for Key Advantage Checking is $20,000.

Why is my KeyBank account access restricted?

KeyBank may lock your ability to log in to your account online or on the mobile app if the wrong username and password are entered too many times.
If your KeyBank account access is restricted, you can visit the KeyBank website and follow a few prompts to regain access or get customer service help.

Is KeyBank owned by U.S. Bank?

No – KeyBank is part of KeyCorp, while U.S. Bank is part of U.S. Bancorp.
Amber Barkley contributed to the reporting for this article.
Information is accurate as of April 13, 2023.
Editorial Note: This content is not provided by any entity covered in this article. Any opinions, analyses, reviews, ratings or recommendations expressed in this article are those of the author alone and have not been reviewed, approved or otherwise endorsed by any entity named in this article.