Here's Your UCCU Routing Number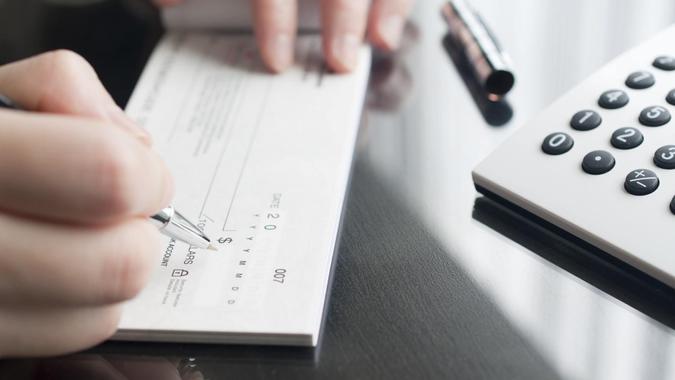 ©iStock.com
Paying bills online, setting up direct deposit and receiving a wire transfer are just a few of the situations that require the use of your financial institution's routing number. Without routing numbers, funds wouldn't have a clear electronic roadmap to get where they need to go.
UCCU Routing Number
To save you the hassle, here is instant access to your routing number:
Utah Community Credit Union Routing Number
324377820
You can also locate your Utah Community Credit Union routing number on a check by referencing the first string of numbers printed on the bottom of your checks, on the left side. Other options for locating a routing number include visiting your bank's website or calling it directly to request the number.
Keep Reading: Every Type of Check Fraud You Have to Worry About
What Is a Routing Number?
A routing number — also known as an ABA number or routing transit number — features a sequence of nine digits that help banks identify the financial institution associated with a specific account.
For example, when you set up a direct deposit authorization with your employer, you'll not only need to provide your checking or savings account number but also your financial institution's routing number, so that your employer's bank can route your paycheck to the correct location.
What Do Routing Numbers Represent?
Routing numbers are unique identifiers assigned to each financial institution. Here's what each digit in an ABA routing number means:
Digits one and two: Represent bank or credit union that's responsible for clearing transactions; credit unions have digits between 20 and 32
Digit three: Bank processing center identifier
Digit four: Represents the state the bank is located in
Digits five through eight: Represents the bank's ABA identifying number
Digit nine: Check digit, which serves to verify the authenticity of the routing number
Learn: How To Read and Write a Check
Banks Can Have Multiple Routing Numbers
Although UCCU only has one routing number, larger banks might have more than one. Routing numbers can change, too.  For example, when banks merge, sometimes older routing numbers become obsolete.
Before sending a wire transfer, it's always a good idea to confirm the routing number with the receiving bank or credit union because some financial institutions have separate routing numbers for different types of transactions.
More on Banks
We make money easy. Get weekly email updates, including expert advice to help you Live Richer™.
Information is accurate as of July 12, 2022.
Editorial Note: This content is not provided or commissioned by the bank advertiser. Opinions expressed here are author's alone, not those of the bank advertiser, and have not been reviewed, approved or otherwise endorsed by the bank advertiser. This site may be compensated through the bank advertiser Affiliate Program.