Here's Your Webster Bank Routing Number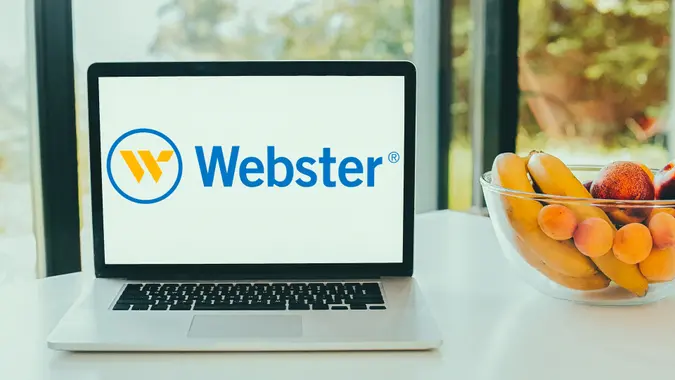 Untold amounts of money move between banks each day, and it wouldn't be possible without routing numbers. These nine-digit unsung heroes allow you to do things such as transfer money between banks, set up online payments and process your checks. Keep reading to learn Webster Bank's routing number.
Webster Bank Routing Numbers by State
Webster Bank's routing number changes depending on where the customer opened their account:
Webster Bank Routing Numbers by State
State
Number
Connecticut
211170101
Massachusetts and Rhode Island
211370231
New York
021973019
Webster Bank notes that the routing number for former New Mil Bank customers is 211170156. Webster acquired New Mil back in 2006.

What Is a Routing Number?
Banks use routing numbers to identify each other during financial transactions such as wire transfers. Routing numbers are comprised of nine digits and can be broken down into sections as represented by 000011112:
0000: This is the Federal Reserve routing symbol, which identifies the Federal Reserve Bank region where the bank is located.
1111: This is the financial institution identifier, which identifies the bank itself.
2: This is the check digit, used to mitigate potential routing errors.
The routing number was introduced by the American Bankers Association in 1910, which is why routing numbers are also referred to as ABA numbers.
Can Banks Have Multiple Routing Numbers?
Yes, as you can see in the case of Webster, banks can and do use multiple routing numbers. It's common for bigger banks to use different routing numbers for different states, but in Webster's case, it also picked up a new routing number because of its 2006 merger with New Mil Bank. Other examples of banks using multiple routing numbers include large players like Wells Fargo and Citibank.
How Do You Find a Routing Number on a Check?
The routing number is printed on the bottom of a check, along with the account number and check number. The routing number is always printed first, followed by the account number and then the check number.
What Is the Routing Number for International Transfers?
SWIFT codes are used in place of routing numbers to identify banks during international wire transfers. But Webster Bank does not have a SWIFT. It uses a bank identifier code, or BIC, instead.
Webster Bank BIC Code
WENAUS31
Webster notes that "SWIFT and BIC codes are not the same, but they serve the same purpose." You'll use Webster's BIC code to receive international wire transfers. To send an international wire transfer, contact Webster Bank at 888-932-2256.
Up Next: Demystifying SWIFT Codes — What They Are and How To Find Them
More on Webster Bank
More Routing Numbers
This content is not provided by Webster Bank. Any opinions, analyses, reviews or recommendations expressed in this article are those of the author alone and have not been reviewed, approved or otherwise endorsed by Webster Bank.