How Long Does Direct Deposit Take?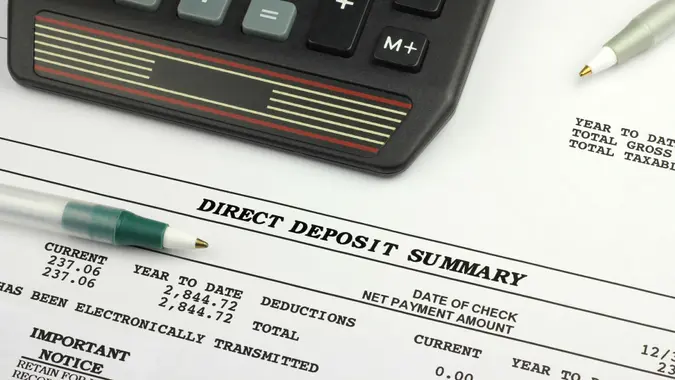 GaryPhoto / Getty Images
In today's fast-paced world, receiving your earnings quickly and efficiently is more important than ever. Direct deposit offers a convenient solution, bypassing the need to physically deposit a paycheck at a bank. But many might wonder just how long does direct deposit take? Keep reading to find out.
How Long Does Direct Deposit Take?
Typically, direct deposits take 1-3 business days to clear. While the actual transfer of funds is almost instantaneous, the time it takes for these funds to be verified and made available in your account can vary.
Factors Influencing Direct Deposit Timing
Several factors can affect how long a direct deposit takes:
Employer's payroll processing: The timing of when an employer processes payroll can impact when funds are deposited.
Bank's policies: Different banks have varying policies regarding fund availability.
Public holidays and weekends: Non-business days can delay the processing of direct deposits.
Type of payment: Certain payments, like tax refunds or government benefits, might have specific processing times.
What Is Direct Deposit?
Direct deposit is the automatic electronic deposit of funds into a bank account that takes the place of issuing a check. It's a secure and efficient way to receive salaries, benefits and other forms of payment. Upon successful transfer, your account balance is updated automatically.
Advantages of Direct Deposit

Whether you're an employer or employee, using direct deposit can make payday a breeze.

Speed: Typically faster access to funds compared to paper checks.
Convenience: Eliminates the need to physically deposit checks.
Security: Reduces risks associated with lost or stolen paper checks.
How Does Direct Deposit Work?
Direct deposit transactions are processed through the Automated Clearing House network. This system streamlines the transfer of money between different banks and financial institutions. In addition to paychecks, direct deposit is commonly used for:
Upgrade Your Checking Account
While most direct deposits are done using ACHs and banks, these payments can also be made using online banking and mobile apps. For example, if you want to send money to your friend or family member, you only need their banking information. In the same way, they can access the funds as soon as they are available.
How To Set Up Direct Deposit
To set up direct deposit, follow these steps:
Obtain and fill out a direct deposit form: This is available from your employer or bank. Federal benefit recipients can find forms through Go Direct or the U.S. General Services Administration.
Provide required information: Include your name, account number, bank's routing number and possibly a voided check.
Submit the form to your employer: After submission, wait for the setup to be completed.
Is Direct Deposit Safe?
Direct deposit is a far more secure method of payment than a paper check. It lowers the risk of fraud and lost or stolen checks.
Good To Know

Direct deposit is a popular and convenient way for people to receive payment in lieu of paper checks. When setting up direct deposit, it is a good idea to avoid sending your account number and other sensitive information via email. Handling this one-on-one or via phone with authorized personnel will ensure that your information is secure.
Direct Deposit Alternatives
Direct deposit requires you to have a bank account. If you don't have one and still need a convenient mode of electronic payment, here are a few great alternatives:
Upgrade Your Checking Account
Final Take
Understanding how long direct deposit takes is crucial for effective financial planning. With its speed, convenience and security, direct deposit remains a preferred method for receiving payments in our increasingly digital world.
Explore More on Direct Deposit
More on Checking Accounts
FAQ
Here are the answers to some of the most frequently asked questions regarding direct deposit.
How long does it take for direct deposit to hit your bank account?

Direct deposit typically takes 1-3 business days to hit your bank account. This timeframe starts from when your employer initiates the payment. While the transfer itself is swift, the delay primarily comes from the verification and processing procedures of the receiving bank. Factors like bank policies, weekends and public holidays can influence the exact duration.

How does direct deposit work if I get paid on Friday?

If your payday falls on a Friday, direct deposit works in the following way:

Payroll processing: Your employer's payroll department will process the payment a few days in advance.
ACH transaction: The payment is sent through the Automated Clearing House system.
Bank processing: Your bank receives the ACH transaction and processes it.
Funds availability: Depending on your bank's policies, the funds might be available in your account either on Friday itself or the next business day.

It's important to note that if your employer processes the payroll too close to Friday, or if there are public holidays, the funds may not be available until the next business day.

How do I know if my direct deposit is pending?

You can determine if your direct deposit is pending by:

Online banking: Check your bank account online. Pending deposits usually appear in your transaction history or account summary, often marked as "Pending" or "Processing."
Mobile banking apps: Many banks offer mobile apps where you can check your account status. Look for any pending transactions here.
Bank notifications: Some banks send email or text notifications for pending deposits. You can opt-in for these alerts if your bank offers them.
Contacting your bank: If you're still unsure, you can call your bank's customer service for confirmation.

Pending direct deposits indicate that the transaction is in process but the funds are not yet available for use. Once the deposit clears, it will move out of "pending" status and the funds will be accessible in your account.
Upgrade Your Checking Account
Cynthia Bowman and Lydia Kibet contributed to the reporting for this article.
Editor's note: This article was produced via automated technology and then fine-tuned and verified for accuracy by a member of GOBankingRates' editorial team.