5 Reasons You Still Need Checks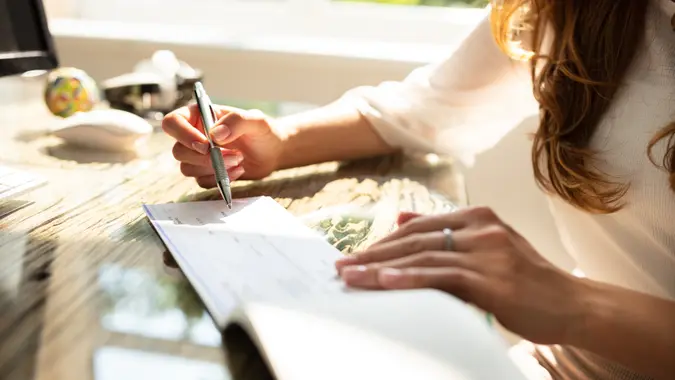 AndreyPopov / Getty Images/iStockphoto
Is there still room for paper checks in a world where financial transactions are increasingly digital in nature? Survey says … yes.
Discover: GOBankingRates' Best Savings Accounts of 2023
See the List: GOBankingRates' Best Banks of 2023
And More: GOBankingRates' Best Checking Accounts of 2023
In GOBankingRates' Best Banks 2023 survey of 1,000 Americans, 22% of respondents said they still write checks at least once a month. And surprisingly, of these respondents, the largest percentage belonged to those between the ages of 18 to 24 (28%). Paper checks might sound like a mildly antiquated concept, but they can still be used to fulfill specific needs now and into the near future.
Here are some of the key reasons you still need checks.
Valid Form of Payment
If you don't have cash or a credit or debit card available to pay for essential goods or services, many people and places will accept a check. Desiree Kaul, CFP and associate advisor at MainStreet Financial Planning, said you can still use a physical check to make a payment for the following:
Hiring contractors. Kaul said contractors who work on your home generally accept only cash or physical checks for their services. Paying with a credit card, should you choose to do it, may mean paying additional convenience fees.
School fees. Families with school-aged children often need to pay for various activities throughout the course of the school year. Rather than send your child to school with cash that could be lost, Kaul said it may be easier to write a physical check for fees payable to the school.
Physical magazine subscriptions. If you still subscribe to physical magazines, Kaul said you may want to pay for these subscriptions via physical check. "If you use a credit card, some companies will autobill a credit card upon renewal whether you intended to renew or not," said Kaul.
Groceries. Yes, many grocery stores and retailers like Walmart will accept a physical check at checkout. Kaul said this can be especially helpful in circumstances where your debit or credit card has been lost or stolen. A physical check may act as its replacement for making payments until then.
Earn Perks With A New Checking Account
Record Keeping
Noah Schwab, CFP at Stewardship Concepts Financial Services, said writing a physical check allows for easy record keeping of transactions and expenses. 
As you write out a check, make sure to update your checkbook accordingly. As your memo, write down the date the check was written, to whom it was made out to, the check amount and the check number. Jotting down the check number is important for tracking purposes so you know when the check is cashed and which check it was in your account. 
Take Our Poll: How Much of a Tax Refund Do You Expect in 2023?
Security
If you would like an extra layer of security in making a payment, Schwab said writing a check can be more secure than using a debit or credit card. The check, Schwab said, requires a signature and is harder to forge.
Give your physical check even more security by following careful mailing practices. While many will mail checks in a mailbox, these can be intercepted by mail thieves. If you are mailing a significant paper check, such as making a tax refund payment via mail, take it directly to the nearest USPS location. Drop it off inside to ensure the check goes immediately to the mailroom and is in the care of the mail staff.
Earn Perks With A New Checking Account
No Additional Fees
If you plan on writing a physical check and giving it directly to a contractor or grocery store as a form of payment, guess what? You do not need to pay anything else.
"Unlike credit or debit card transactions, writing a check does not typically require additional fees to be paid," said Schwab.
Building Credit
Can using physical checks help build your credit? Schwab said those who use checks to pay bills could build a credit history. 
"Some financial institutions offer check systems that are linked to credit reporting agencies, which allow them to report your check-writing activity to the credit bureaus," said Schwab. "This can help you build credit if you consistently write checks and make payments on time."
More From GOBankingRates
Earn Perks With A New Checking Account
Earn Perks With A New Checking Account