Ally Bank Interest Rates: How To Get the Bank's Best Rates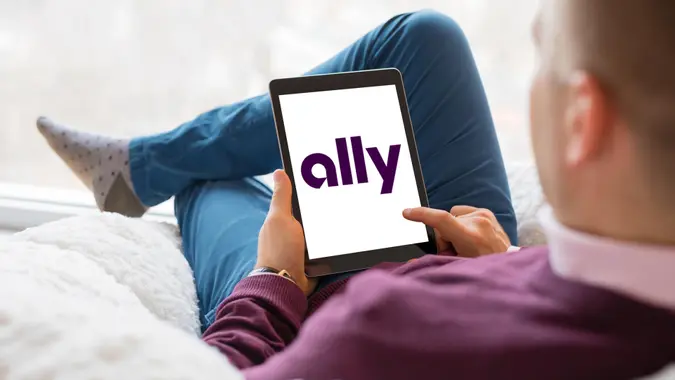 Kaspars Grinvalds / Shutterstock.com
Ally Bank is an online bank that offers various financial services, including checking and savings accounts, CDs and home and auto loans. Online banks have gained quite a bit of traction over the past few years, with 30% of Americans having or planning on opening an account with an exclusively online bank. They are a convenient option for consumers comfortable with banking entirely online, and they often provide higher rates than larger national banks. However, if visiting a bank branch is more your speed, or a majority of your income is cash-heavy, you may want to look beyond Ally Bank.
Here's a list of the main types of consumer accounts at Ally Bank, along with current interest rates and suggestions on how you can get the best rates at Ally Bank:
How To Get the Best Ally Bank Interest Rates
This online bank features no monthly maintenance fees or minimum balance requirements. Ally Bank also pays a higher yield on CDs and savings accounts than more traditional banks. Interest is compounded daily, so your money earns money. To get the best Ally Bank interest rates, you'll first need to determine your own investing goals. From there you can find the product that best fits your needs.
With Ally Bank being strictly online, there are no physical branches for consumers to visit with questions or concerns. However, there is 24/7 online support with a real person, which may be beneficial for those seeking flexibility for their financial needs. Here's an overview of Ally Bank's account types:
Ally Bank Accounts
Account/Product
Product Type
Ally Bank Online Savings Account
Savings Account
IRA Online Savings Account
Savings Account
Money Market Account
Savings Account
Ally Bank Interest Checking Account
Checking Account
3-Month High Yield
CD/IRA
6-Month High Yield
CD/IRA
9-Month High Yield
CD/IRA
12-Month High Yield
CD/IRA
18-Month High Yield
CD/IRA
3-Year High Yield
CD/IRA
5-Year High Yield
CD/IRA
2-Year Raise Your Rate
CD/IRA
4-Year Raise Your Rate
CD/IRA
11-Month No Penalty CD
CD
How Do Ally Bank's Rates Compare to Other Banks?
The online banking space is becoming fairly competitive, and with good reason — many of the best online banks offer impressive savings account and 12-month CD account APYs compared to other, more popular national banks.
This table compares the interest rates of checking accounts, savings accounts and one-year CD accounts for some of the most popular online banks:
How Do Ally Bank's Rates Compare?
Bank
Checking Account APY
Savings Account APY
12-Month CD Account APY
Ally Bank

0.25%

4.25%

5.10%

Discover Bank

0.00%

4.35%

5.20%

Synchrony Bank

0.00%

2.20%

5.30%

FNBO Bank

0.15%

5.15%

0.31%

Axos Bank

3.30%

0.61%

0.20%
Ally Bank offers competitive rates all around, with both Discover Bank and Synchrony Bank currently offering no interest rate for checking accounts. Ally Bank's savings account APY is 4.25%, which sits in the middle of the pack when in comparison. However, its notable 12-month CD APY of 5.10% stands alongside Discover Bank and Synchrony Bank as one of the best in the industry.
Ally Bank Checking Account Interest Rates
Ally Bank offers a checking account called the Interest Checking Account. It has considerably high reviews from online consumers and boasts being a checking account that "gives you more." Ally Bank rewards its customers for banking with them, with unique features like Ally eCheckDeposit, which allows customers to snap a photo to deposit checks remotely. You can also transfer money using only your voice with Ally Skill, which works in coordination with Zelle. And remember, this is all without monthly maintenance fees.
Accounts with a balance of less than $15,000 earn 0.10% APY, while those with a balance of at least $15,000 qualify for 0.25% APY. Ally Bank doesn't charge for standard or expedited ACH transfers, copies of online statements, incoming domestic or international wires or cashier's checks. Its checking and savings accounts, however, do come attached with certain fees, like a $25 overdraft fee or a $10 excessive transactions fee.
Also See: Best Checking Accounts
Ally Bank Savings Account Interest Rates
Ally Bank allows online savings account holders to organize using "buckets." Buckets are exactly like digital envelopes, where you can separate parts of your savings for when you decide to use it. Perhaps you are saving up for a new car or a vacation — either way, you can create up to 10 savings buckets that all live in your Online Savings Account. Consumers will be earning interest on the total balance within the savings account.
Account holders can also set up boosters to accelerate savings, including recurring transfers. Ally Bank provides "surprise savings," where it analyzes linked checking accounts for money that can be transferred safely to savings. Luckily, using any of the savings account tools won't count against the bank's six withdrawals limit per statement cycle.
Ally Bank Mortgage Interest Rates
Ally Bank has quite a few options if your sights are set on homeownership. These options include a 30-year fixed-rate, 15-year fixed-rate, 10/6 ARM variable and 5/6 ARM variable. These rates are outlined below. This table is reflective of mortgage rates under the assumption that the borrower is a resident of the state of California with a $300,000 conventional loan and placing a 20% down payment:
Ally Bank's Mortgage Rates
Loan Type
Interest Rate
APR
30-year fixed-rate
4.000%
4.020%
15-year fixed-rate
3.125%
3.150%
10/6 ARM variable
3.500%
3.420%
5/6 ARM variable
3.500%
3.250%
Please note that the interest rate for Ally Bank's 5/6 ARM and 10/6 ARM is subject to increase after five and 10 years, respectively. Ally Bank also offers its customers "jumbo loans," which have low rates, a low down payment and a dedicated team of expert home loan advisors. Ally offers 30-year fixed-rate, 15-year fixed-rate and 5/6 adjustable mortgage rate jumbo loans.
Ally's Jumbo Loan Rates
Loan Type
Interest Rate
APR
30-year fixed-rate
2.875%
2.920%
15-year fixed-rate
2.875%
2.920%
5/6 adjustable rate
2.250%
2.800%
Ally Bank rewards you for having a great credit score. If you have a FICO score of 720 or higher, you may qualify for a down payment as low as 10%. Please be aware that these rates are for California residents with a $650,000 loan with 20% down on a single-family home.
Ally Bank Certificate of Deposit Interest Rates
Ally Bank offers three types of CD accounts — High Yield CD, Raise Your Rate CD and No Penalty CD account. The term lengths, account details and APY for each account are very different, so you will want to decide what you're looking for in a CD account before picking the best option for your financial needs. Both the High Yield CD and Raise Your Rate CD are available as IRAs, and early withdrawal penalties will apply to both accounts. The High Yield CD allows you to maximize savings with a fixed rate, while the Raise Your Rate CD gives you the opportunity to increase your rate over the two- or four-year term.
The No Penalty CD allows some flexibility before it matures, and you can withdraw money any time after the first six days following the funds deposited. You can also keep the interest earned with no penalties.
More on Ally Bank
More on Bank Interest Rates
Disclaimer: This content is not provided by Ally Bank. Any opinions, analyses, reviews or recommendations expressed in this article are those of the author alone and have not been reviewed, approved or otherwise endorsed by Ally Bank.
Information is accurate as of June 8, 2022.