Zelle vs. Venmo: What's the Difference and Which Is Better?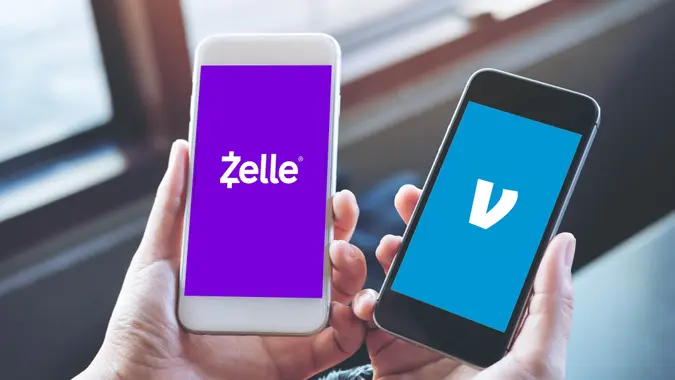 Farknot Architect / Shutterstock.com
It's common to split a bill with friends and family nowadays by sending them a mobile payment, many of which are done through Zelle and Venmo. Both are peer-to-peer payment apps that let you send money fast and for free. All you have to do is look up your friend's email address or mobile phone number, enter an amount and hit send.
Compare Zelle and Venmo to decide which app works best for you and your friends.
How Zelle and Venmo Compare
Zelle and Venmo make sending and receiving money easy but in different ways. Zelle works as a service to move money between linked bank accounts free of charge but doesn't hold money in your Zelle account. Venmo holds funds in your account that you can access. You're not limited to only using your bank account for transactions with Venmo, either — you can also use a debit card or, for a fee, use a credit card to send money.
Zelle and Venmo share the same concept: sending and receiving money electronically. But there are important differences.
What Is Zelle?
Zelle is a great tool if you and your network of family and friends have accounts with banks that participate in the app. With Zelle, you can transfer funds between bank accounts in minutes for free. The money transfers don't sit in a holding account in Zelle. Instead, the funds get withdrawn or deposited directly into your or your recipient's bank accounts. Most banks participate in Zelle, but even if a bank doesn't, you can still use Zelle to move smaller amounts of money.
What Is Venmo?
Venmo is more like a digital wallet that works similarly to PayPal. Your money collects in Venmo and you can move it to other accounts, spend it or reload your Venmo balance. Some of the transactions come with fees.
Features of Zelle and Venmo
If you're still unsure about whether to use Zelle or Venmo, compare their features:
| Feature | Zelle | Venmo |
| --- | --- | --- |
| Payment/transfer methods | Transfers between linked bank or credit union accounts | Venmo funds, credit, debit and bank transfers |
| Mobile app | Yes | Yes |
| Availability | U.S.-only transactions | U.S.-only transactions |
| Fees for sending money using bank transfer or your account balance | Free | Free for standard transfers (1-3 business days); 1.75% for instant transfers |
| Credit card transaction fees | N/A | 3% fee |
| Debit card transaction fees | N/A | Free |
| Transaction limits | Ask your bank about its limits; weekly sending limit of $500 for accounts with banks that don't participate in Zelle | $299.99 weekly person-to-person sending limit for unverified users; weekly rolling limit of $60,000; can use a combined amount of $7,000 to use toward purchases |
| Bank account transfer times | Takes only minutes | Instant for a fee; otherwise within 1-3 business days free of charge |
| ATM withdrawal fees | N/A | Free MoneyPass network withdrawals using Venmo debit card; $2.50 charge for out-of-network withdrawals |
| Security | Authentication and fraud monitoring | Data encryption |
How Secure Are Zelle and Venmo?
As you can see in the comparison chart, both Zelle and Venmo have built-in security features to make money transfers safe. Zelle's team monitors transactions and uses authentication to ensure your banking information is protected. Venmo also monitors transactions to catch fraud and uses data encryption to protect your personal data. Both services are safe, although Venmo could be considered the more secure of the two because you can add a PIN and enable multifactor authentication in the app.
Is Zelle Faster Than Venmo?
Both peer-to-peer apps are fast, but Zelle is the fastest — and it's free. Zelle transfers happen almost instantly. Venmo funds are available in your Venmo account right away, but it takes one to three business days to transfer them to your bank account. If you need your funds in minutes, you can pay a 1.75% transaction fee for an instant transfer.
Can Zelle Send Money to Venmo?
You will not be able to use Zelle to send money to a Venmo account. The two services work completely differently. Venmo funds are held as a Venmo balance in your account for you to spend or transfer, but Venmo is not considered a bank. Zelle is a peer-to-peer app designed to transfer funds between bank accounts. Since Venmo is not a bank account, you won't be able to transfer funds to Venmo from Zelle.
The only workaround to this limitation would be to use Zelle to send money to the bank account a Venmo user has linked to their Venmo account. Once the user receives your Zelle payment into their bank account, they can then transfer the funds from their linked bank account straight into their Venmo balance.
Is There a Fee To Use Zelle?
There is no fee to send or receive money via Zelle. Check with your bank to make sure it doesn't charge fees for using Zelle's service.
Is There a Fee To Use Venmo?
There's no fee to make Venmo payments funded by your Venmo balance, your bank account or debit card, but Venmo charges a 3% fee for payments funded with a credit card. You can make standard transfers from your Venmo account to your bank account for free. However, you'll pay a 1.75% fee for instant transfers. Also, Venmo charges $2.50 for out-of-network ATM withdrawals.
Are Zelle Transactions Reversible?
The reason Zelle transfers are so fast is that both users have typically set up the service through their participating banks and are enrolled in Zelle. All you need is the other person's email address or mobile phone number to send the funds, and you're done. This is a big plus, but the ease of sending someone cash so quickly can also be an issue if you click on the wrong person. You won't be able to reverse transactions between enrolled accounts. However, if the recipient has not enrolled with Zelle, you can cancel a transfer to them.
Are Venmo Transactions Reversible?
Venmo transactions can't be canceled because recipients have immediate access to the payments. However, Venmo support can reverse a payment if the recipient gives their permission, their account is in good standing and the funds are still in their Venmo account.
Zelle vs. Venmo: What's the Difference and Which Is Better?
The main difference between Zelle and Venmo is where the funds are held. Zelle is limited because the service only moves money between bank accounts. In contrast, you can receive money into your Venmo account, which can then be withdrawn, transferred and even topped up if you need more.
Takeaway

If you're looking for an alternative to the services your bank account offers, Venmo is the better of the two. You'll be able to grow your Venmo fund account, link your credit and debit cards, withdraw funds from your Venmo account for free using MoneyPass ATMs nationwide and make bank transfers.
Daria Uhlig contributed to the reporting for this article.
Information is accurate as of April 25, 2023.