How To Pick the Savings Account That Is Right for You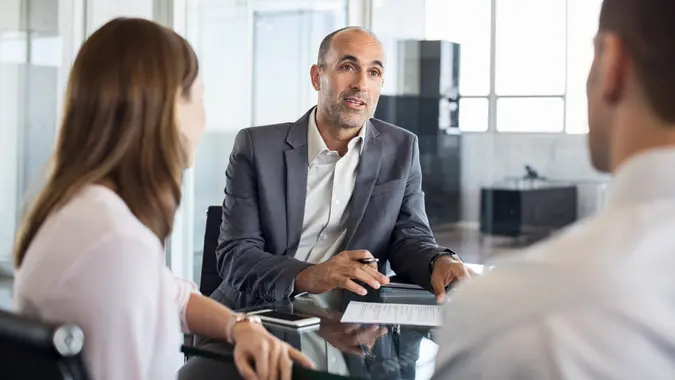 Ridofranz / iStock.com
Not all savings accounts are created alike. In the Best Banks 2023 poll conducted by GOBankingRates, 72% of respondents said they have savings accounts. A deeper dive into this data revealed 11% of respondents have money market accounts and just 8% have certificates of deposit (CDs). 
See the List: GOBankingRates' Best Banks of 2023
Experts: Here's How Much You Should Have in Your Checking Account
Money market accounts and CDs are two common forms of savings accounts. There are several other forms of savings accounts available at most financial institutions. Here's how to pick which savings account is right for you.
High-Yield Savings Account
Do you want to earn a higher interest rate on your savings? If you said yes, Andrew Lokenauth, founder of Fluent in Finance, recommends opening a high-yield savings account.
"These accounts often offer higher annual percentage yields than traditional savings accounts and allow you to easily access your money if you need it," Lokenauth said. 
Earning 4% Or More On Your Money?
A high-yield savings account is also the general recommendation for anyone building an emergency fund as it provides quick access to the fund in a liquid setting.
Take Our Poll: How Big of a Sign-Up Bonus Would It Take for You to Change Banks?
Money Market Account
As mentioned earlier, 11% of respondents surveyed by GOBankingRates have opened money market accounts, which typically offer higher interest rates than traditional savings accounts. Some may allow account holders to write checks.
"If you're looking for a place to keep a larger sum of money which you don't need immediate access to," Lokenauth said, "a money market account may be the right choice for you."
Certificate of Deposit
While a mere 8% of survey respondents said they have opened CDs, don't count out this option as a potential savings account. 
CDs typically offer fixed interest rates over certain time periods. For those who seek less risk when opening a savings account, a CD may be the ideal choice.
Cash Management Account
Those seeking a single account to do it all — manage your savings and investment accounts — might decide to open a cash management account. 
"These accounts typically offer features like high interest rates, investment options and easy account management," Lokenauth said.
Earning 4% Or More On Your Money?
Passbook Savings Account
A passbook savings account is an account that comes with a physical ledger. Account holders use the ledger to write down any withdrawals or deposits made in this account. 
Ann Martin, director of operations at CreditDonkey, said passbook savings may provide a longer-term solution and offer flexibility. The account also allows an individual's funds to remain liquid in the event they need to be quickly accessed. 
Which Savings Account Is Right for You?
Ultimately, this decision will depend on your own financial situation. The most financially advantageous savings accounts, Martin said, are generally high-yield and money market accounts. 
There is, however, a certain type of savings account to avoid opening: any account that carries low rates of return or excessive fees.
Said Martin: "Neither situation is beneficial in terms of growing your wealth over time."
More From GOBankingRates
Earning 4% Or More On Your Money?