5 Apps Like Cash App: Best Alternatives To Try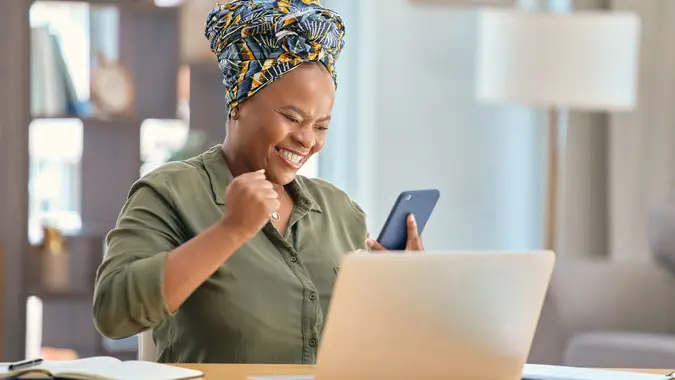 Marco VDM / iStock.com
The swiftness with which you can now send, receive or transfer money at the touch of a button should not be underestimated. Spending habits aside, payment apps have made lives universally more convenient.
As with any online transaction or bank transfer, it is good to know which app will work best for you — and if you are unsatisfied with your current Cash App account, you should explore some Cash App alternatives.
5 Best Alternative Apps to Cash App
When sending and receiving money on a mobile app, do some research on the benefits and drawbacks of the app itself. Gone are the days when you only had one option for an app to transfer money. Here are five alternatives to Cash App to consider, and what they are best for: 
Google Pay: Best for shopping online
Venmo: Best for users who like social networking
PayPal: Best for those who need both a personal and business account
Zelle: Best for those who prefer direct bank account transfer
Meta Pay: Best for those who buy and sell through Facebook Marketplace
Google Pay
Once called Android Pay, Google Pay is a great way to securely pay family and friends with instant transfers, since it is compatible with both Android and iOS devices. Whether you need to send or receive or buy and sell, Google Pay makes online payments easy to do right from your phone.
Pros and Cons of Google Pay
| Pros | Cons |
| --- | --- |
| Compatible with Android and iOS devices | Limited number of participating banks |
| Stong record keeping | Slow bank account transfers |
Things To Know About Google Pay
Highly secure
A convenient way to pay family and friends
Can connect mobile wallet to PayPal
Limits on amounts you can send, receive, deposit or transfer
Venmo
When comparing Venmo and Cash App, there are a few things to consider, such as security, ease of transfer, debit cards and bank account allowances. Both apps have a 3% fee for sending money with a credit card. However, you can connect your bank account or debit card to send money without incurring fees.
Your Cash Card through Cash App has a spending limit of $10,000 per week, whereas Venmo offers a spending cap of $60,000 per week once your identity is verified.
Pros and Cons of Venmo
| Pros | Cons |
| --- | --- |
| Can hold a balance in your account | Money is not FDIC-insured |
| Social features and ability to interact with family and friends | The balance in your account doesn't earn interest |
Things To Know About Venmo
Takes one to three business days to transfer money from your Venmo account to your bank account without fees
Can send money quickly for free
Potential for risk of fraud
PayPal
One of the best known and first peer-to-peer payment apps, PayPal has stayed competitive in an increasingly saturated market through its highly secure and user-friendly interface. It is a well-respected and highly recognized way to send and receive money, which may make it easier to transfer funds to someone else — who is more likely to have PayPal than other apps like Cash App.
Pros and Cons of PayPal
| Pros | Cons |
| --- | --- |
| No subscription fees | Can be quick to freeze account |
| Highly secure | Can incur hidden fees |
Things To Know About PayPal
Avoids having to give your credit card directly to retailers online
Buyer protection on purchases
Buy Now, Pay Later option on eligible purchases
May be charged for instant transfers from your PayPal account to your bank account
Zelle
Zelle is a payment app that is compatible with both banks and credit unions. Many online bank money transfer options feature Zelle over other apps. It is easy and free to use and is available through many mobile banking apps, and unlike Cash App, you can easily access it through any Android or iOS device.
Pros and Cons of Zelle
| Pros | Cons |
| --- | --- |
| Fast and free transactions | Risk of fraud |
| Integrates with most banking apps | Cannot transfer funds from a credit card |
Things To Know About Zelle
Compatible with banks and credit unions
No canceling transfers once payment is authorized
Fast and user-friendly way to transfer money
Meta Pay
Get ready to delve into the depths of possibility with e-commerce — Facebook has a payment app option in Meta Pay, formerly Facebook Pay. Everyone's friend and their aunt have a Facebook account, and with the Facebook Marketplace ever-expanding, it was only a matter of time before Meta launched a payment app. It offers a free way to pay through apps you already use, like Facebook or Instagram.
Pros and Cons of Meta Pay
| Pros | Cons |
| --- | --- |
| Huge platform and can reach numerous users | Can take three business days for payment to go through |
| Can integrate both your debit card and credit card | Potential for data breach |
Things To Know About Meta Pay
Can use to pay both peers and businesses
Can pay via Facebook Messenger
All payments are securely encrypted
Final Take
With such a wealth of choice as to what application you can use to transfer funds, you don't have to settle for one you don't like. Since many of the listed payment platforms are essentially free to use, you can try more than one to find the features or interface that suit you best.
There is a good deal of overlap between Cash App, PayPal, Venmo, Meta Pay, Zelle and Google Pay, so try them all on to see which one fits best in your virtual wallet.
FAQ
Here are the answers to some common questions about payment apps and cash advance apps.
How do money transfer apps work?

Money transfer apps work by electronically transferring money from one account to another, whether you are buying, selling, sending or receiving. They are a good place to store your information safely to send money from your bank account to friends, family or businesses.

Are money transfer apps safe?

Though with any kind of money transfer there is a risk of fraudulent activity or breaches in data, most reputable transfer apps offer high-security measures, as well as encrypted payment transactions.

How long does it take for the money to transfer?

Though most transfers are instant, depending on what kind of transfer you are sending or receiving, sometimes it can take up to three business days for a payment to clear.

How can I borrow $200 from Cash App?

You can borrow $200 from Cash app by using its Cash App Borrow program. To do so you can follow these steps:
1. Open Cash App.
2. Tap on the home screen icon, if necessary, to navigate to the "Banking" header.
3. Tap on "Borrow."
4. Tap "Unlock."
5. Select an amount from the allowed amounts shown.
6. Select your repayment plan.
7. Read the user agreement.
8. Accept your Cash App Borrow loan.