Cash App Card: What Is It and How Do You Get One?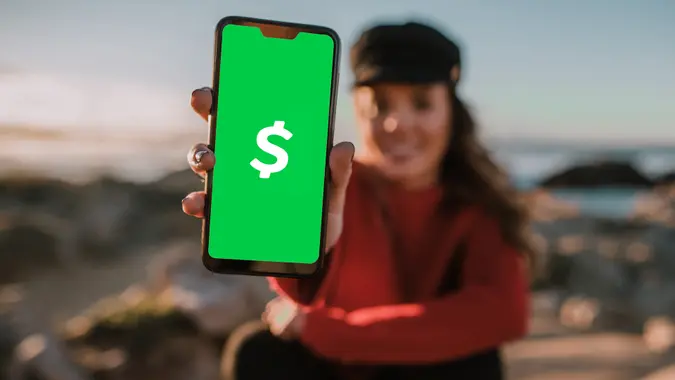 MarioGuti / Getty Images/iStockphoto
Cash App is a peer-to-peer money transfer tool. Users can send and receive money directly through the app or spend in stores using the Cash App card. Read on to find out what the Cash Card has to offer, how to use the card, and what you should know before getting one.
How Does the Cash App Card Work?
The Cash Card functions like any other prepaid debit card. ‌When a user adds money to their Cash App balance, the balance is added to the Cash App card. To do this, make sure the account has a bank account linked. Then:
Tap the balance icon.
Tap "Add Cash."
Enter an amount and tap "Add."
The app will ask for verification using Face ID, Touch ID, or a PIN.
Features of the Cash App Card
Here's a look at some of the features that Cash App card users can take advantage of:
Google Pay and Apple Pay compatibility: You can add your Cash App card to both as a payment source.
ATM fee reimbursements: If you get $300 or more deposited to your Cash App balance every month, Cash App will reimburse ATM fees for withdrawals.
Cash back in-store: When you use your Cash App as a debit card, you can get cash back up to your withdrawal limit.
Savings opportunities: Adding a Boost to your card can get you instant discounts. In particular, you can use this feature at restaurants, coffee shops, and retailers that offer items from certain spending categories.
How To Set Up Cash App
Download Cash App via Google Play or the App Store.
Enter an email address or phone number.
Enter the code that Cash App sends to that email address or phone number.
Enter debit card information to link a bank account.
Enter your full name.
Choose the $Cashtag that will serve as your username.
Enter your ZIP code.
Any user with an activated account can get a Cash App card, as long as the user is 18 years old or older.
Requesting a Cash Card
Cash App account holders can request a card through the app by following these steps:
Tap the Cash Card icon.
Tap "Get Free Cash Card."
Choose a color for the card.
Choose whether to show the account's $Cashtag on the card.
Sign the card by tapping "Tap To Customize."
Enter your address and first and last name.
Review the details and terms and click "Continue" to order the card.
According to Cash App, cards arrive within 10 business days.
Activating a Cash App Card
When a Cash App card arrives in the mail, it includes a QR code. To activate the card:
Tap the Cash App icon.
Tap the image of the card.
Tap "Activate Cash Card."
Tap "OK" to let Cash App use the phone's camera.
Scan the provided QR code.
You can also activate the card by entering the CVV code and expiration date printed on the Cash App card.
What To Consider Before Getting a Cash App Card
With a Cash App card, you can transfer money directly from a linked bank account. You can also use Cash App when you need a way for friends or family to easily send you money.
Good To Know

Keep in mind, however, that unlike traditional bank-linked debit cards, Cash App balances and cards don't carry FDIC insurance. If anything happens to the issuer of the card, a user could lose their balance. Also, once money leaves a Cash App account, it's difficult to recover.