Venmo App vs. Square Cash App: Which Is Right for You?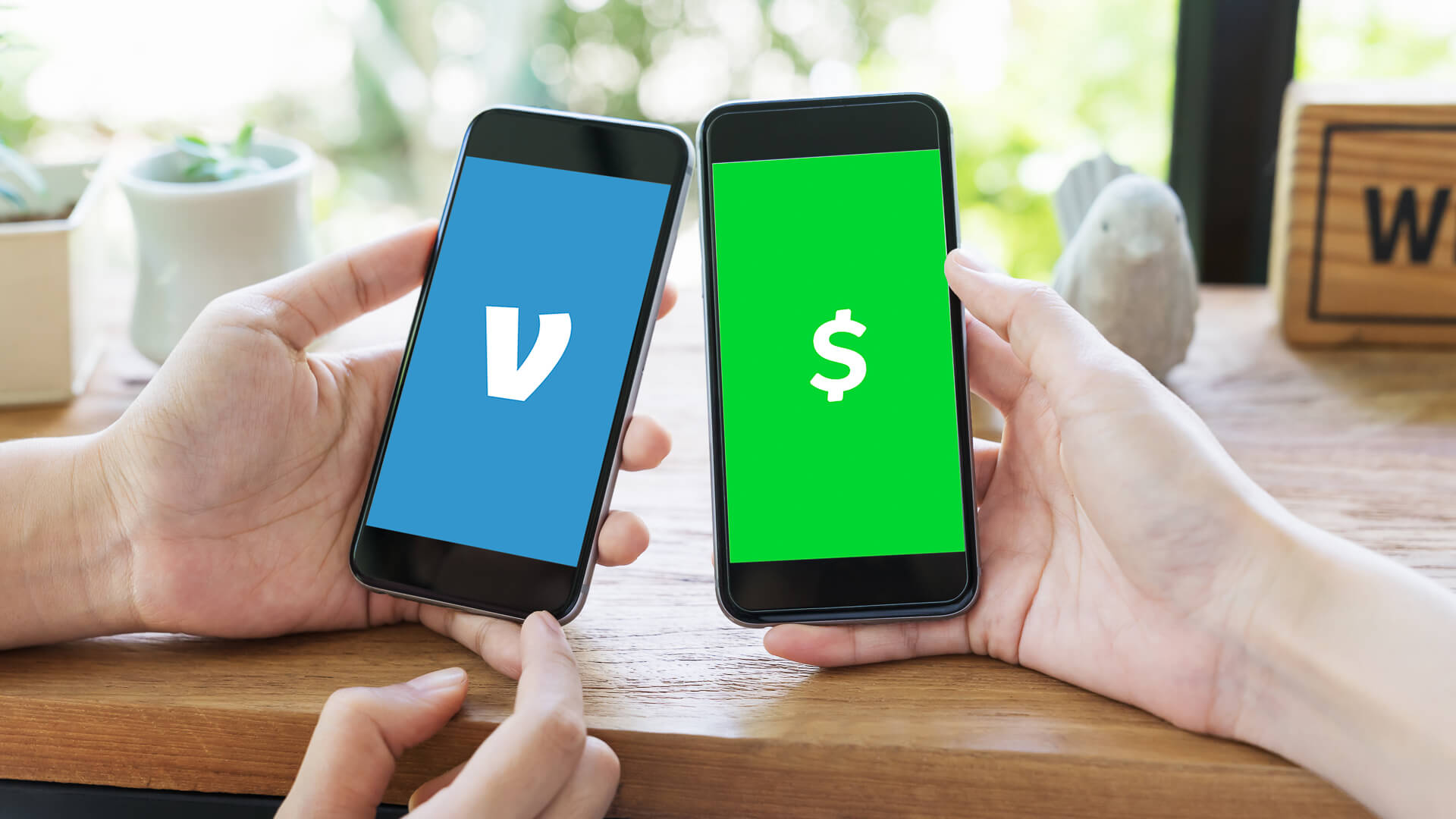 Venmo/Square / Shutterstock.com
When you don't have cash in your wallet to pay a friend back for a pizza or concert tickets, pay a vendor for services or send cash to a family member, you'll need to figure out how to transfer money to someone. With today's peer-to-peer payment services, you can pay anyone for almost anything with a few taps of your fingers with a simple app like Venmo or Cash App, which was formerly known as Square Cash.
Although many similarities exist between the two apps, there are some noteworthy differences. Take a look at these details of Venmo versus Cash App so you can better decide which P2P payment app is best.
Venmo Review: A Closer Look
Like Cash App, the Venmo app allows you to request money from or send money to another person through the mobile payment app via email or phone number. Plus, Venmo lets users send or request money via iMessage.
The app and sign-up are free and so is sending and receiving money, unless you use a credit card for your transactions. Use a credit card as the linked account and a Venmo fee of 3% per transaction applies.
A main difference between the two P2P apps is that Venmo is somewhat of a social network — kind of like an Instagram for payments. You can send fun messages and emojis with your payments and check out your friends' activities. Likewise, you can opt to show your payments in a public feed or you can choose to keep your transactions private.
Sponsors of
Cash App Review: A Closer Look
If you're not really into the social vibe that Venmo promotes, you might prefer Cash App because it's more straightforward. Cash App even allows you more anonymity than Venmo because you can use $Cashtags when you send and receive money. Think of a $Cashtag as your unique screen name. Users with or without a Cash App account can use your $Cashtag to pay you, and you can use it to pay others.
Plus, although both Venmo and Cash App offer debit cards, Cash App also offers Cash App Boost, which offers instant discounts purchases at places such as restaurants and coffee shops. Another feature Cash App offers over Venmo is the option to have your paycheck directly deposited to your Cash App, as long as you have an activated Cash Card. And if you're into buying and selling bitcoin, Cash app allows you do it from your Cash App balance — and you can spend any proceeds you make from a complimentary Visa debit card.
Cash App vs. Venmo: Customer Service
Cash App doesn't offer a toll-free number, but you can call 855-351-2274 to hear automated instructions. Users can also contact Cash App by selecting "Contact Support" in either the Cash App or by going to cash.app/help.
Unlike Cash App, Venmo offers a phone number, 855-812-4430, for users to speak with live agents 10 a.m. to 6 p.m. EST on weekdays. Users can also chat with support agents — during weekdays from 7 a.m. to 1 a.m. EST and on weekends from 9 a.m. to 11 p.m. EST — in the Venmo app or send an email through the Venmo help center.
Cash App vs. Venmo: Transferring Funds To a Bank Account
Standard Venmo transfers are free and the money will usually be available in one to three business days. Instant Venmo transfers, which typically hit your account within minutes, cost 1%, with a minimum fee of 25 cents and a maximum charge of $10.
With Cash App, transferring your money to your bank account is called "Cashing Out." Standard speed transfers, which take from one to three business days, are free. For instant transfers, funds are available immediately and you pay a fee of 1.5% of the total deposit amount, with a minimum fee of 25 cents.
Cash App vs. Venmo: Sending and Receiving Limits
With both P2P payment systems, you have a limited amount of money you can pay and receive initially. When you open your account, before your identity is verified, Venmo limits the amount of money you can send and receive per week to $299.99. To verify your identity, the app will collect your name, physical address, date of birth and Social Security number, and compare the information to data collected from a national database. After verification is complete, sending funds is limited to $2,999.99 weekly, and there's a separate limit of $2,000 for authorized merchant payments and Venmo card transactions.
Cash App will ask you to verify your name, date of birth, and the last four digits of your Social Security number if you send more than $250 in one week. When receiving money, Cash App will ask you to verify your identity if you receive more than $1,000 in 30 days.
P2P Payments and Fraud Protection
Many people wonder about the safety of P2P payments. Both Cash App and Venmo use data encryption to protect users. Every time you sign into Cash App, you'll receive a one-time login code and you also can set up your account to require a PIN or Touch ID. Venmo also allows you to add an extra layer of security by setting up a PIN code.
But you are your first line of defense and you need to protect yourself from fraud. Venmo advises users to accept payments only from friends or other people they trust. Venmo does not offer buyer protection, so if you buy something that's counterfeit or never receive the items you paid for, you have no recourse.
Venmo vs. Cash App: Which Money Sending App Is Best?
When you're looking for a P2P money-sending app to occasionally pay back friends and family members, either money transfer app will likely suffice.
If you are primarily interested in an app that will allow you to quickly pay friends and family, and you make frequent ATM withdrawals, Venmo may be your best choice. Because Venmo's debit card is part of the MoneyPass network, you won't have to ever pay ATM fees if you stay in-network. In addition, Venmo has a higher initial send limit of $299, compared to Cash App's $250 limit.
But if you're interested in being able to use a P2P payment app for more than just quick transactions, you may want to consider Cash App. Cash App offers users the ability to have their paycheck directly deposited to their Cash App. As long as the direct deposit is at least $50 per month, you're eligible to have any ATM fees you incur reimbursed. Plus, Cash App's debit card offers rewards on select purchases.
Now that you know more about Venmo and Cash App, here's a quick overview of the main pros and cons of each.
Venmo vs. Cash App Pros and Cons
Pros

Instant payments
Platform functions like a social network that allows you to view other people's activities and post emojis
Customer service support via phone, live chat or email
Free ATM withdrawals when you use MoneyPass network

Cons

Must verify identity if sending more than $299 weekly
Can't cancel transactions unless the person you sent the payment to doesn't have a Venmo account
Standard bank transfers can take up to 3 days
$2.50 out-of-network ATM withdrawals
1% fee for instant bank transfers

Usually cannot cancel payments
No live customer service representatives available by phone — only electronic support
Standard bank transfers can take up to 3 days
$2 fee for ATM withdrawals using Cash Card debit card
Instant bank transfer fees of 1.5%