Cash App vs. Venmo: Which Is Better?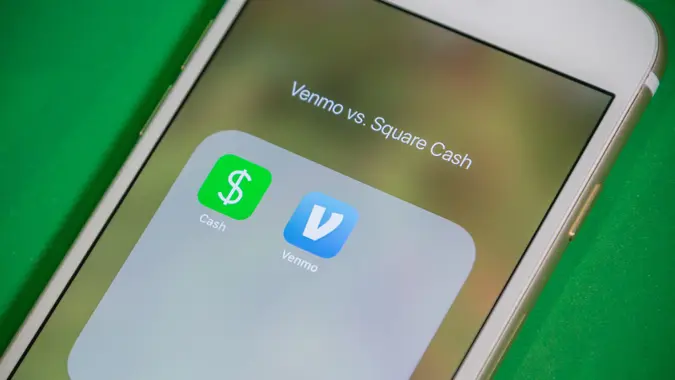 Going cashless offers the convenience of transferring money without the need for handling cash, mailing checks or visiting the bank. Certain tech companies have made it easier to send and receive money from anywhere almost instantaneously with a smartphone and an app.
You can transfer money with only a few taps of your screen with peer-to-peer money transfer apps, Cash App and Venmo being among the most popular. The apps may seem interchangeable at first glance, as both offer nearly the same services, but each has unique features, as well as pros and cons. Read on to learn more about Cash App vs. Venmo and how they compare.
What Is Cash App?
Cash App is a P2P money transfer service that allows you to send and receive money. The platform not only allows you to transfer money but also earn rewards, receive your paycheck, make payments online and in stores using a cash card, invest in stocks and buy bitcoin.
How Cash App Works
Besides sending and receiving payments, you can receive your paycheck and tax refunds via a direct deposit to receive the funds up to two days early. You can also purchase bitcoin and invest in stocks with as little as $1 using Cash App.
When it comes to spending limits, Cash App lets you send and receive up to $1,000 per month. You can raise your limit by proving your identity using your name, date of birth and the last four digits of your Social Security number.
Here's how to get started:
Set up Cash App using your phone number or email address. The app will let you choose a $cashtag, which is a unique identifier you can share with your family and friends when you want to send or receive money.
To send money, all you need is the recipient's email address, phone number or $cashtag.
After entering the recipient's information, the app will ask whether you'd like to withdraw the money to make payment from your Cash App balance, linked bank account or credit card.
When you receive money, it goes into your Cash App account, where you can withdraw the funds to your linked bank account or debit card. You can also simply keep a Cash App balance.
The spending limit on your Cash Card is $7,000 per transaction and per day and $10,000 per week. The maximum amount you can spend per month is $25,000. There are withdrawal limits on the Cash Card — the maximum amounts you can withdraw at an ATM are $1,000 per transaction, $1,000 per day or $1,000 per week.
Cash App charges a 3% fee if you send money using a credit card, but sending payments from your balance or bank account is free. Cash App also charges a 0.5%-1.75% fee for instant deposits that let you withdraw your money immediately.
| Pros | Cons |
| --- | --- |
| Free money transfer | Not FDIC-insured |
| Availability of debit card for purchases | Can't cancel a transaction once authorized |
| Opportunity to invest in stocks or bitcoin | Limited investing opportunities |
What Is Venmo?
Venmo allows users to send to and receive money from anyone who has a Venmo account. Venmo lets you easily split bills at a restaurant, pay for goods and services from member businesses or share the cost of purchases with your friends. You can also purchase cryptocurrency.
How Venmo Works
A major pro is that Venmo does not charge fees for receiving and transferring funds into your bank account or sending money using your debit card, prepaid card, linked bank account or Venmo balance. Here's how to get started:
Sign up for a Venmo account. You can do this through the app's website or the mobile app.
Have your phone number, email address and bank account information handy.
To send money and receive money, both the sender and the recipient must have a Venmo account.
If you don't have a balance, you can link your bank account to Venmo and then withdraw funds.
If the recipient doesn't have a Venmo account, they're considered a "new user" who needs to create an account to accept the money. Users can hold their Venmo balance or transfer the funds to a checking or savings account.
Until you verify your identity, your weekly spending limit is $299.99. Once you've completed your verification, you can send up to $60,000 per week. You can also spend up to $7,000 per week on purchases, such as to pay merchants or make Venmo Mastercard debit card purchases.
Good To Know

Venmo also has a social element where you can make your transactions public in your timeline. This feature allows people who follow you to see where you're sending payments and why — they can also like and comment. You have the option to turn off posting If you don't want your transactions to be public.
One major drawback of using Venmo is the 3% fee charged for transferring funds when using a credit card. Venmo charges a 1% — $5 minimum — fee if you need faster deposits of payroll or government checks and a 5% — $5 minimum — fee for faster deposits of all other types of checks.
| Pros | Cons |
| --- | --- |
| Fast and free money transfer | No way to cancel authorized transactions |
| Can hold a balance in your account | Not FDIC-insured |
| Social features | Risk of fraud |
Cash App vs. Venmo: How They Compare
Here's a quick summary of how Cash App and Venmo compare.
Cash App
Venmo
Best For

Sending and receiving money
Investing in stocks and buying bitcoin
Accepting direct deposit payments
Making purchases using a debit card

Sending and receiving payments between family and friends
Making purchases
Keeping a digital wallet balance
Interacting with friends and family
Buying crypto

Fees

0% for sending payments from Cash App balance or linked bank account
0.5%-1.75% fee for instant transfers
3% for sending money using a credit card

0% for receiving or sending money from debit card, balance, prepaid card or linked bank account
1% – 5% — $5 minimum — for faster access to cashed checks
3% for sending funds using a credit card

Limits

Up to $1,000 per month; increase limits by verifying your identity

$299.99 per week unverified
$7,000 per week in purchases verified

Transfer Speed

One to three business days for standard deposits
Optional instant deposits available on debit card

Three to five days for free withdrawals
10 days for standard check cashing
Few minutes to 1.5 hours for optional faster access

Payment Method

Bank account, credit card, debit card, Google pay, Apple pay

Bank account, credit card, debit card

Ways To Receive

Bank account, debit card, mobile wallet, ATM

Bank account, debit card, check, ATM

Supported Devices
iOS and Android app, browser
iOS and Android app, browser
Cash App vs. Venmo: Which Is Better?
Cash App and Venmo are both great P2P money transfer services. Apart from sending and receiving money, Cash App boasts added features that allow you to invest in stocks, buy bitcoin and receive direct deposits. On the other hand, if you are looking to simply send and receive money, Venmo might be more suitable for your needs.
Daria Uhlig and Cynthia Measom contributed to the reporting for this article.
Information is accurate as of Dec. 5, 2022.
Editorial Note: This content is not provided by any entity covered in this article. Any opinions, analyses, reviews, ratings or recommendations expressed in this article are those of the author alone and have not been reviewed, approved or otherwise endorsed by any entity named in this article.