What Should You Do Before You Approach an ATM?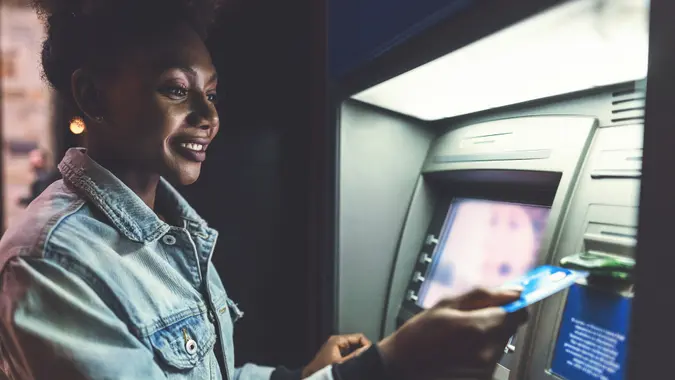 Mixmike / Getty Images
In-person banking has decreased over the last few years as consumers turn to mobile and digital banking for most transactions. But those platforms don't provide an easy way to make direct cash deposits and withdrawals. For that, you have to visit a branch or ATM.
While in-branch crimes have dropped over the years, ATM crimes are on the rise, according to Pinkerton Consulting & Investigations, citing FBI data. Two of the most common are skimming and robberies. That's why it's more important than ever to know what precautions to take before you approach the machine.
What To Do Before You Approach an ATM
Arriving at or leaving the ATM with cash makes you vulnerable to being robbed. Whether you're driving or on foot, ATM safety starts before you get to the machine.
Ask a friend or family member to accompany you — there's safety in numbers.
If you haven't already memorized your PIN, do so before you leave home so you don't have to carry it with you or pause at the machine to look for it in your phone.
Tuck your ATM card and cash deposits into your pocket or put them beside you on the seat of your car for easy access. Avoid putting cash and cards in a purse or wallet — fumbling to remove them could expose you to more risk.
Check the area around the ATM as you approach it. If the machine isn't well lit or it's obscured by bushes or other objects, leave the area and head to a different machine. The same goes for the parking lot — it should be well lit, unobscured and close to the machine. Lock your car when you leave it, and keep your keys in your hand.
Look for suspicious individuals standing or parked nearby, especially if there are two or more together.
If driving up to the machine, keep your car running, lock your car doors and roll up all windows except the one on the driver's door.
When using an ATM located in a bank vestibule, wait until the vestibule is empty, and close the door tightly behind you.
How To Stay Safe While Using the ATM
Once you've reached the ATM, take these precautions to keep yourself and your account safe.
Have your debit card and cash in hand when you reach the ATM.
Look for a skimmer, which is a theft device that fits over the ATM's card reader and captures your account information when you swipe your card. Telltale signs are a loose, crooked or otherwise damaged card reader, according to the FBI. Skimmers are most common in tourist areas.
Also check for devices that might record your PIN as you enter it on the keypad. Such devices include a pinhole camera and keypad overlay that records keystrokes.
Stand directly in front of the ATM, and once instructed to enter your PIN, cover the keypad with one hand while you type with the other.
If you have problems with the machine, cancel the transaction and leave. Never accept assistance from someone standing nearby or waiting in line.
Upon completing your transaction, put your ATM card and cash straight into your pocket or purse and remember to take the receipt. Wait until you're in a safer place to count your money.
Protect Your Sensitive Information and Accounts
The ATM isn't the only place your sensitive information is at risk. Here's how to protect it and your money no matter where you are:
Store your card in a safe place, out of sight.
Don't let merchants hold your card for any reason.
Never share your PIN or write it on your ATM card. If you must write the number down, disguise it, perhaps by writing it backward or transposing the two first or last numbers, and store the note separately from your card.
Don't give out your card number over the phone unless it's during a call you've initiated to make a purchase or get help from your bank with your account. And even then, never give out your PIN. No one, including bank staff or the police, should ask you for the PIN, HSBC notes.
Keep your daily withdrawal limits as low as possible.
Review your accounts periodically to look for irregularities.
Set your account preferences to send you mobile alerts whenever your debit card has been used.
What To Do If Your ATM Card Is Compromised
In the event you lose your card or the card is stolen, contact the issuer right away. You can usually do that online or through the mobile app, but if not, call the bank or credit union directly. It's important to report a missing card quickly. Otherwise, you might be responsible for repaying some or all of the fraudulent charges made with the card, the Federal Trade Commission warns.
The FTC recommends following up on your report immediately in writing. Its website notes, "Send a letter to the card issuer and include your account number, the date and time when you noticed your card was missing, and when you first reported the loss. Keep a copy of your letter and your notes from calls with the bank or credit union."
After you report the missing or stolen card, watch your accounts and credit report for unauthorized transactions. Report any that you find immediately to avoid having to repay the stolen funds. Those reports also warrant a written follow-up.
Card issuers have a responsibility to investigate fraudulent charges within 10 days, according to the Consumer Financial Protection Bureau. If you're dissatisfied with your issuer's investigation, you can submit a complaint online or by calling 855-411-2372 (855-729-2372 for TTY or TDD).
What If I'm Responsible for Fraudulent Charges?
Even if the worst happens and you're stuck having to pay for the fraudulent use of your card, you might be able to recoup the loss. Homeowners insurance and renters insurance cover theft. Check your policy or contact your agent to find out if your theft coverage includes card theft.
Our in-house research team and on-site financial experts work together to create content that's accurate, impartial, and up to date. We fact-check every single statistic, quote and fact using trusted primary resources to make sure the information we provide is correct. You can learn more about GOBankingRates' processes and standards in our editorial policy.