East North Central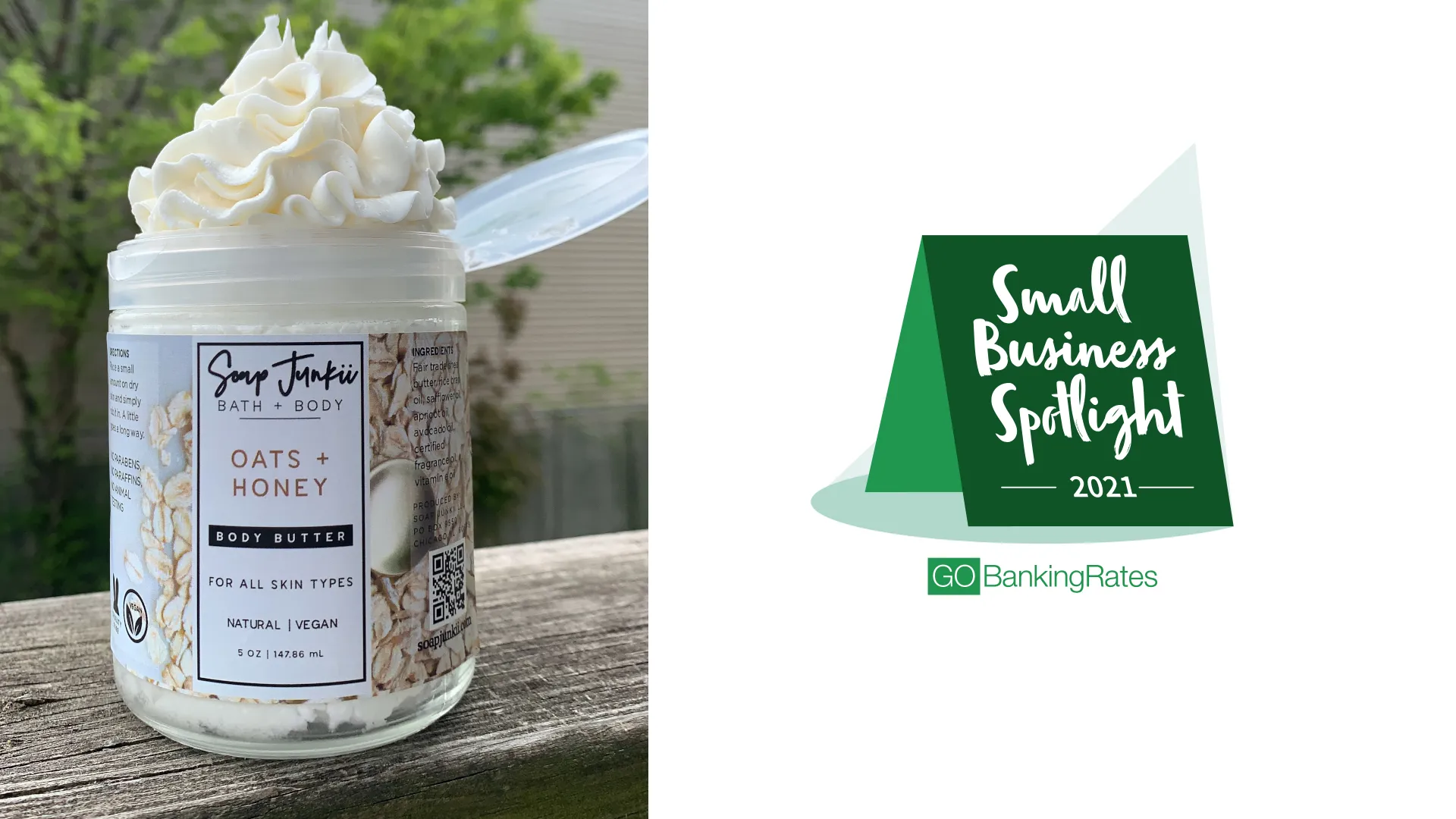 Pictured: Soap Junkii Oat & Honey Body Butter
To return to the Small Business Spotlight page click here.
The East North Central region includes small businesses in Illinois, Indiana, Michigan, Ohio and Wisconsin. In this region, Michigan had the most small businesses nominated.
You can check out the complete list of businesses nominated for GOBankingRates' Small Business Spotlight in this region below — and read more about the region's featured nominees in the links below.
Featured Nominees
Regional Nominees
Illinois
A House of Flowers by Paula (Rantoul, gifts and flowers): "

Paula is a very hardworking woman who supports her family, friends, business and community."

Comfort Heating & Cooling (Normal, heating and cooling):

"(The owner) is one of the most honest businessmen I've ever met." 
deBuhr's Feed & Seed (Mattoon, supply): "The owner and staff have been honest, decent , personable and fun to negotiate with for decades." 

Delta Tire of Quincy (Quincy, tires)

Detectives.com (Algonquin, private investigator): "A great service to help protect and assist individuals and families from scammers."
EarthMed (Addison, cannabis): "Very kind staffing, knowledgeable employees — a great experience!"
Farmington Country Manor Nursing and Rehabilitation Center (Farmington, nursing home)
Firm Foundations Realty (Carlinville, real estate):
More on Firm Foundations Realty:

"(FFR) helps homeowners find or sell their dream homes with an upfront and no-nonsense approach."
Grande Jakes Fresh Mexican Grill (Buffalo Grove, food):

"The people who work there are hardworking, and the food is reasonable."
Hakuna Matata (Oak Lawn, food): "This place has excellent shawarma, gyros, zingers and salads — simply the best."
Hip-Hop Fit with Gene Hicks (Bolingbrook, fitness): "Great fun friendship and a sense of belonging."
Joe's Small Engine Repair (Harvard, lawn mowers): "Joe is a great guy who takes the time to talk to each customer personally…"
Land of Lincoln Credit Union (Mt. Zion, credit union): "They are always willing to try and help their members in any way they can."
LNZ Home Staging & Decor (Chicago, interior design): "This woman puts 100% into every home she designs and stages."
Madonna's Child Development Center (Pawnee, child care): "This is a very small business in a small knit-community. It is a much-needed place for the children to attend and the staff couldn't be more awesome."
Magnificent Mile Family Dental (Chicago, dentist): "Dr. Registe is one of the sweetest, smartest and most talented dental professionals I have ever worked with. She treats the whole person not just their teeth."
Mig-Wire Portable Welding (Carbondale, welding)
Miss Maria's Handmade Crafts (McLeansboro, crafts):
More on Miss Maria's Handmade Crafts:

"She is authentic, honest, true to the community, willing to give everything she has in her store to either other businesses or donate whatever helps get needy families the help they need. Always upfront. Gives everyone a safe place to go for help, to talk or express our opinions and not be judged or bullied. Always trying to teach the younger generation. Very loving, caring, big-hearted woman. And always working on something for someone."
Mystic & Artistic Custom Art Work & Things (Oak Lawn, art): "This is a store that my mom just opened up online since we lost my father in January from COVID-19.

She has been working really hard to get her custom-made art, jewelry, coffee mugs and dragon eggs out there."

On the Rail Sports Bar & Grill (Quincy, food): "Great food, friendly fun employees, hip atmosphere and great location!"
Oswald's Pharmacy (Naperville, general store): "Customers are treated like every purchase is important [to] them, no matter how small it is." 
Sam's Cafe (Champaign, food): "The people are nice and friendly. And the food is delicious."
Sip & Savor (Chicago, cafe): "A Black-owned (cafe) where coffee and community meet with great vibes, quality and respect."
Skeeter Reaper (Columbia, pest control): "Excellent customer service and great execution of treatments."
Soap Junkii Bath + Body (Chicago, skin care): "This is a small business run from the home. She makes amazing quality soaps, body butters, body oils and scrubs."
The Comedy Shrine Theater (Aurora, comedy club and bar):
More on The Comedy Shrine Theater:

"A great, inexpensive place for a date, girl's night, seniors club trip, etc. Great comedy shows for kids and families."
The Flower Pot & Basket Shop (Chicago, flower shop): "Always helping the community in any way possible."
The Nail Room (Evergreen Park, nail salon): "The customer service is extraordinary and the owner has a beautiful spirit."
The Red Carpet (Dix, motel): "This motel has an original history (from) before the state of Illinois or (the U.S.) — (it's) 220 years old, and it's preserved for future expansion."
The Suter Company (Sycamore, food): "This business gives back and is part of the community."
Tino's On the Tee (Whittington, food): "…besides helping their employees get on their feet, they also are good friends with their customers. The owner has worked so hard and is the best boss/friend you can ask for."
Indiana
Athen's Pita (Munster, food): "… some of the greatest Greek food I've ever had, service is wonderful and the food inspiring."
Bernie's Bar and Grill (Frankton, food): "This is a small-town bar that has the best food for great prices."
Chappy's Drive Thru (Gas City, convenience store):
More on Chappy's Drive Thru:

"They have been opened and masked up to make sure people don't have to get out of their cars. It's safer that way and they bring you whatever you may need to your car."
South Bend Chocolate Cafe (South Bend, cafe and candy shop): "I just love the service; the people who work there are so nice and they actually remember your name."
Dairy Queen (Jeffersonville, food): "Locally owned Black female business that stayed open, survived COVID-19 and (is) even better than before."
Darlena's Lincolnland Restaurant (Rockport, food)
Epic Ultra Lounge (Indianapolis, night club): "This club has the best atmosphere — when you walk in the door it is warm and cozy, the staff are very pleasant and very professional, the food is excellent."
Floyds Knobs Farmers Market (Floyds Knobs, farmers market): "Great group of people, exceptional customer service, very knowledgeable."
Gordon's Milkshake Bar (Indianapolis, ice cream shop): "This place has the best shakes in the country!!! They are mad fresh, custom and gorgeous. It is truly great for my family to venture downtown to visit such a unique Black-owned ice cream and dessert cafe."
Hobnob Corner (Nashville, food): "This small business has been an institution for high schoolers on getting their first job…they truly are a gift of life and they saved my life."
Jack's Bar & Grill (Lakeville, food): "They have the friendliest people, not only working there but the patrons are wonderful. Also GREAT FOOD!!"
KJS Creations LLC (Auburn, child's hair bow boutique): "The owner has brought so many women together and built a community where each person feels welcomed and loved!"
KT's Pub (Plainfield, food):
More on KT's Pub:

"KT's Pub is amazing. When the pandemic started, the young ladies in there worked hard and dealt with a lot, and when the bar part had to close the manager and the girls struggled to keep it afloat but they all worked hard and long hours, too. Closing the bar hurt their business but the owner and the girls didn't give up; they started with deliveries and carryout all through the pandemic. I highly recommend this place to anyone. Bartenders and servers are very polite and fast. Good job guys for never giving up."
Mad 4 My Dog (Bloomington, pet supply/groomer/trainer): "The owner and the associate dog trainer are two amazing human beings. They're friendly and treat your pet with the utmost respect and find ways to work with pets that are hard to work with."
Marco's Pizza (South Bend, food): "This business has fed over 1 million people and growing!"
Mi Lindo Acapulco (Warsaw, food): "The owner, Socorro, is the sweetest, friendliest and most efficient woman I know! She works every day, all day, to make sure her customers are happy and satisfied."
Ray's Clippers Barbershop (Gary, hair salon)
Taqueria Fiesta del Sol (East Chicago, food): "When I go in the restaurant I feel at home and like family. They are very friendly and respectful."
Tate's Place (Portage, food): "Food is great…homemade desserts…friendly staff…curbside pickup."
Thickness Fitness (Gary, fitness): "She helps encourage women not only by helping [them lose] unwanted weight, but by encouraging them in their everyday life."
Michigan
7-Eleven (Traverse City, convenience store): "Kim and Harry are great people. They have helped out the homeless people, giving them food and coffee. They always have a kind word for everyone. They pray for everyone. And they care."
A To Z Dirty Girlz Cleaning (Kalamazoo, cleaning): "She's a single mom of two boys, brought herself from having nothing to moving up in (the) business world. She's very quick and thorough…fast-paced and a deep cleaner."
Breezy Point (Escanaba, food): "This bar/restaurant has the best food. It's the only bar around the area with a wood-fired pizza oven, the pizzas are so good. And it has a great family atmosphere."
Brenda's Cleaning (Northville, cleaning)
Brumley & Co. Hair Studio (Kalamazoo, hair salon): "They provide a safe and welcoming place to a group of clients that need it."
Char's Cafe (Bruce Crossing, food): "Char and her amazing staff are the friendliest people I've ever seen…the food is unbelievably delicious, all homemade and old-fashioned."
CrashMasters (Muskegon, electronic sales and repair):
More on CrashMasters:

"Joe Gee is the most humble man and he has given his community his assistance and support when no other business seemed to care. He supports children in need with low-cost computers and tablets. He has multiple giveaways for his hometown neighbors. He lives with his customers in the same neighborhood and invests his own revenue to support other local businesses. Joe is a great guy and he started his business broke and alone in his shop. He built his business by word of mouth, (and) now has two stores. Muskegon is so happy for his services."
Crystal Box Office Theatre (Crystal, movie theater):
More on Crystal Box Office Theatre:

"This is one of two [Quonset] Hut theaters left in the U.S. The newer owners have not only upgraded the theater while respecting its longstanding history, but they serve the community in multiple ways. During the pandemic while they had no income, they figured out a way to donate 'dash & dine' meals to the community. They recently raised funds for winter wetsuits needed by local rescue personnel. This movie theater is not only extremely rich in history, it is rich in community and giving. They often have free movies or reduced movies to allow those who can not afford to attend a healthy family outing. I cannot say enough about this business that is not just a building with workers, but a pillar in the community."
Draught Horse Brewery (New Hudson, brewery)
El Especial Mexican Restaurant (Flint, food): "Excellent food at a great price."
Ensley Real Estate (Cedar Springs, real estate): "At Ensley Real Estate you can always count on Laura for help within our community. No questions. Just what our community needs and seems to always come up with in a pinch."
Fashion Savvy Beauty Bar (Lathrup Village, salon): "Continuously made efforts to maintain clientele by preparing mani-pedi takeout bags."
Got Chips? Windshield Repair (Lapeer, windshield repair): "My dad owns this business. He's my hero. Ever since COVID happened he has been gone working doing anything and everything to support his family."
Heather 'n Holly (Midland, ice cream/candy/gift shop): "We like to go there especially in the summer for a sweet treat."
Heavenly Chicken & Waffles (Detroit, food):
More on Heavenly Chicken & Waffles:

"When this business had to close its doors during COVID they immediately reopened as a food truck…they also gave away free delicious hot meals to many who had lost their jobs or were underemployed."
Hermann's Cafe (Cadillac, food): "They serve wonderful food and the decor is quaint and enjoyable."
Imani Hair Salon (Saginaw, hair and nail salon): "The shop owner is very dedicated to her customers. She's loyal, humble and very appreciative of her clients."
Jack Pine Lodge, Resort & Campground (Manistique, food/bar/campground): "A great place with amazing food and campground on a trailhead for riders."
Jim's Automotive Inc. (Gladwin, auto parts): "They are the cheapest in town and the owner and staff are amazing (and) fast (for an) easy experience."
Kazoopy's Pizza & Grinders (Kalamazoo, food): "Kazoopy's is a small, very friendly place in Kalamazoo. Amazing hot grinders, pizzas, wraps. Great staff, smiling faces and all in all happy people work there."
Kimmie K's Cafe (Michigan Center, food): "They are always pleasant and quick. Never had bad service or bad food."
Lady Fine Boudoir Photography (Midland, boudoir photography):
More on Lady Fine Boudoir Photography:

"Katie is the most talented photographer I know, (and) I think a huge reason for that is her background as a model. She knows exactly which angles will make you look your absolute best and she coaches each client through their posing process. I have never seen a set of her beautiful boudoir photos that weren't breathtaking and stunningly unique. At a time when everyone is feeling down, Katie's business offers a remarkable service and product that women and couples alike can always look back at and cherish. She is a wonderful woman and mom who truly develops genuine relationships with her clients and goes above and beyond to ensure their experience is one they will never forget. Her optimistic and motivated nature is inspiring to say the least, she is someone I look up to very much."
Lighthouse Cafe (Algonac, cafe)

Lucky Dollar Auto Sales (Eaton Rapids, used cars)

Marko's Cozy Diner (Redford, food): "Family-owned and gives back to the community with free Thanksgiving dinner every year for anyone who comes."
Monster Motors (Michigan Center, used cars): "They have maintained steady employment and pay even during the pandemic. They pride themselves on the best customer experience."
Motor City Dance Factory (Southfield, dance school): "…On visiting the campus, one immediately feels a sense of family in a shared community."
Nah Tah Wahsh Public School Academy PTSA Fund (Wilson, parent, teacher, student association): "They collect gifts all year long. Then right before Christmas season they hold a huge Santa Shop. All the kids get to experience shopping for family and friends while learning how to spend and count money. All earnings go to giving graduating students a scholarship to start their journey into college."
Quinn Kirby Photography (Grand Rapids, photography): "Great quality and excellent eye for detail, super easy to work with and such pleasant company."
Seasoned and Growing (Dimondale, resume service): "It's a great resume business that helps encourage, motivate, uplift and inspire potential employers to hire professional and qualified candidates…"
SharMell's Hair Salon (Detroit, hair salon)
Shrader Wholesale (Mount Morris, new and used cars):
More on Shrader Wholesale:

"I have never in my life seen a car dealer that goes above and beyond for his customers, friends and family. He is so grounded and focused. He never let his customers down."
Smoke-N-More (Warren, corner store)
Sons Truck and Trailer Repair (Taylor, mobile vehicle repair)
Spiffy Cleaning Company (Romulus, cleaning): "Spiffy has helped me maintain a safe environment as a senior citizen in the pandemic."
Swan Creek Candle of Perry (Perry, candles and home decor): "…Families come together at Swan Creek Candle of Perry. It's a wonderful store to get a present for any occasion."
The Lodge at Taylor Nursing Home (Taylor, nursing home): "The people and atmosphere here are amazing."
The Papaya Branch Boutique (Port Huron, clothing): "This is [a] woman-owned business derived from a dream. Retail Therapy is real…Lyon and her staff (are) welcomed into homes across the United States."
The Voyageur (St. Clair, food): "A real staple of small-town community. From baby showers, weddings, school banquets, funerals. There is something for everyone."
Van Buren Coffee Company (Paw Paw, coffee shop)
Victoria's Wine and Dine (Oxford, food): "Victoria's continued to stay open during the shutdown, adjusting her business practices to fit the rules. She also redecorated her restaurant and kept her staff. Amazing!"
Villagers Restaurant (Holly, food)
We Care Cleaning Services (Michigan City, cleaning): "They do great work in making sure that properties are spotlessly clean."
Westland Family Dining (Westland, food): "The food is good and affordable. The owners always welcome customers like they are family."
Ohio 
A & A Lawn Works (Alliance, lawn care)
A Separate Reality Records (Cleveland, vinyl record store): "Best record selection in Cleveland."
Beer Masonry (Mansfield, masonry): "He is dedicated to his trade and makes sure everything is done to the highest-quality standards."
BWise Property Maintenance (Columbus, home renovation and landscaping)
C & J's Auto Body (Pomeroy, auto body repair):
More on C & J's Auto Body:

"C & J's Auto Body employees go above and beyond for their customers. They sponsor (the) local ball league, give small donations to other local organizations, always try to keep things local to help out other local businesses."
Candan Construction (Chagrin Falls, construction): "Everyone in the area knows this company, they're that good! They've never met a customer they didn't help in some way, whether through construction or advising."
CLOW9 Hair Studio (Wooster, hair salon)
Cottage Market (Niles, convenience store): "The atmosphere is laid-back and you feel at home instantly. It's like our own version of 'Cheers'."
Coyne's Crystals (Fairborn, rare stones and gems): "This business cares about people and the community in which they live…"
Crush Wine Bar (Sandusky, food): "The business owner is an amazing person. She is helping to bring our downtown area into a beautiful destination place to visit."
DeliverMeFood (Parma, food delivery): "During the pandemic DeliverMeFood brought food to my husband and I every day."
Diversity Forward Consulting (Akron, HR consulting): "This is a company who cares about not only connecting all people but ensuring they feel a sense of belonging."
Eboneishas Executives Support Services (Columbus, executive sales support): "The community has really been empowered by her work training and job opportunities to come."
Essential Kneads Massage (Grafton, massage therapy)
Fannin's Home Improvements (Logan, construction): "The owner is very professional and does amazing work."
Hammond Hardware Store (Hamden, hardware/gift/candy store)
More on Hammond Hardware Store:

"Hammond Hardware Store is a small business that is owned and run by a husband and wife. He is a mayor in a local county and she has been a school teacher for over 20 years. They try to keep it a small town business and encourage people to stop in and just say hi. They have kept the store as original as possible; it was a hardware store in the early 1960s. They also sell homemade crafts, homemade soaps and other products, from local people around the community and in the state of Ohio. The store also has a small candy shop, where you can find some of that hard-to-get candy from years ago. The owners are also involved in food drives, giveaways and have several blessing boxes (boxes where people can drop off or pick up food) around the town set up for the community."
In God's Hands (East Cleveland, sober house for women)
JP's Saloon (Cadiz, food): "Family-oriented, great food and service."
Kennedy's Kakes (Columbus, custom design cake business)
Lu Lu's Kitchen (Bucyrus, food): "A family friendly atmosphere where the food is really good, the staff is great and they make you feel like you just have to keep coming back."
Lunch Box (Sandusky, food)
Massey's Pizza (Reynoldsburg, food)
McAlister's Deli (Dayton, food): "(During the pandemic), their product delivery necessarily shifted to include Uber Eats and other external delivery services. They never skipped a beat, developing respectful relationships with these drivers, treating them as if they were a part of their crew."
Michael's Casual Dining (Gallon, food): "…the best ice cream in town and the workers treat you like you have known them for years."
Midtown Dry Cleaners (Dover, dry cleaner): "They have amazing customer service that goes above and beyond for their customers."
Milillo's Pizza (Hamilton, food): "Milillo's Pizza has been in business for over 50 years. Ron still to this day makes all the dough by hand…they have the best ingredients…they have WONDERFUL pies also."
Nicole's Restaurant (Akron, food):
More on Nicole's Restaurant:

"It's a family-owned business and you can tell they take pride in what they do. Workers are all friendly and professional. And the food is delicious. Home-cooked flair."
No Common Scents Gifts (Nova, candle/gift shop): "Amazing quality, prices and always a personalized, friendly customer experience that can't be beat! A perfect example of why I prefer purchasing from small businesses!"
Personal Protected, LLC (New Middletown, hand washing stations for events)
PizzAroma (Toledo, food)
Puff Apothecary (Dayton, skin and hair care): "This business is a perfect place to try true all-natural products."
R.G. Thomas Landscape & Design (Akron, landscaping): "…the company is 40-plus years in business, the employees are trustworthy, hardworking, polite and the owner actually cares for each customer and their needs."
R&S Construction (Amelia, construction): "I hired them to fix my roof; the damages were more than I could afford by $2,500 — they waved the $2,500 and my roof looks as good as new."
Rogers Garage (Springfield, mechanic): "Great owner and reasonable prices."
Sexton's Pizza (Gahanna, food): "Kept their employees on even (with) no dining inside due to COVID. Two very humble veterans that care about others."
SP Agency Inc. (Cincinnati, insurance broker): "They are knowledgeable and always make me feel like I'm their No. 1 priority."
The Computer Store (Columbus, custom computer design and repair)
The Painted Pepper (Springfield, food): "Amazing owners and awesome food."
Todd's IGA Express (Trenton, grocery store)
Twisted Taino Frappe Bar & Grill (Cleveland, food)
Vendii (Dayton, apparel): "Not only is the CEO extremely friendly and professional, this business offers unique apparel and accessories."
Wenrick Machine (Tip City, machine shop): "Small family business who stayed open, and (the) owner paid employees from his own account even when (the family) had COVID."
Wild Hare BBQ (Van Wert, food): "They worked so hard to stay open for their customers and employees. The owners are so kind and caring."
Wisconsin
Enlightened Brewing Company (Milwaukee, brewery):
More on Enlightened Brewing Company:

"The refreshing beers are brewed with love and a passion for delving into flavor blends that never disappoint. The tap room provides a positive and friendly atmosphere, where all are welcomed."
Heaven Sent LC Enterprises (Merrill, custom products)
Heavenly Carpet Cleaning (Milwaukee, carpet cleaning): "Reasonable prices and very professional at what they do…also friendly and polite."
Hummer's Rendezvous (Grantsburg, bar)
Jay Ray's Deli (Eau Claire, deli and coffee shop)
Johnstown Meat Co. (Walworth, food): "This small business makes a difference by enabling people to buy their meat products individually or by buying boxes of meat cheaper than by the meal."
Kids Kloset (Minocqua, resale store)
Mahlstedt Adult Family Home (Waupun, group home)
Mason Brothers' Red Owl (Green Bay, grocery store): "Love the friendly service, everything I need just around the corner."
Neurotech (Waukesha, at-home seizure detection)
She's Crafty (La Crosse, design and party planning)
Tanfastic Tanning Salon (Brookfield, tanning salon): "This salon goes above and beyond all expectations! The owner, Val, and her staff make sure you are well taken care of!"
The Breakfast Club & Pub (La Crosse, food): "Great food at great prices, '80s movie-themed (menu) with creative items (and) big portions."
The Pine Lodge Shop (Chetek, home decor and gift shop): "Great for gifts for special occasions."
The Plaid Peacock (Ladysmith, gift shop/boutique):
More on The Plaid Peacock:

"The owner greets her customers with enthusiasm and a great smile. The selection of merchandise is unique and good quality. Great sales!"
The Vanguard (Milwaukee, food): "Hardworking owners with compassion and love for (their) employees, (who) go the extra mile for customers' experience as well."
Wright's Lawn Service (Kenosha, lawn care)
Check out all the other regions and their small business nominees: 
East North Central: Indiana, Illinois, Michigan, Ohio and Wisconsin
West North Central:

 

Iowa, Kansas, Minnesota, Missouri, Nebraska, North Dakota, South Dakota
New England:

 

Connecticut, Maine, Massachusetts, New Hampshire, Rhode Island, Vermont
East South Central:

 

Alabama, Kentucky, Mississippi, Tennessee
South Atlantic:

 

Delaware, Florida, Georgia, Maryland, North Carolina, South Carolina, Virginia, West Virginia
Middle Atlantic: New Jersey, New York, Pennsylvania
West South Central:

 

Arkansas, Louisiana, Oklahoma, Texas
Mountain:

 

Arizona, Colorado, Idaho, Montana, Nevada, New Mexico, Utah, Wyoming
Pacific:

 

Alaska, California, Hawaii, Oregon, Washington
And check out more of the featured small businesses:
To return to the Small Business Spotlight page click here.