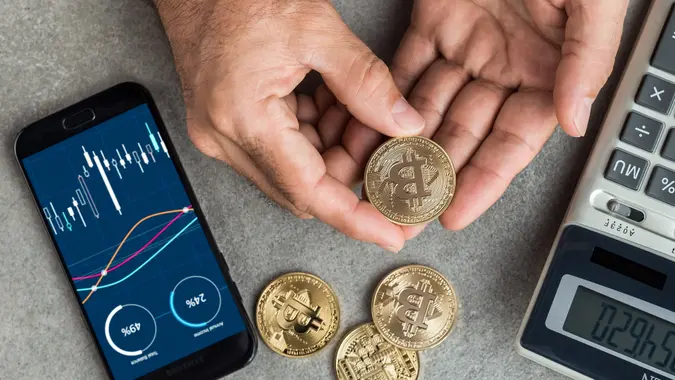 D-Keine / iStock.com
When investing in cryptocurrency, buying at the best price possible is important. This can be a challenge, as prices can vary wildly from one exchange to another, and second-by-second fluctuations make it difficult to compare crypto prices.
Savvy investors can use 1inch technology to buy crypto at the lowest price across exchanges, taking both base crypto prices and exchange fees into account.
What Is 1inch?
1inch is a decentralized exchange aggregator, or DEX aggregator. The company itself isn't an exchange. Instead, 1inch deploys protocols to find the best possible deals at the exact time investors want to buy crypto. The platform also features two other protocols:
One is for making money as a liquidity provider. 
The other gives investors more control over the prices they pay when they buy cryptocurrency.
What Is 1inch Coin?
The 1inch DEX aggregator runs on the 1INCH utility token, which was launched in December 2020. The tokens are offered as rewards for those who participate in the 1inch Liquidity Protocol.
How Many 1inch Coins are There?
As of Sept. 28, 2022, there are 584.5 million 1INCH tokens circulating out of a maximum supply of 1.5 billion.
What Is 1inch Worth?
1INCH tokens are worth $0.5886 as of Sept. 28, 2022, and the market cap is just over $344 million.
How 1inch Protocols Work
1inch works by comparing cryptocurrency prices across several popular exchanges in the DEX ecosystem. Investors can think of it like a coupon aggregator. When consumers look for the best deals on specific products, coupon aggregators scour the web for coupon codes and provide them to consumers all in the same place.
1inch does the same, but instead of showing investors data and having them sift through options, the platform executes their orders immediately at the best possible price.
Best Price and Lowest Fees Aggregation Protocol
Pathfinder, 1inch's aggregation protocol, automatically compares prices for the cryptocurrency its users want at the time they want it across the entire DEX ecosystem. As the protocol compares options, it looks at two key factors:
Crypto prices: The prices each DEX lists for the cryptocurrency itself. 
Exchange fees: The fee the exchange charges to process the transaction. 
With all available data, 1inch processes the cryptocurrency order to buy or sell digital assets at the best possible price inclusive of any and all fees. 
The 1inch aggregation protocol also looks at other potential paths to savings. For example, if the protocol finds that an investor gets a lower price to buy ETH when they buy it with USDC than with BTC, and the investor plans on making the transaction in BTC, the exchange will automatically convert BTC to USDC then to ETH to capture the savings. 
Earn Money With the Liquidity Protocol
1inch also makes it easy to earn with the cryptocurrency investors have sitting in their portfolio. 1inch liquidity pools were first launched under the name Mooniswap, but now it's simply called Liquidity Protocol. Liquidity pools give users a way to earn money on the crypto they're not using by making it available for 1inch to fulfill orders and return it when the investor needs it. 
1inch can provide better services if it has a stash of cryptocurrency available to execute orders on its own at the best possible price. To make this possible, the platform lets users put their crypto in the liquidity pool for the platform to use in order fulfillment. When a user does, they earn meaningful interest on their cryptocurrency holdings.  
Gain More Control With 1inch's Limit Order Protocol
As with the stock market, a cryptocurrency's price isn't final until the transaction is complete. This can make it challenging for investors to make sure they get the price they want when buying crypto assets.
1inch's Limit Order Protocol allows investors to place limit orders for crypto just like they would in the stock market. When they do, the order won't execute until they get the price they want — or better.
Final Take
For investors planning on buying, selling or otherwise earning from cryptocurrency, 1inch's state-of-the-art technology is a useful tool that gives users more control as they trade.
FAQ
Questions about cryptocurrency are common, especially when it comes to complex
financial tools
like 1inch. Some of the most common questions about the platform include:
Is 1inch a cryptocurrency?

No. 1inch is a DEX aggregator that helps investors get the best price when they buy cryptocurrency. However, the platform's ecosystem does run on the 1INCH utility and governance token.

Why is it called 1inch?

The 1inch name came from Bruce Lee's famous knockout punch. The martial artist could pack explosive power in a punch thrown over the span of one inch. The idea is that 1inch protocols have the potential to create the same jaw-dropping difference in the price an investor pays for cryptocurrency with one simple tool.

Is 1inch safe?

1inch is a legitimate resource for finding the best pricing on cryptocurrency transactions. The company runs regular network protocol audits to ensure there are no security issues within its ecosystem.
Information is accurate as of Sept. 28, 2022.
Our in-house research team and on-site financial experts work together to create content that's accurate, impartial, and up to date. We fact-check every single statistic, quote and fact using trusted primary resources to make sure the information we provide is correct. You can learn more about GOBankingRates' processes and standards in our editorial policy.