A Beginner's Guide on How and When To Dive Into the Cryptocurrency Market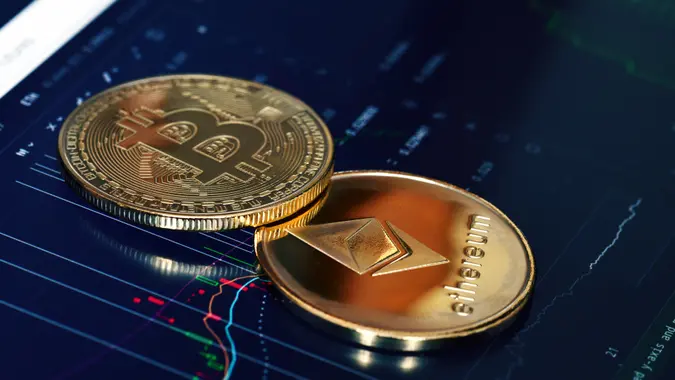 znm / Getty Images
Cryptocurrency has taken over every conversation lately. From Twitter to TV to (probably) your friend circle, it seems like everyone is into crypto now. 
See: Breaking Down the Basics of CryptocurrencyFind Out More: Where Does Cryptocurrency Come From?
It's no surprise if you're thinking about getting in on the hype. But the crypto market can be a confusing — and potentially dangerous — space for beginners. So before you add any Bitcoin, Ether or Dogecoin to your portfolio, here's what you should know first.
Questions To Ask Yourself Before Buying Cryptocurrencies
Knowing when it's time to get into cryptocurrency is key. Though you can't predict the best time to enter the market, you can get your own financial situation in the best place possible.
"Before diving into crypto, make sure you have your financial house in order," said Clayton Quamme, a financial planner at AP Wealth Management. "There are some fundamental financial principles you should follow when deciding where your next dollar should go — investing in crypto is a good ways down the list."
Here are a few questions to ask yourself in order to decide whether you're financially ready.
Be Prepared: What Is the Next Big Cryptocurrency To Explode in 2021?Check Out: 10 Best Cryptocurrencies To Invest in for 2021
Do I understand it?
Ask even a seasoned crypto investor how digital currency and blockchain works, and you might be met with a blank stare. This newish technology can be hard to understand, but it's crucial for buyers to know what they're getting into. So you need to do plenty of research first.
"You need to understand what cryptocurrencies are and how they work, how the market and investing works, and more specifically, all the risks involved," said Marie Tatibouet, CMO at Gate.io, a cryptocurrency exchange. "The crypto market is highly volatile and there are a lot of malicious entities that are eager to steal your hard earned money."
Read: Ethereum (ETH): What It Is, What It's Worth and Should You Be Investing?And More: What Is Chain Link and Why Is It Important in the World of Cryptocurrency?
Do I have enough savings?
Next, be sure you have adequate savings. Quamme said that includes an emergency fund of at least three to six months' worth of expenses saved, plus cash savings available for any near-term major expenses such as a house, car, wedding, vacations, etc.
Your retirement savings should also be on track, with a diversified set of investments that match your risk tolerance. "Most of your retirement savings should be outside of crypto," Quamme said.
Beyond Bitcoin: Looking at Some Crypto Financial Jargon
See: 10 Cheap Cryptocurrencies To Check Out
Is my debt under control?
Quamme said it's a good idea to have low-to-no debt before entering the crypto market. And if you have high-interest debt like credit cards, paying that off fully is a must.
That's because the interest rate on your debt is probably higher than the return you will enjoy on cryptocurrencies — at least in the short term. So your wealth-building will be handicapped by keeping that debt around. Plus, having too much debt to your name can hold you back from future borrowing and goals, such as homeownership. So before you buy any crypto, pay down as much debt as possible so you don't have that burden over your head.
Take a Look: The 10 Wildest Things Selling as NFTs
Can I afford to lose this money?
Cryptocurrency values have been on a wild ride. The price of one Bitcoin, for example, has ranged between about $29,000 to $63,000 in just the last three to four months. If you can't handle that kind of risk and the near-certainty that you will lose money in the short term, cryptocurrency may not be for you.
"In a risky, highly volatile environment such as the crypto market, it's important for investors to set clear targets," Tatibouet said. "Budget how much you're willing to invest — and how much you're willing to lose — should a particular investment see a rapid drop in value."
"Only invest an amount of money you're comfortable with losing and don't take out loans or credit to fund your investments," she added.
Read More: Millennials Own More Crypto Than Any Other Generation
Discover: Should Crypto and NFTs Be Part of Your Retirement Plan?
So You're Ready. Now What?
If you think you're in a good position to invest in cryptocurrencies, you might be wondering how to get started. There are many ways to do it, but these are the general steps you can follow:
Choose an exchange:

The first step for purchasing (and trading) cryptocurrencies is joining an exchange. You can opt for a popular exchange such as Coinbase or Binance or a peer-to-peer exchange such as Local Bitcoins or Paxful. Some brokerages also now allow you to buy certain cryptocurrencies, such as Robinhood and SoFi.

Fund your account:

After you get set up on an exchange, it's time to fund your account. In most cases, you can connect a bank account, debit card or credit card to do so. Keep in mind that most exchanges charge a small fee to transfer money, which is typically higher for card transactions.

Create a wallet: Once you own crypto, you'll need a wallet to store the important keys used to access your funds. You can use a "hot" wallet that's connected to the web; many exchanges also offer online wallets. Or, for added security, you can choose to use a "cold" wallet that stores your info offline.
Spend, trade or hold it:

Now that you're a crypto owner, it's up to you how you want to proceed. Cryptocurrencies can be used as a payment method at select retailers, including New Egg and Tesla. Of course, many people are treating them as investments, too. If you are one of them, remember that a sound investment strategy for any type of asset is holding for the long-term and having patience.
More From GOBankingRates
Last updated: July 26, 2021