Coinbase Just Tripled Revenue in First Post-IPO Earnings – Here's Why You (Probably) Shouldn't Invest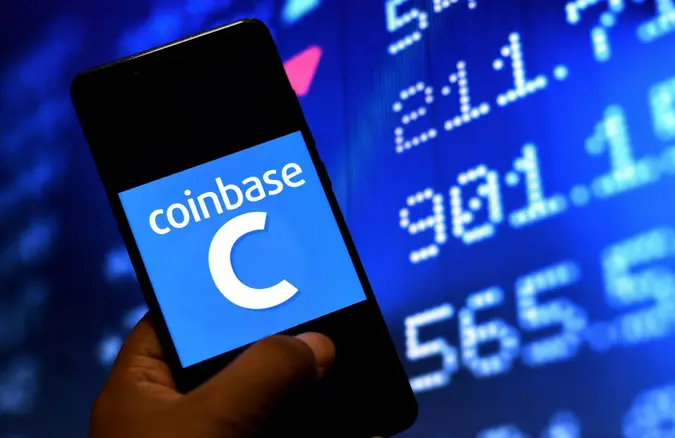 Avishek Das/SOPA Images/Shutterstock / Avishek Das/SOPA Images/Shutterstock
Coinbase, the largest crypto exchange which had a blockbuster IPO last month, reported its first earnings ever today as a public company. The company tripled its revenue in the quarter, which was in line with analysts' expectations. But is investing in cryptocurrency – let alone a major crypto platform – really  a good idea?
See: Coinbase, the Largest US Cryptocurrency Exchange, Goes Public – 'It Will Infect the Financial Universe with a Bad Case of FOMO'
Find: What Are IPOs and Are They Worth Investing In?
Coinbase has been one of the most anticipated initial public offerings of 2021, as this is the first crypto exchange to go public. Many described the listing as a "watershed" moment.
Coinbase's total revenue was $1.8 billion for the first quarter of 2021. Net revenue was $1.6 billion, of which $1.5 billion was transaction revenue and $56.4 million was subscription and services revenue, according to a letter to shareholders. In addition earnings per share are at $3.05. Thie compares to the $585 million in revenue in the fourth quarter of 2020. The consensus EPS estimate was $3.06 and the consensus revenue estimate was $1.81 billion, according to Seeking Alpha.
The stock appeals to investors who want to get involved in bitcoin, and have exposure to the crypto, but without holding the asset and hence being subjected to wild swings. However, following the announcement, the stock was down 7% a at $265 after hours.
Nasdaq had set a reference price of $250 per share for Coinbase on the eve of its opening day on the stock exchange, projecting a value for the largest U.S. cryptocurrency exchange at $49.19 billion "ahead of its landmark stock market debut on Wednesday," according to a statement. The stock opened at $342 that day.
See: Six Best Blockchain Stocks to Buy Right Now
Find: Coinbase's IPO Made a Lot of People Rich(er)
The company said there is a continued momentum in crypto adoption and that they're seeing unprecedented levels of interest in the cryptoeconomy. "A May 2021 survey by Mastercard and The Harris Poll reveals 40% of people around the world plan to use crypto assets in the next year, with 67% of millennials reporting interest in the technology. We are encouraged by this appetite as we welcome more people into the cryptoeconomy and expand access to the financial system around the world," according to the letter.
Coinbase added that they also benefited from institutional momentum, as it has won mandates from a diverse group of institutional customers, ranging from hedge funds and corporate treasuries to pension funds and insurance companies, "via our secure and trusted range of trading and storage solutions. In addition to owning crypto assets in their treasuries, both public and private corporations are coming to us and expressing interest in commerce, payroll, and custom white label solutions."
Despite its strong results, Coinbase said that the rapid expansion of the cryptoeconomy also creates challenges for Coinbase, especially with competition increasing as new market entrants join the cryptoeconomy every month. "Our competitors are supporting certain crypto assets that are experiencing large trading volume and growth in market capitalization that we do not currently support, as well as offering new products and services that we do not offer. We welcome these challenges as they indicate that the market we serve is growing rapidly, but we also have to continue to move quickly to address them, and that inspires us towards action and growth," according to the letter.
Peter Cohan, a lecturer of strategy and entrepreneurship at Babson College's MBA program and author of "Goliath Strikes Back," tells GOBankingRates that since going public about a month ago, Coinbase stock has lost 22% of its value.
"Despite tripling its revenue in the first quarter, its shares are falling after the announcement. It declined to offer specific guidance and it does not bode well that Bitcoin trades down 30% since Coinbase's IPO. There is no objective way to determine what Bitcoin is worth or whether Coinbase can grow into its valuation. But with its dependence on high transaction fees and competition from rivals that charge nothing for trading virtual currencies, now does not seem to be an attractive point at which to buy," Cohan adds.
In its letter, Coinbase warns investors that it's important to remember that its business is inherently unpredictable. "MTUs, Trading Volume, and therefore transaction revenue currently fluctuate, potentially materially, with Bitcoin price and crypto asset volatility. As a result, revenue is difficult to forecast. In the interest of transparency, our approach to sharing information relative to future performance will be consistent with how we operate the business. That includes assessing and planning for a wide range of potential outcomes."
See: Banks Might Treat Bitcoin Like 'Real Money' – These Experts Weigh the Pros and Cons
Find: Peter Thiel Backs New Blockchain-Based Crypto Exchange that Some View as Coinbase Competitor
"The wind is in our sails right now, and it feels good. But crypto is a young volatile industry and there will come a day when times are harder. We know this because we've experienced major crypto winters where financing was difficult to get, partners cut us off, and we lost large parts of our employee base. Tension gets high during these times. We've sustained by enduring, and not over-reacting. It's never as good as it seems, and it's never as bad as it seems," the company said in the letter.
More From GOBankingRates