Game Time: The Secret to Crypto's Next Bull Market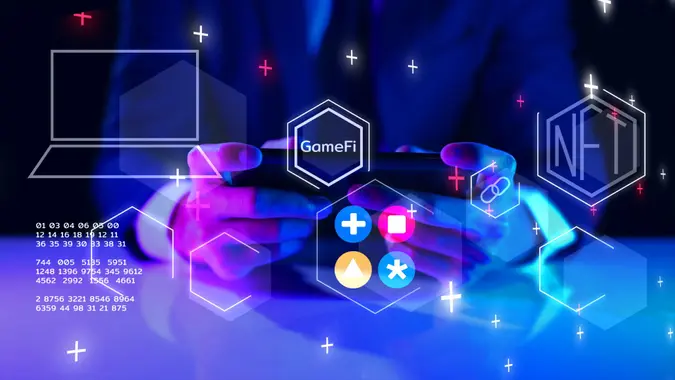 The crypto industry is slowly regaining traction, with some asset prices bouncing back and confidence in the sector building back up after a terrible year of collapses, millions in losses and scandals. And now, some experts are predicting the next bull market and the biggest driver in the space will most likely be centered around one sector: blockchain gaming.
I'm a Self-Made Millionaire: These Are the 6 Investments Everyone Should Make During an Economic Downturn
Discover: 3 Things You Must Do When Your Savings Reach $50,000
As was first reported by The Daily Hold, analyst Pentoshi told his 691,500 Twitter followers that the crypto gaming sector will be the next big driver in the space. 
"I strongly feel that gaming will provide the most upside next bull run," Pentoshi tweeted May 19. "It's something almost anyone from any culture can relate to that's easy to understand and digest. Most people don't care about 99% of what crypto projects pretend to solve."
Replying to a user asking how much he would actually invest for his conviction in gaming, Pentoshi replied: "Enough to put millions into it, I guess."
Tokenomics: The Key to Web3 Gaming
Several experts agree. For example, Christopher Alexander, CCO of Liberty Blockchain, said Web3 gaming has amazing potential for blockchain and crypto — the reason being tokenomics. 
"Players earn digital rewards by playing games and some of the rewards end up listed on exchanges. Basically, it is the reverse of a 1980s arcade game. The game pays you, rather than the other way around," said Alexander, adding that gaming has incredible utility and a massive global audience, making it an amazing gateway into blockchain and crypto. 
"Many Web3 games conduct transactions through other blockchains — for example, with an Etherium ERC-20 token — so the rising gaming tide will lift Layer 1 blockchains as well," he added. "Gaming coins still correlate closely to Bitcoin prices, so I wouldn't expect a bull market that rises significantly outside of BTC prices, but gaming is certainly one of the best blockchain use cases we have seen so far." 
Take Our Poll: Do You Think AI Will Replace Your Job?
Blockchain Games Market Projected at $65.7B in 2027
The data supports these claims. According to a MarketsandMarkets report, the global blockchain gaming market size is projected to grow to $65.7 billion by 2027 from $4.6 billion in 2022, driven by increased funding for blockchain games.
The Web3 gaming space, also known as GameFi (Game Finance), is not a new concept. As Chainlink explains, it uses blockchain technology "to formalize a market that's historically been full of friction, hard to access and sometimes completely banned by game publishers." 
"Tokens are a transformative technology aiming to replace these gated items, currencies and even accounts," according to Chainlink. 
3 Elements To Success
So what makes a Web3 game successful?
According to Dan Nissanoff, CEO and founder of Game of Silks, these share three characteristics.
First, they boast an ownership economy that is central to the game itself. Second, the game is fun to play. Third, the game is an enhancement of an already successful gaming genre that enjoys a large pre-existing Web2 following.
"Web3 fantasy sports games are currently the poster child for the future of online gaming for this very reason," he said, adding that the three leading games in this category are Sorare, Reignmakers and Game of Silks, whose primary games are set respectively in soccer, football and Thoroughbred horse racing. 
They are also successful in that they leverage the massive fan base that already exists in Web2 fantasy sports, borrow from the fundamentals of a proven and fun gaming format and enhance the platform by introducing real ownership into the game, he added.  
"Imagine playing fantasy sports where you can buy or sell players on your team from real money at any time," Nissanoff said, "or owning the digital twin of a real Thoroughbred racehorse that you can sell fractional interests to fellow players who get paid every time the IRL counterpart wins. That's exactly what these platforms deliver and why they are growing so quickly and being valued so significantly."
Several experts also note that GameFi is at its nascent stages and that its potential is massive with the integration of other technologies.  
A 'Major Catalyst' on the Way
Nick Rose Ntertsas, CEO and co-founder of Ethernity noted that the integration of blockchain gaming into all-encompassing digital worlds is indeed the holy grail. 
"So what I am very excited about is the sort of headset hardware that Apple is developing at the moment," he said. "Enabling game play via AR-capable headsets will create an incredibly immersive experience. And this will likely be through innovation in this regard that blockchain-powered games will really come to life, notably with NFTs that serve as in-game assets.
Ntertsas added that digital ownership via NFTs is poised to become a powerful and fun feature in the blockchain-gaming world when AR/VR makes game play more dynamic and engaging.
"We just need the AR/VR hardware to catch up, and we're getting close to this happening," he added. "When this does happen, this will likely serve as a major catalyst to the blockchain-gaming world."
More From GOBankingRates