Goldman Sachs To Offer Bitcoin in Second Quarter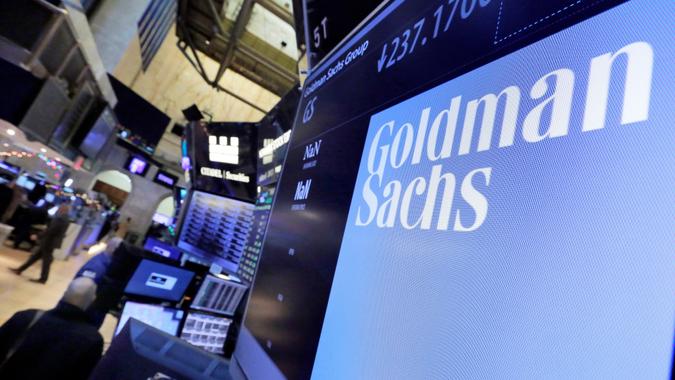 Richard Drew/AP / Shutterstock.com
Goldman Sachs will start offering exposure to Bitcoin and other cryptos to their wealth management clients in the second quarter, and has named Mary Rich as global head of the digital assets group to lead the effort, a spokesperson told GOBankingRates.
The move comes amid an increased institutional interest in Bitcoin and the crypto's meteoric ascent of late.
See: The Crypto Craze Continues — Bitcoin ATMs Are Popping Up Across the US
Find: How To Invest In Cryptocurrency — What You Should Know Before Investing
In this newly created role, Rich will work closely with advisors to educate clients about blockchain technology and the digital assets ecosystem, and seek to deliver content, investment offerings and services, according to a Goldman Sachs memo viewed by GOBankingrates.
This new team will partner with the firmwide digital assets group, led globally by Mathew McDermott, and PWM capital markets, led globally by Sara Naison-Tarajano.
"Consistent with client focus and commitment to a OneGS approach, Mary will leverage the firm's capabilities to ensure we can best meet client interest across digital asset classes and technologies. As a firm, we believe in the possibility of blockchain technologies, and it is imperative that we continue to drive innovation and deliver solutions to our clients," the memo reads.
See: Bitcoin Could Reach $1 Million, 'Going to Infinity,' Says Leading Crypto CEO
Find: Pandemic Fatigue Hits Investment Banks, Goldman Sachs Analysts Call Conditions 'Inhumane'
Goldman Sachs' announcement today follows that of Morgan Stanley's earlier this month. Morgan Stanley said it would offer Bitcoin to its wealthier clients — making it the first U.S. bank to do so.
The investment bank told its financial advisors in an internal memo at the time that it is launching access next month to three funds that enable ownership of Bitcoin, according to people with direct knowledge of the matter, CNBC reported.
Morgan Stanley said in the note that, "For speculative investment opportunities to rise to the level of an investable asset class that can play a role in diversified investment portfolios requires transformational progress on both the supply and demand sides. With cryptocurrency, we think that threshold is being reached. A firming regulatory framework, deepening liquidity, availability of products and growing investor interest — especially among institutional investors — have coalesced," according to The Block.
GOBankingRates' Crypto Guides
More From GOBankingRates