Most Searched Crypto Terms of 2021 on Google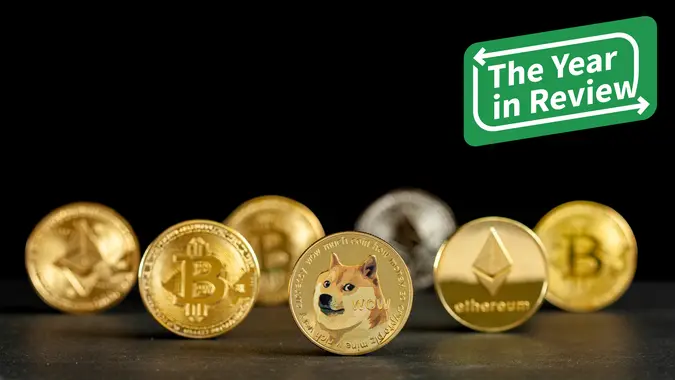 Grandbrothers / iStock.com
Cryptocurrency was a hot topic in 2021, as Bitcoin set a new record high, crypto exchange Coinbase went public and El Salvador became the first country to adopt Bitcoin as legal tender. But nowhere was the popularity of cryptocurrency more evident than on the mother of all search engines, Google. According to data from Google, two different cryptocurrencies — neither of which was Bitcoin — ranked in the top 10 of all Google searches for 2021. That's an astonishing achievement. Read on to see which were the most frequently searched cryptos in 2021 and why.
Dogecoin
What started out as a joke in the crypto world has turned into a huge missed opportunity for those who remained on the sidelines. Dogecoin has risen over 66,000% in value since its creation, and more than 5,400% over the past year alone. No wonder that it ranks No. 4 on Google's 2021 search results, behind only Afghanistan, AMC stock and COVID vaccine.
Part of the reason for Dogecoin's popularity — other than its astronomical rise in price — has been its connection with Tesla's newsmaking CEO, Elon Musk. Over the past year or so, Musk has tossed about various tweets that have spiked or sunk the price of Dogecoin, putting it in the public eye and adding to its mystique. The games began on Dec. 20, 2020, when Musk mysteriously tweeted out, "One word: Doge." That simple phrase was enough to pump up the price of Dogecoin by almost 20%. On Feb. 4, 2021, he sent out a series of Dogecoin-related tweets, starting with the simple, "Doge," followed by "Dogecoin is the people's crypto." Musk rounded out the day with the cryptic, "I am become meme, destroyer of shorts." In response to these tweets, Dogecoin shot up 60%. On Dec. 14, 2021, Dogecoin shot up another 20% after Musk announced that Tesla would accept Dogecoin as payment for merchandise.
The bottom line is that between the whimsical nature of Dogecoin, its incredible return and Elon Musk making repeated, very public references to the cryptocurrency, many Google users are interested in learning what the coin is all about. 
Ethereum 
Ethereum is the second-largest cryptocurrency by market capitalization, at about $451 billion as of Dec. 15. This makes Ethereum worth about half the value of the market leader, Bitcoin, which comes in at a capitalization of about $901 billion. Ethereum is a popular search term because it is often touted as a "better" crypto than Bitcoin, especially in terms of energy efficiency, and it has been outperforming Bitcoin to the point where some market pundits believe it will become the largest market-cap crypto in the near future. Over the past year, for example, the price of Ethereum is up about 550%, vs. Bitcoin's 149%.
Ethereum's upcoming transformation into Ethereum 2.0 is another reason that "Ethereum price" ranks as the No. 10 most searched term on Google for 2021. Ethereum 2.0, which is slated to occur sometime in 2022, will mark Ethereum's upgrade from its current "proof of work" validation system — such as the one used by Bitcoin — to "proof of stake." While there are many ramifications of this, two of the most important are the energy consumption of Ethereum 2.0 and its transaction speed. Not only does the system promise to reduce energy consumption by 99%, but it will also raise the platform's processing ability from 30 transactions per second to as many as 100,000. These changes have no doubt spurred interest among those using Google to search "Ethereum price." 
More From GOBankingRates