8 Best Bank Stocks To Buy Ahead of Q4 Earnings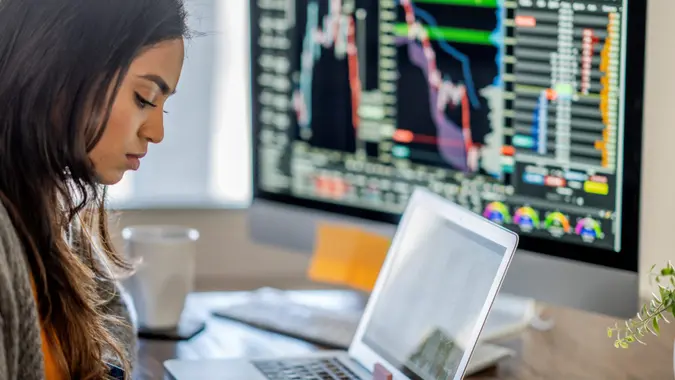 FatCamera / Getty Images/iStockphoto
Bank stocks have had a great 2021 overall, with the KBW Bank Index up about 36% YTD as of Dec. 28, 2021. Yet, many analysts think the good times will continue into 2022 and beyond, as several factors are putting a tailwind behind many banks. For starters, economic activity continues to pick up in the U.S. and around the world, as total lockdowns due to the coronavirus pandemic become less and less likely. Next, with inflation picking up significantly, the Federal Reserve Board seems likely to raise interest rates many times in 2022, which should help bank margins. With most of the big banks likely to post strong fourth quarter earnings numbers, here are eight names you might want to pick up while you still can.
1. First Republic Bank (FRC)
Price as of Jan 4, 2022: $202.62
Q4 earnings reporting date: Jan. 12, 2022
First Republic Bank will be the first bank on this list to report earnings, on Jan. 12. While the name might not be as well-known as some of the others on this list, it may have even more growth potential. The stock is up about 40% YTD, but analysts still have a consensus "buy" rating on it, with an average price target of $231.22. Some analysts think it has much further to run, with the top price target coming in at $250 amounting to a 20% pop from current levels. 
2. Citigroup (C)
Price as of Jan 4, 2022: $63.59
Q4 earnings reporting date: Jan. 14, 2022
If you're looking for a "value" play among the big banks, look no further than Citigroup. While many of its peers had a gangbuster 2021, Citigroup significantly lagged, logging a 1% YTD loss as of Dec. 28. A combination of bad news in 2020 and 2021, along with an ongoing restructuring, has held shares back thus far in 2021. Some of those issues include taking losses shuttering foreign divisions, a $400 million fine from regulators for lax internal controls, the loss of the company's CEO and the suspension of share repurchases in late 2021. Analysts have a consensus "buy" rating on the stock, with an average price target of $79.84. This marks a potential gain of over 36% from current levels.
3. JPMorgan Chase (JPM)
Price as of Jan 4, 2022: $167.83
Q4 earnings reporting date: Jan. 14, 2022
JPMorgan Chase is the largest bank in the U.S., and as such is often seen as a bellwether for the American banking industry as a whole. In addition to offering all types of banking services to businesses and individuals alike, the company is also well-known for its extensive credit card lineup. The stock is right in line with the banking index as a whole in 2021, at about 25%, and analyst projections see the stock up about 13% on average in 2022, with the high estimate coming in closer to 33%. The company already beat estimates in its third quarter report, giving analysts hopes for another beat in the fourth quarter. As the economy continues to recover and the Fed embarks on its rate-hike program, JPMorgan Chase should continue to benefit.
4. Wells Fargo (WFC)
Price as of Jan. 4, 2022: $52.75
Q4 earnings reporting date: Jan. 14, 2022
Wells Fargo stock has been a star in 2021, outperforming the broad bank index and returning over 61% year-to-date. No less than competitor Bank of America has selected Wells Fargo as one of its top stock picks for 2022, counting it among the stocks that will benefit from rising consumer spending, continued economic recovery and rising interest rates in 2022. Bank of America also views Wells Fargo as a high-quality bank at a good value that may benefit even more than other banks from higher interest rates.
5. Bank of New York Mellon (BK)
Price as of Jan. 4, 2022: $60.60
Q4 earnings reporting date: Jan. 18, 2022
Analysts have a strong buy rating on Bank of New York Mellon stock, with an average 12-month price target of $65.18 and a high estimate of $78. That translates to potential 2022 gains of between about 10% and 33%. The oldest bank in America, founded by Alexander Hamilton, is up about 38% year-to-date. 
6. The PNC Financial Services Group (PNC)
Price as of Jan. 4, 2022: $215.89
Q4 earnings reporting date: Jan. 18, 2022 
PNC is another financial institution that benefited from the broad wave supporting banks in 2021, up 36% year-to-date. The stock pays a hefty 2.49% dividend and analysts think PNC can continue to ride the trends higher in 2022, with the average 12-month price target at $220.77. PNC is considered a "super regional" bank, meaning it's servicing a broad geographical area – primarily the East and Southwest  – but it has significant assets, of about $554 billion. In 2021, the company completed its conversion of BBVA USA Bancshares, which included more than 600 branches in Texas, Arizona, Alabama, California, Florida, New Mexico and Colorado.
7. Bank of America (BAC)
Price as of Jan. 4, 2022: $47.99
Q4 earnings reporting date: Jan. 19, 2022
CFRA Research upgraded Bank of America from hold to buy in November 2021, boosting its price target to $51 along the way. That suggests over 14% upside for Bank of America in 2022. CFRA analyst Kenneth Leon says that Bank of America will benefit from "higher rates and higher loan volumes in a strong 2022 U.S. economy." Morningstar analyst Eric Compton agrees with Leon, noting that "Wide-moat-rated Bank of America recorded solid third-quarter earnings, beating the FactSet consensus EPS estimate of $0.71 with a reported EPS of $0.85…The bank seems poised to reach its goal of gaining an additional $1 billion in its quarterly net interest income run rate by the fourth quarter." All-in-all, the analyst community seems to believe Bank of America has a full head of steam heading into 2022. 
8. SVB Financial Group (SIVB)
Price as of Jan. 4, 2022: $706.15
Q4 earnings reporting date: Jan. 20, 2022
Some investors might not be as familiar with SVB Financial Group as with the other big-name banks on this list, but those in the know have enjoyed a 76% YTD gain on the stock. SVB Financial operates as a niche commercial bank focused on working with tech and venture capital firms, a business that typically expands rapidly during a booming economy. The company walloped third-quarter earnings estimates, posting $6.24 per share vs. estimates of $5.04, and analysts around the street have been raising their price targets. Specifically, Barclays sees the stock hitting $755, while Morgan Stanley is a $775 and Raymond James sees $830.
Data is accurate as of Jan. 4, 2022, and subject to change.
Editorial Note: This content is not provided by any entity covered in this article. Any opinions, analyses, reviews, ratings or recommendations expressed in this article are those of the author alone and have not been reviewed, approved or otherwise endorsed by any entity named in this article.
Our in-house research team and on-site financial experts work together to create content that's accurate, impartial, and up to date. We fact-check every single statistic, quote and fact using trusted primary resources to make sure the information we provide is correct. You can learn more about GOBankingRates' processes and standards in our editorial policy.