6 Best ETFs for Late 2022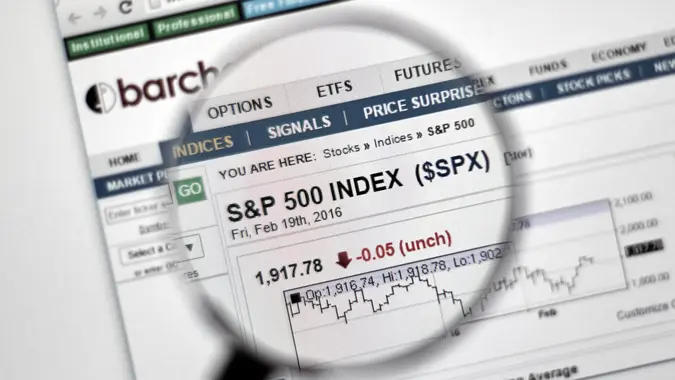 dennizn / Shutterstock.com
Exchange-traded funds are a great way for investors to access sections of the market without having to build their own entire portfolios. An ETF provides an entire portfolio to investors with a single purchase, and it can be bought or sold at any time in the open market, often for zero commission.
But even ETF investors have had a rough go of it so far in 2022, with the S&P 500 down over 25% as of Oct. 11 and many individual stocks down much more.
So how can an investor position a portfolio as we head into the end of the year? Here's a mix of ETFs that you can discuss with your financial advisor.
Some are riding current winning trends and others are more defensive, so you can pick and choose according to your investment objectives and risk tolerance. 
Invesco S&P 500 GARP ETF (SPGP)
Price (Oct. 11): $76.26
Year to date: -21%
Although the overall market is in a bear market — defined as a drop of 20% or more — many stocks are down 50% or more. In this type of environment, the most expensive, highest-flying stocks have been hit the hardest.
In times of economic uncertainty, investors tend to cling to stocks with consistent earnings and visible cash flow, punishing those with no earnings or excessive valuations. The Invesco S&P 500 GARP ETF holds a portfolio of growth stocks that are reasonably priced, which may be the sweet spot for the market until the volatility subsides.
Year to date, this ETF is doing a few percentage points better than the overall market, and this outperformance may continue until investors feel more comfortable speculating again. Top holdings in the ETF include Goldman Sachs, Berkshire Hathaway and Allstate, reflecting the fund's tilt toward financial stocks.
Invesco S&P 500 High Dividend Low Volatility ETF (SPHD)
Price (Oct. 11): $39.35
Year to date: -13%
In a volatile market, it can be hard to stay the course and avoid selling everything. While in more rational times most investors realize that is a losing strategy — buying high and selling low — in the heat of battle, when the market seems to be in an uncontrolled fall, it's hard emotionally to not simply pull the plug.
An investment in the Invesco S&P 500 High Dividend Low Volatility ETF can help keep you in the market because, as its name suggests, it is less volatile than the market as a whole. For example, YTD in 2022, this ETF is down only about 13%, vs. the S&P 500's 25%. With a beta of just 0.85, this ETF is about 15% less volatile than the overall market, which might be enough to keep you invested during the market's darkest days. 
iShares Core S&P 500 ETF (IVV)
Price (Oct. 11): $359.14
Year to date: -25%
The iShares Core S&P 500 ETF (IVV) is a great way for investors to enter the broad market without having to worry about the success of individual sectors or the fortunes of specific companies. While you're not likely to triple your money overnight, owning an ETF that reflects the fortune of the broad S&P 500 is an excellent way to participate in the market's recovery, if and when it occurs.
Although past performance isn't a guarantee of future results, the S&P 500 always has recovered from bear markets and gone on to make new highs, so history is definitely in favor of long-term positions in the index. In fact, famed billionaire Warren Buffett, the so-called "Oracle of Omaha" and CEO of Berkshire Hathaway, has said that after he dies he wants his wife to put 90% of her money into a low-cost S&P index fund. This and other comments over the years suggest that one of the world's most successful investors believes strongly in the long-term success of index funds like the IVV. 
iShares U.S. Oil & Gas Exploration & Production ETF (IEO)
Price (Oct. 11): $92.05
Year to date: +46%
If you're a believer that oil and gas stocks will remain hot — and many analysts feel they will — then the iShares U.S. Oil & Gas Exploration & Production ETF is one of the best ways to play the trend. These stocks have been among the very best performers of 2022; and, as the market continues to flounder, it seems as if investors simply keep pouring money into this sector in search of winners.
This ETF can be a great place for investors who want to ride the tide rather than hunker down defensively. Top holdings include ConocoPhillips, EOG Resources, Pioneer Natural Resources and Marathon Petroleum Corporation.
Invesco QQQ Trust (QQQ)
Price (Oct. 11): $262.75
Year to date: -35%
If you're more of an aggressive investor but you still shy away from the more speculative areas of the market, the Invesco QQQ Trust might be right up your alley.
This ETF is one of the most popular in the world, as it tracks some of the big technology and high-growth names that make up the Nasdaq-100 Index. Its historical performance has been excellent, and its 35% selloff in 2022 might be a great long-term buying opportunity for more aggressive investors. The top holdings in the ETF are household names among technology investors, including Apple, Microsoft, Amazon, Tesla, Alphabet and Meta Platforms.
Schwab U.S. Dividend Equity ETF (SCHD)
Price (Oct. 11): $67.22
Year to date: -17%
Stocks that pay high dividends are typically market-leading companies with predictable revenue streams. This both reduces their volatility and provides investors with reliable dividends that typically increase over time. In an uncertain market environment, stocks in the Schwab U.S. Dividend Equity ETF — much like the Invesco High Dividend Low Volatility ETF — tend to hold up better.
Year to date, the Schwab U.S. Dividend Equity ETF is down just over 16%, painful for sure but much better than the 20% losses experienced by broad market averages. If the market is in for sustained declines, the dividends pumped out by this ETF will continue to provide investors with a return. Amgen, Broadcom, Cisco, Home Depot and IBM top out the current five holdings in this ETF.
More From GOBankingRates