$2.75 Billion From Just 3 Stocks: Warren Buffett's Top Earners in 2023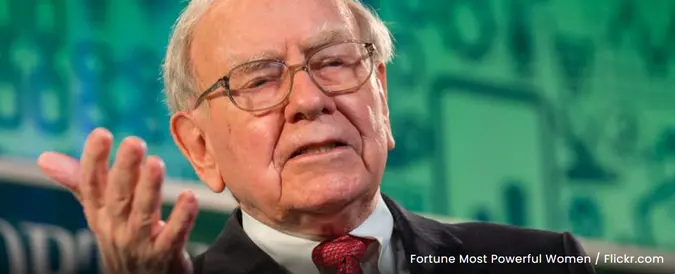 One of Berkshire Hathaway's Warren Buffett's most well-known investment advice is to hold steady, be patient and believe in the power of value investing.
I'm a Self-Made Millionaire: These Are the 6 Investments Everyone Should Make During an Economic DownturnMore: 3 Things You Must Do When Your Savings Reach $50,000
The Oracle of Omaha — one of the most famed investors — is also known for investments that include safe dividend stocks, stocks that generate returns, which he then pours back into his investments.
As The Motley Fool explains, companies that pay a regular dividend are almost always profitable and have well-defined long-term growth outlooks. In addition, income stocks have been significant long-term outperformers, when compared to stocks that don't offer dividends.
In 2023, Buffett and his team should oversee the collection of around $6 billion in dividend income — and nearly half of this dividend income, $2.75 billion, will come from just three stocks, according to The Motley Fool.
"Buffett (through Berkshire Hathaway) has always shown a proclivity toward dividend-paying stocks," said Peter C. Earle, economist, American Institute for Economic Research. "But that preference has paid 'dividends' of its own more recently. Dividend-paying stocks often do well in inflationary environments; they offset the loss of purchasing power from inflation and thus serve as a sort of hedge when the price level is rising."
Earle added that Buffett's three major dividend-paying stocks have definitive advantages in the current economic environment.
Apple
According to David Kass, clinical professor of finance at University of Maryland, Robert H. Smith School of Business, the outlook for Apple for the rest of the year is very bright.
"Apple, Berkshire's largest equity holding, representing about 50% of its $300+ billion portfolio, has the largest U.S. stock market capitalization of about $3 trillion," Kass said. "It is growing rapidly and enjoys an extremely loyal customer base within its ecosystem. In addition to its cash dividend, it is returning capital to shareholders through a very large share buyback program. Berkshire currently owns 5.6% of Apple. Warren Buffett is a big fan of Apple CEO, Tim Cook."
CFRA Research has a Buy opinion on Apple, reflecting its "view of AAPL's ecosystem, high customer retention rates, and expanding addressable market," according to a July 8 analyst research note.
The Motley Fool reports that despite Apple's paltry 9.5% yield, since Buffett,  "has 47% of his company's invested assets tied up in Apple, the nearly 915.6 million shares owned equates to almost $879 million in yearly dividend income."
Shares of Apple are up 52.3% year-to-date, as of July 14.
Occidental Petroleum
Earle explained that inflation tends to lift commodity prices faster and higher than that of most other goods, and as such, the revenue of energy firms tends to rise with those increases.
"That usually results in more reliable dividend prospects than for the vast majority of other kinds of companies which face increasing expenses as commodity prices rise," said Earle.
Buffett has been steadily increasing his stake in the company and has now accumulated more than 224,000 shares, representing a 25% stake, according to CNBC's Berkshire Hathaway portfolio tracker.  
And according to Kass, this is the result of Berkshire CEO, Vicki Hollub, planning to use its free cash flow to pay down its debt and reduce its preferred stock, buy back its common shares, increase its cash dividends, and invest in projects where its return on capital exceeds its cost of capital.
"With oil prices likely to be stable in the months ahead, the outlook for Occidental is very good," said Kass.
While Occidental Petroleum has just a 1.3% yield, these shares are earning Berkshire $161,373,018 in annual dividend income, according to The Motley Fool.
CFRA Research has a Buy opinion on the company.
"OXY's hostile 2019 takeover of the former Anadarko remains a gamble that looks better today than it did a year ago, due to the recovery in energy prices, which has enabled OXY to largely restore its balance sheet, CFRA equity analyst Stewart Glickman, wrote in a note.
Shares of the company are down 0.46% year-to-date.
Bank of America
According to Kass,Bank of America, under CEO Brian Moynihan, is a very conservatively run bank and is Berkshire's second largest equity holding, representing about 10% of its portfolio.
"It recently announced a 9% increase in its quarterly cash dividend and is also buying back its shares. Its outlook is also very bright," said Kass.
He added that although Buffett likes to receive cash dividends, he does not like to pay them to his shareholders.
"He prefers to re-invest the cash flow generated by Berkshire. Berkshire has not declared a dividend since 1967," Kass said.
CFRA Research has a Buy opinion on Bank of America saying the institution "is at the top of its game as a large U.S. bank."
"And we think lending and investment banking is positioned to benefit from a second half recovery in 2023. Nearly 90% of rate sensitivity to BAC loans is driven by short rates. What remains the wild card is whether loan activity will continue to grow at a decent pace," CFRA equity analyst Angelo Zino wrote in a July 8 note.
How To Buy ChatGPT Stock: Your 2023 Guide to AI Investing
Berkshire has 1.03 billion shares in the company- a 13% stake, according to CNBC's portfolio tracker. In turn, this nets Buffett's company close to $909 million in yearly dividend income, according to The Motley Fool.
Shares of the company are down 11% year-to-date, as of July 14.
More From GOBankingRates