How To Buy Tesla (TSLA) in 2023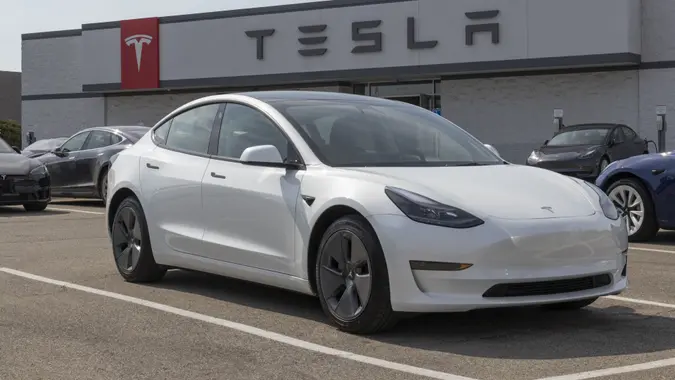 jetcityimage / Getty Images
Tesla (TSLA) has been a darling of investors since 2019, when it began a meteoric rise from its nearly flat performance of the prior nine years. It's had its ups and downs since then, but it's still very popular among investors.
Here's what you need to know about buying stock in Tesla.
See: 3 Things You Must Do When Your Savings Reach $50,000
Can I Buy Stock in Tesla?
Yes — Tesla is a publicly-traded company, meaning you can buy Tesla stock. Just take these steps to get into the game as a Tesla investor.
Understand the company. Don't just buy Tesla because it's a big name; know about its business so you know where you're putting your money.
Consider Tesla's fundamentals. Research its financials and future outlook.
Consider Tesla's place in your portfolio. No investment is perfect for everyone, so consult a financial advisor if you need to.
Place your order. Decide how much to invest and when, then buy the stock through a brokerage or app.
Monitor your position. Keep an eye on how Tesla is doing and reassess your position as needed.
1. Understand the Company
Tesla is in the business of developing, designing and marketing solar energy products, batteries and electric vehicles. Elon Musk acts as Chief Executive Officer, although the eccentric entrepreneur refers to himself as the company's "Technoking." Musk also runs SpaceX and Twitter, which are separate companies from Tesla.
Tesla employs over 100,000 people and operates six factories worldwide. The company's headquarters are in Texas.
2. Consider Tesla's Fundamentals
When deciding whether or not to purchase a particular stock, you can look at a few different metrics. Here are some ways to measure Tesla against other options.
Price/Earnings Ratio
As of March 13, 2023, Tesla has a trailing 12-month P/E ratio of 50.66. The P/E ratio is the relationship between price and earnings, so it shows how much investors need to spend to get a dollar of earnings, based on historical data from the past year. So, over the past year, Tesla investors had to buy $50.66 of stock for $1.00 of current earnings. A company with a lower P/E ratio is perceived as "cheaper" than one with a higher ratio.
A company's P/E ratio by itself doesn't tell you much. You need to compare it to other companies in the same sector. Since Tesla's market cap is about 30 times that of its next closest publicly held all-electric competitor, it makes more sense to compare Tesla's P/E to other auto manufacturers that make both gas and electric vehicles. General Motors has a P/E ratio of 6.35. Polaris, which makes off-road vehicles, snowmobiles and other adventure vehicles, has a P/E ratio of 11.27.
Analyst Sentiment
Analysts spend all day looking at the fundamentals of the companies they follow, and then they make recommendations as to whether investors should buy, hold or sell the stock. In February, 43 analysts gave their opinion on Tesla. Ten of them rated the stock a "strong buy," 15 rated it a "buy," 12 said to hold it, three rated it "underperform" and two recommended selling.
Analysts also provide a 12-month price target, estimating the price they think the stock will be trading at a year from now. The 12-month average price target is $196.35, over the current trading price of $174.48 as of market closing on March 13, 2023.
3. Consider Tesla's Place in Your Portfolio
Any stock purchase should be analyzed in light of your complete portfolio. It's important to diversify, so you don't want to hold only technology stocks or only automotive stocks, for example.
Tesla is interesting because it is actually both of these — technology and automotive — so owning it can do double duty in your asset mix. If you want to buy Tesla, make sure the purchase doesn't cause you to own more of either of these sectors than you're comfortable with.
If you're not sure how to navigate this step — or any other step in buying stock in Tesla or any other company — consider consulting a financial advisor to make sure you're on the right track.
4. Place Your Order
Once you've decided that Tesla's future is bright and that it fits in your portfolio, it's time to make the buy.
Decide How Much To Buy
First, you'll need to determine how much Tesla stock you want to buy. Only you can determine this, and you must consider how much cash you have to invest and whether or not you want to liquidate other investments to fund your purchase of Tesla.
Regardless of the dollar amount you end up putting into Tesla, make sure it's not more than you can afford to lose. No investment is guaranteed to be safe.
Decide When To Buy
The next question is when to buy. You can wait for a "dip," when the price drops a bit, to try to get a bargain. Or you can use dollar-cost averaging to move slowly into your position.
When using dollar-cost averaging, you buy 20% or 25% of the total number of shares you intend to purchase each month for four or five months. This has the effect of evening out any volatility in the share prices. Plus, you're buying more shares when the price is low and fewer shares when the price is high, so your average cost per share should be less than if you bought all at once.
Purchase Through a Brokerage or App
Finally, you need to decide how to buy. If you already have an account with an online brokerage or a stock trading app, you can simply use your existing account. Otherwise, you'll need to choose one to open an account with. Make sure you consider service fees, transaction speed and what tools are available on the platform before you pick one.
Once you're in your account, just enter the ticker symbol — TSLA — and then indicate either the number of shares you want to purchase or the dollar amount you want to invest. You can buy fractional shares of Tesla, as long as your investing platform allows this.
In most investing platforms and apps, you can place a market order or a limit order. When you place a market order, your order is fulfilled right away, at whatever price the stock is trading for at that moment. When you place a limit order, you name the price and the order will only be fulfilled when the stock reaches that price. If the stock never reaches that price, the order will not be filled.
5. Monitor Your Position
Investing in individual stocks is not a "set-it-and-forget-it" proposition. Once you buy a stock, you need to monitor it. Watch the price of Tesla, and pay attention to what the company is doing and what it says it will do. Keep an eye on the news for reports of new products, new manufacturing facilities and mergers or acquisitions.
Watch the stock price and set a price goal at which you will re-assess your position. For example, say you bought Tesla at $200 per share. You might set a target of $225. Once the stock reaches that price, you can check the fundamentals again and make sure you still like what you see. If you do, set a new goal of, say, $250. If you don't like the fundamentals, you can sell and still walk away with a profit. After all, that's the goal of investing.
FAQ
Is Tesla stock a recommended buy?

Yes, Tesla was given a consensus "buy" rating from analysts reported by Yahoo Finance in February and so far has a similar rating in March.
For February's analysis, 10 out of 43 analysts gave Tesla a "strong buy," 15 gave it a "buy" rating and 12 said to hold. Of the remaining five, three said Tesla was underperforming and two said to sell.

Can I buy one share of Tesla stock?

Yes, you can buy one share of Tesla stock, or even a partial share if your brokerage or investment app allows that.

How much does it cost to buy one Tesla stock?

As of market closing on March 13, 2023, one share of Tesla stock is priced at $174.48.

Is Tesla a good long-term stock?

Tesla could certainly be a good long-term investment, depending on your portfolio and financial goals. Despite a rough 2022

– which was the case for the majority of the stock market –

Tesla's performance over the past several years has been impressive, and it continues to perform well overall. Analysts predict the price continuing to increase, but not by as much as it has been.
As with any stock, of course, nothing is guaranteed, so make sure you do your research and only invest in Tesla if it's a good fit for you.
Information is accurate as of market closing on March 13, 2023.
Editorial Note: This content is not provided by any entity covered in this article. Any opinions, analyses, reviews, ratings or recommendations expressed in this article are those of the author alone and have not been reviewed, approved or otherwise endorsed by any entity named in this article.
Our in-house research team and on-site financial experts work together to create content that's accurate, impartial, and up to date. We fact-check every single statistic, quote and fact using trusted primary resources to make sure the information we provide is correct. You can learn more about GOBankingRates' processes and standards in our editorial policy.