F1 Stock Was Surging — Should You Invest?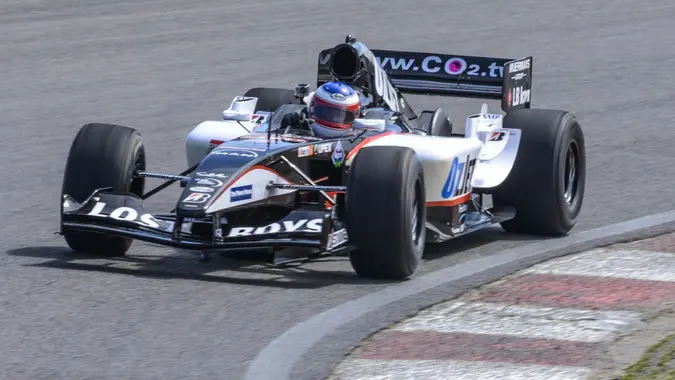 Sjoerd van der Wal / Getty Images
Although all stocks have taken a hit in the merciless beginning of 2022, stock in the Formula One Group has significantly outperformed. What was formerly much more of an international sport, F1 racing is now coming to America, and its popularity is surging. Netflix's "Drive to Survive" reality show is responsible in large part for this uptick in American interest, but sports broadcaster ESPN has contributed as well by airing some races on its network. Here's a look at how the F1 phenomenon is playing out in the U.S. and what stocks you can buy to get a piece of the action as an investor. 
Find Out: Here's How Much Cash You Need Stashed If a National Emergency Happens
See: 7 Best Side Gigs To Earn an Extra $1,000 a Month
Formula One Is the Main Game in Town
When it comes to a pure play in the F1 racing game, Formula One Group stock is really the only game in town. Trading under the symbol FWONK, Formula One Group stock is structured a bit differently than other stocks on the exchange. When you buy FWONK stock you don't technically own a share of the actual company, as you would with other stocks. Rather, FWONK is a tracking stock, meaning it follows the performance of the Formula One division of Liberty Media. For investors, that can actually be an advantage, as it allows you to participate in Formula One as a pure play. Without the tracking stock, you'd have to buy shares in parent company Liberty Media, which would expose you to other businesses in addition to Formula One, thereby diluting your exposure.
Formula One's Stock Performance
Formula One's stock shot up to over $71 per share in 2022 before the general market sell-off dragged it back down to Earth. As of May 23, 2022, shares sat at $61.20, down about 14% from their 2022 high and sporting a loss just shy of 5% for the year. This compares with the 17% sell-off in the broader S&P 500 index. For the past year, Formula One shares are still up an impressive 36%, contrasted with a drop of 6% in the S&P 500.
Check Out: 6 Alternative Investments To Consider for Diversification in 2022
What Is the Difference Between FWONA and FWONK?
For most investors, FWONK is the ticker symbol they want to buy when investing in Formula One. You can also track the company if you buy the company's A shares, under the symbol FWONA. The difference is that FWONA are voting shares, meaning as with other companies, owning FWONA entitles you to one vote per share of stock in corporate matters. But as most investors simply want the performance of the company, rather than participating in shareholder matters, FWONK is far more popular. For example, on May 24, 2022, over 1.2 million FWONK shares traded hands, while on the same day, volume in FWONA shares was just 221,251.
There is actually a third share class of Formula One Group, trading under the symbol FWONB, but it only trades over-the-counter in extremely limited volumes and isn't suitable for most investors. These shares are "super-voting" shares that entitle owners to 10 votes per share. They are 97% owned by insiders in the company.
Ancillary Stocks You Can Buy
Although it's not quite the same pure play as Formula One Group itself, you could diversify yourself a bit by buying F1's parent company Liberty Media. In addition to getting access to the company's F1 success, you'll also be buying the owner of Major League Baseball's Atlanta Braves. Liberty Media's F1 division also owns a 3% stake in Drone Racing League and 30% of Meyer Shank Racing, which is an American racing team that currently competes in the WeatherTech SportsCar Championship and the NTT IndyCar Series.
Risk and Reward
Investing in Formula One Group gives you direct exposure to one of the hottest and fastest-growing sports in America. F1 is already closing the gap on the hugely popular NASCAR circuit in America, and if it ends up having staying power, an investment now could pay rich dividends. Investors should be aware, however, that fads and trends often come and go in America, and what is hot now might run out of steam at some point. Talk with your financial advisor to see if the risk and reward in Formula One Group matches your own personal investment objectives and risk tolerance.
More From GOBankingRates