6 Best Lithium Stocks To Buy in 2023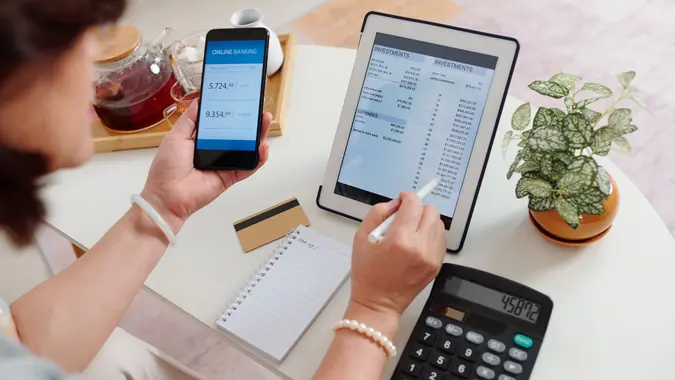 DragonImages / iStock.com
Lithium is an essential part of powering our technology, including cellphones, laptops and electric vehicles. All of this technology uses lithium-ion batteries, which means the demand for lithium will remain high for years to come.
Smartphones, tablets and laptops are already ubiquitous. But the demand for EVs is growing quickly as many countries work to phase out sales of gas-powered cars. Last year, EV sales grew by 65% while total new-vehicle sales dropped 8%, according to Kelley Blue Book.
With demand for lithium rapidly increasing, a McKinsey & Co. report suggests lithium needs will grow 25% to 26% per year until 2030.
What Are the Best Lithium Stocks To Buy?
With global demand for lithium set to grow for the next several years, here are the best lithium stocks to buy in 2023:
Albemarle
Sociedad Química y Minera de Chile
Lithium Americas
Piedmont Lithium
Ganfeng Lithium
Livent
1. Albemarle
Albemarle (NYSE: ALB) is a specialty chemicals manufacturing company based in Charlotte, North Carolina. Its specialties division, which includes lithium, accounted for about 16% of revenues in the first quarter of 2023. Albemarle has about 5,600 employees in about 100 countries and is one of the world's largest lithium producers. It has lithium plants in Australia, Chile, China, Germany, India, Taiwan and the U.S.
ALB posted strong results in Q1 2023. Its net sales increased 128.8% and adjusted earnings per share increased 333.6% year over year.
Pros
Strong earnings growth
One of the world's largest lithium producers
Global presence
Cons
Company's strength in lithium market could be offset by weaker bromine and catalysts markets
2. Sociedad Química y Minera de Chile
Sociedad Química y Minera de Chile (NYSE: SQM) is a chemical company based in Chile. Its products include plant nutrients, lithium, iodine, potassium and industrial chemicals.
SQM is one of the world's leading producers of lithium, with a presence on five continents. That includes a presence in Chile's Salar de Atacama, the country's largest salt flat. The company says it will have 180,000 metric tons of lithium production capacity in 2023.
SQM's earnings also look strong overall, although reduced demand for lithium resulted in an anticipated drop in revenue in the first quarter of 2023. However, the company expects demand to increase 20% this year. SQM reported net income of $749.9 million in Q1, down from $796.1 million for the same period a year ago. Earnings per share stood at $2.63, and its dividend yield is 14.92%.
Pros
Presence in Chile, which has the world's largest known lithium reserves
Strong earnings including consistent profitability
Pays a dividend yield of 14.92%
Cons
Some concerns over potential environmental regulations the Chilean president might pursue
3. Lithium Americas
Lithium Americas (NYSE: LAC) is a lithium mining company focused on advancing lithium projects in Argentina and the United States. These operations focus on Caucharí-Olaroz in Argentina and Thacker Pass in Nevada. Thacker Pass has the largest known lithium reserves in the U.S., with a value that LAC estimates at about $2.6 billion.
However, these projects are both still in development; the result is that LAC is currently operating at a loss. The company hopes that its impending separation into two separate lithium companies — Lithium Argentina and Lithium Americas (NewCo) — will benefit both entities. The separation was announced in a May 15 press release.
Pros
Presence in two mines, including the largest known lithium mine in the U.S.
Strong upside potential for its stock if its projects go according to plan
Promising long-term outlook following separation
Cons
Benefits of separation still a long way off
4. Piedmont Lithium
Piedmont Lithium (Nasdaq: PLL) is a lithium company based in the Charlotte, North Carolina, area. The company has a lithium hydroxide plant in North Carolina that it says will "serve the important vehicle and stationary storage markets in the USA and Europe."
It looks to provide an alternate source of lithium hydroxide, 80% of which currently comes from China, according to Keith D. Phillips, the company's president and CEO. The company notably signed a deal to supply lithium to Tesla.
PLL is in the development phase, like LAC. Hence, it is also not reporting any profits, with a negative full-year net income of -$12.98 million in 2022 and negative income in two of the last three quarters, including Q1 2023. However, analyst forecasts project an average 103% 12-month increase in its share price. Of course, this assumes all goes well with its current project.
Pros
U.S.-based production that aims to shrink China's 80% market share
Signed a deal with Tesla to supply lithium to the EV maker
Cons
Project still under development
Some have voiced concerns to environmental regulators over the company's mine
5. Ganfeng Lithium
Ganfeng Lithium (OTC: GNENF) is China's largest lithium producer and the third largest in the world. It has mineral resources in Australia, Argentina, Mexico and China. Ganfeng is involved throughout the supply chain, from lithium resource development to recycling. It provides lithium and lithium compounds for use in vehicles, energy storage and consumer devices.
The company has a sustainability focus, providing materials for clean energy and creating a circular development cycle.
Ganfeng's earnings report shows positive signs for investors. Its full-year profits quadrupled from 2021 to 2022 on revenue that grew 274% during the same period. Its balance sheet shows increasing capital and assets, and the company doesn't have much debt. Overall, it appears to be one of the best lithium stocks to invest in.
Pros
Third-largest lithium producer
Healthy profit margins
Sustainability focus
Cons
No operations in Chile, the largest source of lithium reserves
6. Livent
Livent Corp. (NYSE: LTHM) is a fully integrated lithium company based in Philadelphia. Its products are used primarily in lithium-based batteries, specialty polymers and chemical synthesis applications. Its focus is on supplying lithium for EVs and for other uses. Livent produces lithium primarily in Argentina.
Livent has posted strong earnings recently, with a 45% profit in Q1 2023. Its earnings per share were just $0.55 in Q1, though that is up from $0.39 in Q4 2022. Its balance sheet shows minimal debt, and year-over-year revenue grew over 93% in 2022. Analysts consider LTHM undervalued; they rate it a buy with a one-year target of $32.79. The stock closed at $25.34 on May 17.
Pros
Has supply agreements with GM
Improving profitability and assets
Cons
Relies heavily on financing for cash flow
Only recently became profitable
How To Buy Lithium Stocks
You can buy lithium stocks by investing in companies that are directly involved in lithium mining and refinement, or you can invest indirectly by buying stock in companies that support the lithium industry — battery makers and other energy-storage firms, for example.
Websites like Yahoo Finance and Morningstar and most major news sites publish stock quotes and company information you can use to research stocks you might want to invest in. When you're ready to buy, log in to your brokerage account. If you don't already have one, consider using one of the firms that made GOBankingRates' list of the best brokers for 2023.
You can start trading as soon as your account is set up and funded. Just search the stock you want, click the "buy" button or link and enter the number of shares you want to purchase — or the dollar amount you want to spend on a fractional share — and submit the order.
Are There ETFs for Lithium Stocks?
ETFs, or exchange-traded funds, are investment funds that focus on a particular investment theme or type of company. They pool funds from many investors like mutual funds do, but they're typically less expensive, and your buy and sell orders are executed immediately when you place them while the market is open.
A few companies offer lithium stock ETFs:
Amplify Lithium & Battery Technology ETF (BATT): BATT invests in companies that generate significant revenue from the development, production and use of lithium battery technology.
Global X Lithium & Battery Tech ETF (LIT): LIT invests in companies across the lithium cycle, from mining to refinement and battery production. Albemarle is its top holding.
ARK Autonomous Technology & Robotics ETF (ARKQ): ARKQ isn't a lithium ETF, per se, but it does invest in related companies, such as those involved in autonomous technologies and energy storage.
Bottom Line
Lithium stocks represent one of the most interesting opportunities for investors today. Some of the companies on this list are still working on getting their operations up and running, which shows just how early it is in the business of lithium. Hence, things are still speculative, and the real winners and losers have yet to be determined.
Still, investing in lithium stocks isn't complicated. You can search any of the stock tickers mentioned in this article on an online brokerage and add them to your portfolio. Or you can buy a lithium ETF through your broker.
Daria Uhlig contributed to the reporting for this article.
Information is accurate as of May 18, 2023.
More From GOBankingRates
Our in-house research team and on-site financial experts work together to create content that's accurate, impartial, and up to date. We fact-check every single statistic, quote and fact using trusted primary resources to make sure the information we provide is correct. You can learn more about GOBankingRates' processes and standards in our editorial policy.