Upwork Stock: Is It a Good Buy Right Now?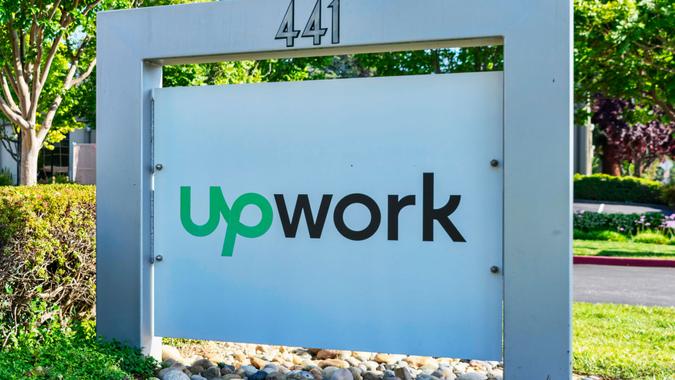 Michael Vi / Shutterstock.com
During the coronavirus pandemic, many workers — especially those who had the opportunity to work remotely — saw an opportunity to build a freelance side hustle. They took it in spades.
In 2020, Upwork commissioned a study from independent research firm Edelman Intelligence about the state of freelancing. It found that 59 million Americans, or 36% of the country's workforce, had done freelance work within the last year.
Workers are happy about it, too. According to the study, 88% of independent contractors who paused their freelancing work are likely to freelance again in the future, and 86% of all freelancers feel that the best days are still to come for the gig economy. This group is likely to get bigger because among those who don't currently freelance but are new to remote work, 58% report that they would consider freelancing in the future.
That's good news for Upwork.
What Is Upwork?
Upwork is a digital, freelance-focused jobs platform on which clients and workers can connect about specific individual projects. Small businesses can find a graphic designer, freelance writers can find new clients, and so on. The site's supported skill sets range from computer programming to e-commerce development, writing, user experience, social media management, search engine optimization and more.
How Does It Work?
On Upwork, clients can post their jobs and immediately begin receiving applications from qualified freelancers. Clients will see freelancer ratings, workload level and earnings.
For their part, freelancers have a chance to review the assignment's scope and potential earnings. Once a client makes an offer and a freelancer accepts it, the client can place the payment in escrow on the site. Upwork pays freelancers every week via secure methods such as direct bank transfers or PayPal.
Once the client makes an offer and the freelancer accepts, Upwork automatically generates a project hub for the job. There's a Files & Links section for file sharing and the main module with several tabs — Milestones & Payments, Messages & Files, Terms & Settings and Feedback. Clients also have a button for Pay Now, Give Bonus, and Cancel Contract.
How Much Is Upwork Worth?
As of July 23, Upwork's share price is $55.73, giving the company a current market capitalization of about $7.03 billion.
A Volatile Year for Upwork Stock
Upwork's stock has fluctuated extensively throughout the coronavirus pandemic, and it continues to be volatile in 2021. However, a recent analysis by Simply Wall St reported that 9.3% of the company is still owned by insiders, such as Upwork employees. Although some insiders have been selling the stock, the fact that many are still holding it is generally viewed as a hopeful sign.
Is Upwork Stock a Good Buy?
Research firm Zacks currently rates Upwork as a sell. However, CNN Business reports that six polled investment analysts rate the stock as a buy.
How and Where To Buy Upwork Stock
Upwork shares (UPWK) are available on stock exchanges — in full form and in some cases as fractional shares, depending on the institution you use to buy stocks. You can purchase stocks in a standard brokerage account and, in some cases, an individual retirement account, too.
The Great Unknown: What Will Corporate Employers Do?
Large corporate employers have left a lot on the table in the past few decades. As costs have risen — from housing to necessities like groceries — corporate employees have endured plenty of struggle. They've also had plenty of time to realize that most employers haven't done enough to help. A recent study about mindset at work in 2021, which was conducted by Zeno Group, revealed that 54% of employees believe that now's the time for companies to make major changes to the workplace for the sake of employees.
Although Upwork is up against some fierce competition from companies like LinkedIn, Fiverr and FlexJobs, its longtime focus on what workers want positions it well. It knows what corporate employers didn't seem to know or didn't want to acknowledge — that it was only a matter of time before technology would make it possible for people to choose remote work and grow their incomes.
Good To Know

This fall, job board and career site LinkedIn plans to launch a job board catering to freelancers. Called Marketplaces, the board is expected to launch in September, Fortune reported. It's something to watch as the competition for gig workers increases.

Another development to watch for is the potential that the gig economy may face more regulation in the months and years ahead. At both the national and state level, a desire is brewing among some legislators to influence gig economy hiring practices.
Our in-house research team and on-site financial experts work together to create content that's accurate, impartial, and up to date. We fact-check every single statistic, quote and fact using trusted primary resources to make sure the information we provide is correct. You can learn more about GOBankingRates' processes and standards in our editorial policy.