Virgin Galactic Stock (SPCE): Should You Buy This Stock?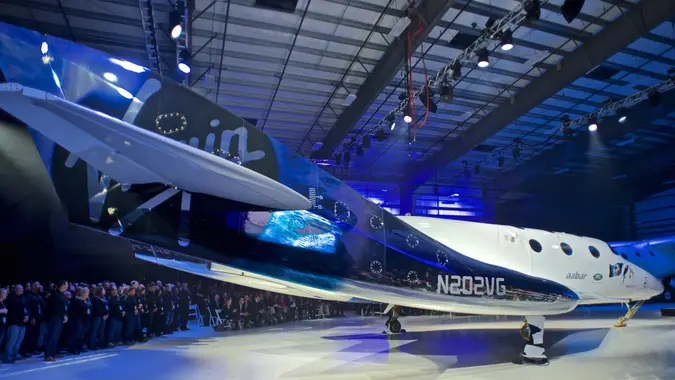 Ronrosano / Wikimedia Commons
The space race is back in full force, but not in the way you might think. Governments have begun to scale down their efforts to get into space, leaving it to private corporations to fund the effort themselves. There are several private space travel and tourism companies vying for supremacy. One of those companies is Virgin Galactic.
Virgin Galactic is currently the only publicly traded company in the privatized space race. Many investors are itching to get their money beyond earth's orbit, but few are sure whether they should. Here's some background about Virgin Galactic that can help you decide whether ought to buy now or wait a while.
What Is Virgin Galactic (SPCE)?
Virgin Galactic Holdings, Inc. is an aerospace company that has recently entered the space tourism industry. Debuting on the New York Stock Exchange in October 2019, the company has experienced both successes and setbacks over its short existence.
Founded by British billionaire Richard Branson, SPCE has three ships capable of reaching the mesosphere and has flown several successful test missions.
Virgin Galactic is on a mission to make space travel available to everyone. It also has plans to open its flights up to scientists, researchers and students for microgravity research projects.
Current Virgin Galactic News
In July 2021, the company's flights were grounded by the Federal Aviation Administration after a re-entry course deviation. However, in late September, it received approval from the FAA to resume flights following an inquiry by the administration.
The company has resumed mission planning, vehicle maintenance and enhancements and selling seats aboard its near-space craft.
According to its third-quarter financial report for 2021, the company is on schedule to meet its goal of providing commercial services in the fourth quarter of 2022 and has experienced strong ticket sales over the third quarter.
Virgin Galactic has committed itself to safe flights and a smooth customer experience. In October 2021, CEO Michael Colglazier stated "Our decisions are driven by detailed and thorough analysis, and we fly based on the most accurate and comprehensive data available. Virgin Galactic vehicles are designed with significant margins for safety, providing layers of protection that far exceed loads experienced and expected to occur on our flights. The re-sequencing of our enhancement period and the Unity 23 flight underscores our safety-first procedures, provides the most efficient path to commercial service, and is the right approach for our business and our customers."
Virgin Galactic Fundamentals
For the nine-month period of January to September 2021, Virgin Galactic's total assets, which include cash and cash equivalents, totaled more than $1 billion. It posted an increase in revenue of $3.15 million for the period–an increase of $2.9 million from September 2020. Some other relevant measurements, as of Nov. 23, 2021, are:
Earnings (losses) per share: -$1.11 
P/E Ratio (estimates): -10.09, down from -13.6 in 2020
Forecast PEG rates: -23.2 (2021), 11.56 (2022) 
Average trading volume: around 16.6 million
Total-liabilities-to-total-assets: Virgin has a low ratio of .13
Virgin Galactic is running negative in many key indicators. Much of this could be attributed to the challenges inherent in being a new company in a new industry, designing propulsion systems and vehicles and dealing with the COVID-19 pandemic. However, Virgin is in the process of bringing people back to work while following all vaccination mandates and safety procedures. If it can get back into research, development and production, the company stands a good chance of becoming profitable.
Enhancement and Maintenance Period
To reach its goal of beginning commercial service flights in the fourth quarter of 2022, Virgin Galactic has entered a period of enhancement designed to improve vehicle performance and capability. This period will be heavy on maintenance, analysis, research and development, incurring significant upfront costs. It also means that investors who might be looking for short-term returns will be disappointed, as the company isn't likely to begin generating returns for investors until commercial flights begin.
Currently, Virgin Galactic stock isn't showing any signs of growth, but Nasdaq analysts are hopeful; its forecast price-to-earnings-growth rates are likely to increase over the next year. In order to become profitable, Virgin Galactic is going to have to put the pedal to the metal, get flights in the air and sell more tickets. Virgin Galactic has experienced losses throughout its existence while continuously raising more capital through stock issuances, so a prolonged period of loss is nothing new.
Should You Buy SPCE?
The latest quarterly financial report indicates that SPCE is not a good investment for immediate returns. Because the industry is new, and Virgin Galactic is still young, there is a chance that it can pull through if it is innovative enough and finds a niche that other space tourism companies can't fill.
Virgin Galactic has plenty of financial power in the form of investor capital. However, unless it can turn around soon and get its fleet in space, it will continue to operate at a loss for the next few years. So, for the time being, Virgin Galactic is not a good buy for everyday investors looking for a safe bet.
However, if you believe in the industry and are hopeful that Virgin can pull through, you'll need to be patient and have a portfolio that can tolerate losses until the company manages to turn a profit or merge with one of the other, more successful, emerging space-travel companies.
If you've already purchased stock in Virgin Galactic, and the current share price is below your purchase price, the best strategy, for now, is to hold and wait to see what happens. If the current price is above the price at which you purchased the stock, though, it may be time to consider selling. As time and money are spent getting Virgin Galactic ready to hit its 2022 target, there will be significant losses before there are any gains.
Our in-house research team and on-site financial experts work together to create content that's accurate, impartial, and up to date. We fact-check every single statistic, quote and fact using trusted primary resources to make sure the information we provide is correct. You can learn more about GOBankingRates' processes and standards in our editorial policy.