What 30 Stocks Make Up the DOW?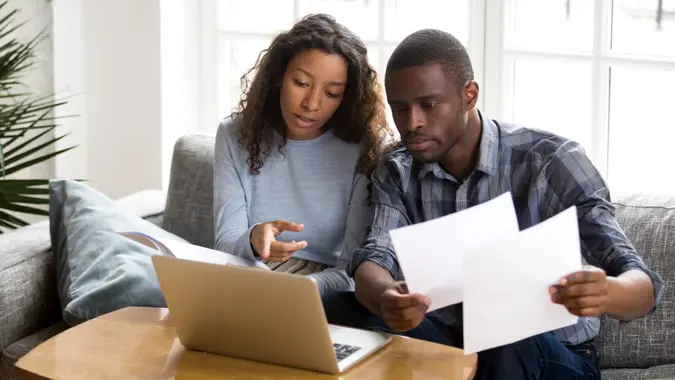 fizkes / Getty Images/iStockphoto
The Dow Jones Industrial Average, often called the Dow 30 because it includes 30 major companies, is a key indicator of the U.S. stock market's health and reflects the broader American economy. But what 30 stocks make up the DOW 30? Keep reading to find out.
What 30 Stocks Make Up the DOW?
Below is a table highlighting the 30 stocks that currently make up the DIJA:
| Company Name | Market Cap |
| --- | --- |
| American Express Co (AXP) | $112.35 billion |
| Amgen Inc (AMGN) | $151.60 billion |
| Apple Inc (AAPL) | $2.76 trillion |
| Boeing Co (BA) | $112.55 billion |
| Caterpillar Inc (CAT) | $140.53 billion |
| Cisco Systems Inc (CSCO) | $215.92 billion |
| Chevron Corp (CVX) | $318.97 billion |
| Goldman Sachs Group Inc (GS) | $101.84 billion |
| Home Depot Inc (HD) | $295.40 billion |
| Honeywell International Inc (HON) | $123.53 billion |
| International Business Machines Corp (IBM) | $126.32 billion |
| Intel Corp (INTC) | $149.61 billion |
| Johnson & Johnson (JNJ) | $373.89 billion |
| Coca-Cola Co (KO) | $232.36 billion |
| JPMorgan Chase & Co (JPM) | $426.79 billion |
| McDonald's Corp (MCD) | $182.11 billion |
| 3M Co (MMM) | $49.72 billion |
| Merck & Co Inc (MRK) | $261.82 billion |
| Microsoft Corp (MSFT) | $2.46 trillion |
| Nike Inc (NKE) | $156.02 billion |
| Procter & Gamble Co (PG) | $342.99 billion |
| Travelers Companies Inc (TRV) | $38.47 billion |
| UnitedHealth Group Inc (UNH) | $500.90 billion |
| Salesforce Inc (CRM) | $204.14 billion |
| Verizon Communications Inc (VZ) | $131.31 billion |
| Visa Inc (V) | $499.84 billion |
| Walgreens Boots Alliance Inc (WBA) | $19.77 billion |
| Walmart Inc (WMT) | $433.96 billion |
| Walt Disney Co (DIS) | $156.83 billion |
| Dow Inc (DOW) | $35.51 billion |
The Importance of the DOW 30
The DIJA, often simply referred to as the "Dow," isn't just another stock market index. Its importance in finance and its long history make it a key part of global economics.
Origins
Founded in 1896 by Charles Dow and Edward Jones, the DIJA was a revolutionary approach to tracking and predicting market performance.
When it started, the Dow was just an average of 12 major industrial companies. These companies, from energy to steel, showed how the U.S. economy was doing.
As America's economic landscape shifted, the Dow adapted. Industries rose, some fell and the importance of sectors like technology and healthcare began to emerge. In response to these transformations, the Dow expanded to represent 30 companies, ensuring it consistently depicted a comprehensive snapshot of the American business landscape.
Why Only 30 Stocks?
There's a deliberate simplicity in the Dow's choice to track only 30 stocks. While indices like the S&P 500 provide broader coverage, the Dow's curated list offers a different kind of insight.
The 30 corporations that form the Dow are not random selections. They are titans in their respective sectors, representing both historical significance and modern influence. Their performance shows the overall health of the economy, how investors feel and how companies are managed.
By selecting only 30 impactful companies, the Dow can quickly adjust to show changes in American business. This balance gives investors a clear view of how the U.S. economy is doing.
Continued Significance
The Dow has seen events like World Wars, the Great Depression and big market crashes. Its ability to adapt and remain strong through these times makes it a trusted measure of economic health.
Final Take
The Dow Jones Industrial Average tells America's economic story through its top companies. When you follow the DIJA or consider investing in Dow 30 stocks, you're tapping into a legacy of business and transformation. For new investors, understanding the Dow offers a foundational perspective on market trends, helping you make informed decisions as you embark on your investment journey.
FAQ
Here are the answers to some of the most frequently asked questions regarding the Dow 30.
What is the Dow 30 defined as?

The Dow 30, also known as the Dow Jones Industrial Average, is a price-weighted index that represents the average value of 30 large, publicly traded companies based in the United States.
These companies are selected to be a broad representation of the U.S. economy, spanning various industries.
The composition of the Dow 30 can change over time as companies rise in prominence or decline in market relevance.

What is the Dow 30 and US30?

The Dow 30 and the US30 refer to the same entity, the Dow Jones Industrial Average. The name "US30" is often used by trading platforms and refers to the futures contract that tracks the DJIA.

What is the average return on Dow 30?

The average return for the Dow 30 has varied over different periods. Historically, the Dow has seen an average annualized return of about 5.4%, excluding dividends. However, from January 1998 through March 2022, the Dow Jones reported an average return of 8.70%.
It's worth noting that returns can fluctuate based on specific time intervals and significant market events, such as economic booms or downturns.

What is the significance of the Dow Jones Industrial Average?

The DIJA, commonly referred to as "the Dow," holds immense significance in the world of finance and beyond. Its primary importance can be broken down into the following:

Historical relevance: Established in 1896, the Dow is one of the oldest stock indexes in the world. Its longevity and resilience through various economic periods offer a rich tapestry of financial history.
Economic barometer: As a price-weighted average of 30 major U.S. companies from diverse industries, the Dow acts as a reliable barometer of the broader U.S. economy's health. Its performance often reflects broader economic trends and investor sentiments.
Global recognition: Recognized globally, the Dow's movements are closely watched by investors, policymakers and analysts. Its performance can influence financial decisions and policy-making worldwide.

What is the Dow Jones Industrial Average based on?

The Dow Jones Industrial Average is based on the stock prices of 30 large, publicly-owned U.S. companies from various industries.
Unlike many other indices, the DIJA is price-weighted, which means the companies with the highest stock prices have the most influence on the index's movement. The selection of these 30 companies is intended to reflect the overall health of the U.S. economy, making the Dow a representative snapshot of the U.S. stock market.
Data is accurate as of Oct. 17, 2023, and is subject to change.
Editor's note: This article was produced via automated technology and then fine-tuned and verified for accuracy by a member of GOBankingRates' editorial team.
Our in-house research team and on-site financial experts work together to create content that's accurate, impartial, and up to date. We fact-check every single statistic, quote and fact using trusted primary resources to make sure the information we provide is correct. You can learn more about GOBankingRates' processes and standards in our editorial policy.