The Best $50 Instant Loan Apps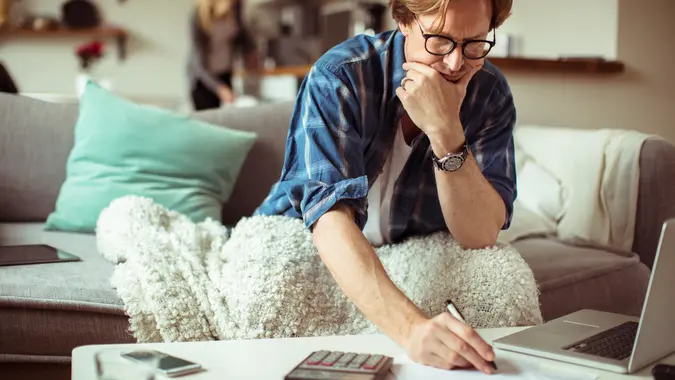 Geber86 / Getty Images
It's almost payday but you're a little short. A quick infusion of $50 will help you make it, but you may be wondering, "What app can give me $50?" Well, the short answer is, you have plenty of options.
Try These 10 $50 Instant Loan Apps
$50 instant loan apps are far superior to payday loans because they typically don't come with interest charges or hidden fees. Keep reading for the best $50 loan apps you can access right now and make it until payday a different way.
1. Albert
Limit: $250
Fee: $0
Benefits: Automatic savings and investment options
You can borrow up to $250 from Albert without a credit check. You also won't pay any interest or late, overdraft or maintenance fees. The only thing you have to do is link to your bank account and in two to three business days you can receive the funds. If you need the money yesterday, you can pay a small fee for an instant transfer, which typically takes a few hours. In addition, Albert offers automatic savings plans based on your income, bills and spending habits, as well as investment options that start at just $1. Use budgeting to track your bills and spending, and you might just find some hidden savings.
2. Branch
Limit: $500
Fee: $0
Benefits: No credit check required; can receive money in 1-3 days
Branch is an instant pay app available for free through employers in several industries, including trucking and logistics, retail, restaurants, healthcare and more. If your company offers it, you can get access to up to $500 of your pay that you've earned, and you won't pay any interest or fees. With Branch, that money goes into a digital wallet instead of your bank account and you can use it any way you see fit. You won't have to go through a credit check, and you can usually get your funds within one to three days. The app is particularly attractive to independent contractors because they can get paid instantly after finishing a job and there are flexible options to access that money.
3. Brigit
Limit: $250
Fees: Free; Plus plan option is $9.99 per month
Benefits: Budgeting tools and access to savings on things such as car insurance
More than 4 million members use Brigit to access up to $250 of their pay early. In addition, the app serves as a budgeting tool to help you build your credit score and monitor your financial health. If the app sees your bank account is about to go into a negative balance, it can even make an automatic deposit. All these features come with no credit check, interest charges or upfront deposit, and users also get access to special savings on things such as car insurance and personal loans. You link the app to your bank account, and the amount of money you can get depends on your banking history.
4. Chime
Limit: $20 to $200
Fee: $0 monthly maintenance, foreign transaction, interest or transfer1
Benefits: Get paid up to two days early with direct deposit2; cash advances available up to $203
With SpotMe®, get anywhere from $20 to $200 instantly3 with the Chime checking account while you enjoy no late, monthly service, foreign transaction, interest or transfer fees1 — and no required minimum balance. With a Chime account, you can also get paid up to two days early with direct deposit2. You'll get a Chime Checking Account and Visa Debit Card plus a Chime Credit Builder Visa® Credit Card along with FDIC insurance for up to $250,000. You won't have to go through a credit check and at first, you'll only be able to get a cash advance of $20, but Chime might increase that amount based on your banking history and spending habits3.
5. Cleo
Limit: $20 to $70
Fee: $0; $5.99 for either two subscriptions, Cleo Plus and Cleo Builder
Benefits: No interest and plenty of features to help make financial decisions
Wondering "What app will let me borrow $100?" or, "What app will let me borrow $20?" Cleo can do both. The app lets users borrow from $20 to $70, as well as budget, build credit and save. Once you have paid back your loans on time, you might be able to increase your borrowing amount to $100. You must link your bank account and Cleo will review your transactions — and give you advice on how to better manage your finances. You won't need a credit check and you won't pay any interest, and it typically takes one to three days to get your money.
6. DailyPay
Limit: Up to 100% of your net earned income
Fee: Free for employees; small fee for instant transfers to your bank account, debit card or payroll card
Benefits: Use of a prepaid Visa; no fee for opting not to use instant transfer
DailyPay offers users Friday, a prepaid Visa card that gives employees instant access to their earned pay with no fees. Employers offer the program to employees for free, and there is no interest rate or credit check necessary. All you have to do is link your bank account and you can have money sent instantly for a small fee or wait a few days and not pay any fee at all. You can transfer funds from the app immediately after you finish your shift, 24/7.  
7. Dave
Limit: $500 with ExtraCash™
Fee: $1 monthly
Benefits: No credit check and use of a Mastercard with Dave Debit Mastercard®
If you want to know what apps let you borrow money immediately, Dave is your answer. You can access up to $500 instantly with its ExtraCash™ program and spend it instantly with your Dave Debit Mastercard®. You won't pay any late fees or interest, and you won't need a credit check. All you do is have your paycheck deposited into your Dave account and that amount is taken from your check on your next payday. You'll pay $1 each month to use the app but that's the only fee you'll pay unless you request an instant transfer. Dave is one of the best cash advance apps available today. It's a fintech banking app that gives you access to up to $250 in between paydays. Dave charges a $1 monthly fee, but there aren't any other fees or interest unless you request an instant transfer. How much you can borrow depends on how fast you pay back your loans, how much money you have outstanding and what your Dave history looks like.
8. Earnin
Limit: $750
Fees: $0 hidden costs, penalties or interest; Lighting Speed transfer option available for $2.99
Benefits: High advance limit, instant transfers available and zero hidden fees
You can get your money when you need it with Earnin by accessing your earned funds early with an instant loan. You can get up to $750 of your paycheck per pay period advanced to you, all without hidden fees, penalties, credit checks, interest or waiting periods. The instant loans usually take one to three days to process, but if you want to pay $2.99 to get it instantly you can use the Lightning Speed transfer option. Just link your bank account and Earnin' will deduct the funds you borrow from your next paycheck. You must be employed and get direct deposit in your checking account to use the app.
9. MoneyLion
Limit: $25 to $250; up to $300 with a RoarMoney account
Fees: $0 monthly, no interest; fee applies for instant transfers
Benefits: The app offers ways to save, earn and invest
MoneyLion users can get their paychecks up to two days early with its RoarMoney℠ program, and they can also save, earn and invest with the app. You can get instant cash advances from $25 up to $250 with no interest or credit check and you won't pay a monthly fee. You can use your bank account that has direct deposits, or you can switch the deposit into a RoarMoney account and get access of up to $300. It only takes from 12 to 48 hours to get your money from MoneyLion, unless you want your money sent to an external account, which usually takes three to five business days. If you need money instantly, you can pay a fee, which depends on the amount you want and where it's going.
10. PayActiv
Limit: 50% of earnings, or $500; up to $1,000 with direct deposit
Fees:
Other Perks or Benefits:
PayActiv can help users manage their finances and bills without taking out loans. This is another employer-provided app that won't cost you a penny. The app links to your employer and counts how many hours you've worked. You can access 50% of your earnings or $500, whichever is less. If you have direct deposit, you can access up to $1,000 of your earned money.  You can transfer your earned money to your bank account or PayActiv card and the app will automatically deduct whatever you borrow from your next direct deposit. If you choose direct deposit with PayActiv, the service is free but if you don't, you'll have to pay $1 for each transaction — there is a maximum fee of $5 each period. You can typically get your funds in one to three days.
Final Take
Using an instant $50 loan app is a great alternative to predatory payday loans, but it's important to find the right app for your financial situation. Make sure it's user-friendly and has flexible approval guidelines since you don't want to go through a whole application to borrow a small amount. Pay close attention to the fees and terms and keep in mind that most of these apps require users to repay the loan on their next payday. And last, make sure you find an app that will pay you quickly because you certainly don't want to wait a long time for your money if you're in a tight spot.
Chime is a financial technology company, not a bank. Banking services provided by, and debit card issued by, The Bancorp Bank, N.A. or Stride Bank, N.A., Members FDIC. Credit Builder card issued by Stride Bank, N.A.
1There's no fee for the Chime Savings Account. Cash withdrawal and Third-party fees may apply to Chime Checking Accounts. You must have a Chime Checking Account to open a Chime Savings Account.
2Early access to direct deposit funds depends on the timing of the submission of the payment file from the payer. We generally make these funds available on the day the payment file is received, which may be up to 2 days earlier than the scheduled payment date.
3Chime SpotMe is an optional service that requires a single deposit of $200 or more in qualifying direct deposits to the Chime Checking Account each month. All qualifying members will be allowed to overdraw their account up to $20 on debit card purchases and cash withdrawals initially, but may be later eligible for a higher limit of up to $200 or more based on member's Chime Account history, direct deposit frequency and amount, spending activity and other risk-based factors. Your limit will be displayed to you within the Chime mobile app. You will receive notice of any changes to your limit. Your limit may change at any time, at Chime's discretion. Although there are no overdraft fees, there may be out-of-network or third party fees associated with ATM transactions. SpotMe won't cover non-debit card transactions, including ACH transfers, Pay Anyone transfers, or Chime Checkbook transactions. See Terms and Conditions.