Best Short-Term Loans for Bad Credit in 2023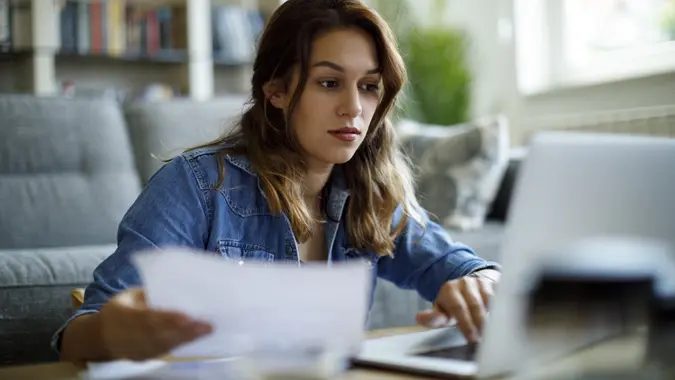 damircudic / iStock.com
Short-term loans for consumers with low credit scores typically have high interest and/or fees that can make a bad situation worse if you're not careful. But a small number of lenders offer reasonable options that have lower rates than payday loans and don't require collateral like car-title loans do.
Best Short-Term Loans for Bad Credit in 2023
FICO, the credit-scoring model used by most lenders, considers a credit score below 580 to be a "bad" or "poor" credit score. A score in this range makes you vulnerable to predatory lending practices that can keep you in debt for much longer than you planned, resulting in outrageous interest and fees.
To help you find better options, GOBankingRates researched loans from many lenders to compile this list of the best short-term loans for bad credit:
OppLoans
Avant
Possible Finance
PenFed Credit Union
Personify Financial
OppLoans
OppLoans has no minimum credit score requirement for its loans, but it does do a soft pull on your credit to review your credit report.
OppLoans currently offers installment loans in Georgia and Nevada. However, you can use the OppLoans platform to look for a loan from OppLoans' partner lenders, which offer loans in 34 states other than Georgia and Nevada. Loan amounts can range from $500 to $4,000, depending on the state you live in and your income and other qualifications.
To be eligible for a loan from OppLoans or its partners, you must have a regular source of income and a checking or savings account, and you must receive income via direct deposit.
Minimum credit score: No minimum
Loan terms: Nine to 18 months
Loan amount: $500 to $4,000
Interest rate: 59% to 160% annual percentage rate
Fees: None
Time to fund: As quickly as one business day
Avant
While the typical Avant borrower has a credit score of 600 to 700, the lender makes decisions based on additional factors, such as employment, income and banking information, so you have a chance of being approved even with bad credit.
Loan amounts range from $2,000 to $35,000, but how much you can borrow depends on your qualifications and any limits imposed by your state. The 9.95% to 35.99% annual percentage rates seem quite reasonable for a bad-credit loan, although Avant also imposes an administrative fee of up to 4.75%, which drives up the cost.
With a minimum loan term of 12 months, Avant loans don't quite meet the usual definition of "short term," which is fewer than 12 months. The way around that is to make extra principal payments to pay the loan off early. There's no penalty to do so, and you'll pay less interest.
Minimum credit score: No minimum
Loan terms: 12 to 60 months
Loan amount: $2,000 to $35,000
Interest rate: 9.95% to 35.99% APR
Fees: Up to 4.75%
Time to fund: As soon as next business day
Possible Finance
Possible Finance is an alternative to payday lenders. The difference is that you repay the loan in four biweekly installments instead of all at once from your next paycheck, and the interest rates aren't quite as high as payday lenders charge. In addition, Possible charges no penalty or late fees.
The loan comes at a steep cost. In addition to charging a borrowing fee of 10% to 25% of the loan amount, depending on your state, Possible charges an interest rate of 150% to 200% APR. Of course, that's an annual rate, whereas the loan term is just two months. However, the rate underscores the fact that eliminating late fees won't necessarily save you money if you don't repay the loan on time.
Minimum credit score: No minimum
Loan terms: Eight weeks
Loan amount: Up to $500
Interest rate: Up to 200% APR
Fees: 10% to 25% of loan amount
Time to fund: Instant funding in many cases
PenFed Credit Union
PenFed Credit Union suggests a minimum credit score of 580 for a personal loan, so it's more of a fair-credit loan than one for bad credit. But it's worth investigating because the rates are much better than you'll find on a typical short-term non-prime loan — 7.74% to 17.99% APR as of August 2023 — and there's no origination fee. What's more, you can apply with a co-borrower who has stronger credit to improve your chances of being approved.
You'll have to join the credit union if you accept a PenFed loan, but it's an automatic process. PenFed opens a savings account pre-loaded with the $5 membership fee when you receive your loan.
Minimum credit score: 580
Loan terms: 12 to 60 months
Loan amount: $600 to $50,000
Interest rate: 7.74% to 17.99% APR
Fees: None
Time to fund: 48 hours electronically, up to seven days by check
Personify Financial
Personify Financial offers unsecured personal loans to high-risk borrowers in a number of states throughout the U.S. Loan amounts and APRs vary by state. For example, Georgia residents can borrow $3,100 to $10,000 at a rate of 19% APR to 59.99% APR but pay no origination fee. Ohio residents, on the other hand, can borrow $500 to $15,000 at rates ranging from 19% APR to 179% APR, and they'll pay a 5% origination fee. Personify doesn't charge a prepayment penalty, however, so you can reduce your interest charges by paying the loan off early.
Minimum credit score: None
Loan terms: 12 to 48 months
Loan amount: $500 to $15,000 in most states
Interest rate: 19% to 179.50% APR
Fees: 5% origination fee in most states
Time to fund: As soon as one business day
Alternative Short-Term Loan for Bad Credit
If you happen to be a Cash App user and need just a small loan — up to $200 — you might qualify for Cash App Borrow. Find out if you're one of the select members eligible for Borrow by logging in to the app and selecting "Banking." You'll see a link to "Borrow" if you're eligible. If you are, you can borrow up to $200 for four weeks for a flat fee of 5%. If you're not eligible, Cash App recommends the following steps:
Use your Cash Card frequently.
Add at least $200 per month to your Cash App account.
Maintain a positive balance in your account.
Cash App notes that you'll be contacted when you become eligible.
Data was compiled on Aug. 20 and Aug. 21, 2023, and is subject to change.