Zara, Nike and More: Now All Your Favorite Brands Are Selling Direct Through Instagram
Checkout users can now buy directly from the Facebook-owned app.
Instagram announced its new "Checkout" feature on March 19.
130 million Instagram account holders use product tags in shopping posts every month.
Users will be able to shop for a number of brands, including Nike, Burberry and Revolve.
On March 19, Instagram announced a new shopping feature called Checkout, which will allow users to buy their favorite products without ever leaving the app. Participating brands include Nike, H&M, Zara and Kylie Cosmetics.
Around 130 million people a month are tapping shopping posts within their feed to reveal product tags or product stickers. The product tags have enabled users to visually explore their favorite brands, including Burberry and Revolve, but not buy them. Until now.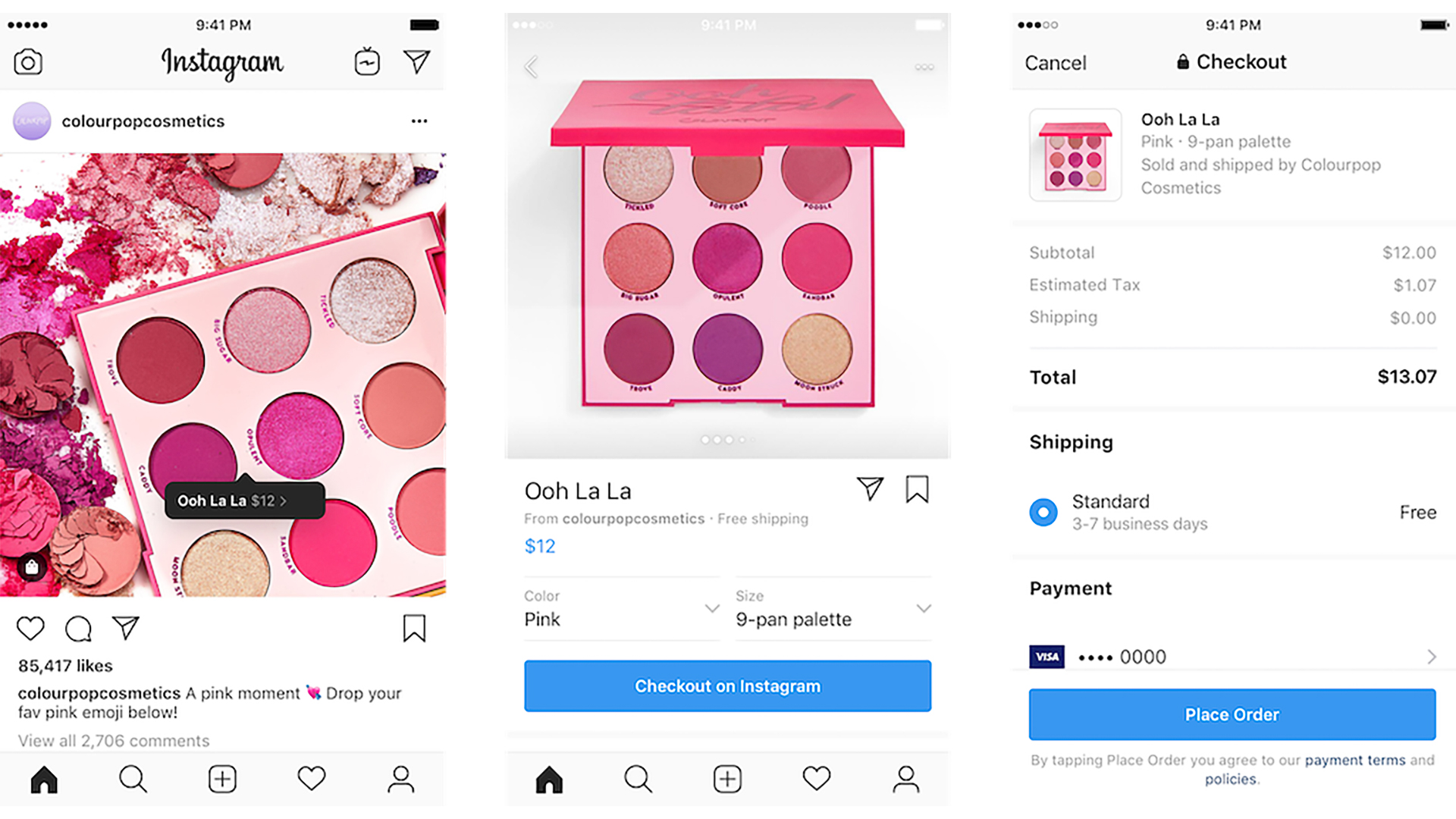 See Why: Kylie Jenner's Social Posts Are Worth Over $1M Each
What Is Instagram Checkout?
With the introduction of Checkout, Instagrammers can stay within the app to make a purchase with secured payment options. Instagram now stores your credit card information within your profile. Shoppers can pay via Visa, Mastercard, American Express, Discover and PayPal. Instagram plans on allowing businesses to integrate with platforms such as Shopify, BigCommerce and other e-commerce companies.
Before the Checkout launch, the product stickers took users through a much longer shopping trip. Users had to exit Instagram and open the retailer's site to buy their wares. Then, shoppers would input their payment options and shipping information. Checkout streamlines this process.
Must Read: Tricks to Curb Your Online Shopping Addiction
Instagram Shopping Made Seamless
Facebook, which owns Instagram, has continually tried to enter the e-commerce space with limited success. With users already following and searching favorite brands, Instagram's transition to the retail space is far more streamlined.
The photo-sharing app has always been a source of inspiration for its users, including channels such as "Beauty," "Style," and "Decor." The graphic aspect of Instagram makes it easy for users to explore and find the products they wish to purchase — and the ones they wish they could purchase.
Learn More: How Retailers Will Have to Adapt to Millennials' Spending Habits
Discovering New Products via Social Media
Shopping features within Instagram have already proven successful with 130 million people using product tags every month. A September 2018 announcement introduced product stickers to Instagram stories, which helps users discover new products used by the style influencers and beauty artists they already follow and love.
It also added a dedicated "Shopping" channel within its "Explore" feature, where users can scroll popular brands.
Find Out: Why Nordstrom and Other Premium Stores Are Beating Discounters Where It Hurts
Nike, Burberry and Other Brands Are Selling Through Instagram
Some of the first brands to announce Checkout integration were Nike, Burberry and Revolve.
Instagram confirmed the following brands will be introduced to Checkout in the following weeks:
Adidas
Anastasia Beverly Hills
Balmain
Burberry
ColourPop
Dior
Huda Beauty
H&M
KKW Beauty
Kylie Cosmetics
MAC Cosmetics
Michael Kors
NARS
Nike
NYX Cosmetics
Oscar de la Renta
Outdoor Voices
Ouai Hair
Prada
Revolve
Uniqlo
Warby Parker
Zara
Check out other companies Facebook has purchased — and how they're doing now.
More on Business
We make money easy. Get weekly email updates, including expert advice to help you Live Richer™.