5 Doughnut Franchises You Can Open

6 min Read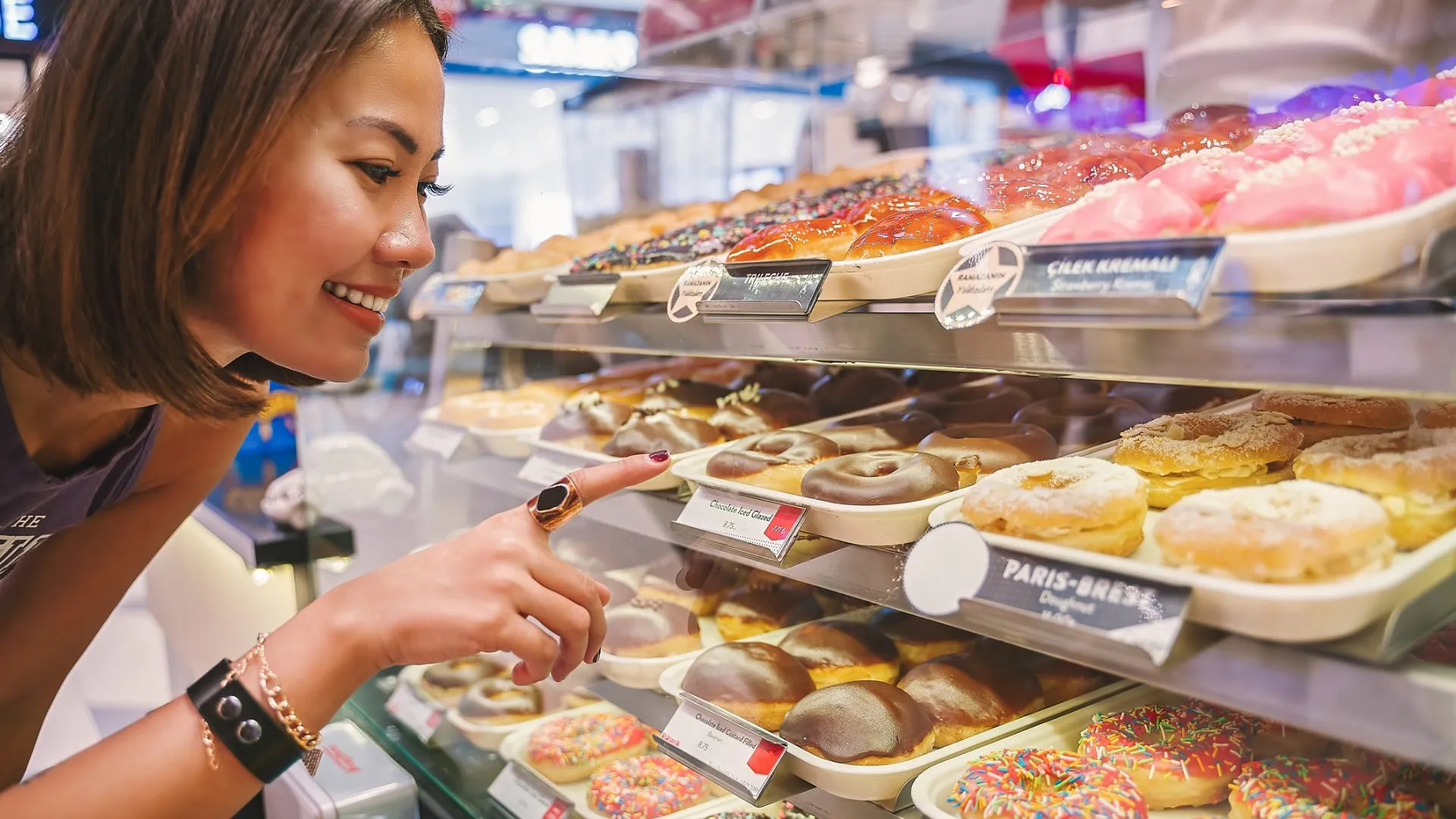 National Doughnut Day falls on June 4, so why not celebrate by stopping at your local shop to grab a doughnut, or better yet, a dozen?
You won't be alone. More than 10 billion doughnuts are made each year in the United States, and, according to Statista, 201 million Americans ate doughnuts in 2020, with the number expected to increase to 207 million in 2024. Doughnut shop revenue is $7.3 billion a year, per research firm IBISWorld.
Maybe you've thought about opening your own shop to grab a piece of the doughnut pie, but it won't come cheap. Between franchise fees and startup costs, you could spend nearly $2 million to open your own location, but doughnut companies look for more than money in the bank when awarding a franchise. Officials also want to see a track record in business — some prefer applicants with food-service experience or prior ownership of a franchise — along with a commitment to running the business full time and an entrepreneurial spirit.
Last Chance: It's Not Too Late To Nominate Your Favorite Small Business To Be Featured on GOBankingRates — Extended to June 5
The advantages of buying a franchise include help getting started, training, advertising, company name recognition and increased purchasing power. But franchisees pay for that. The initial investment varies widely, depending on the location, the brand, market saturation, local construction costs and more. On top of that, many companies charge royalty fees, a percentage of shop sales.
Still, with Americans' love for doughnuts, owning a franchise could pay off. Read on to learn more about franchising at five doughnut chains, both big and small.
Last updated: June 4, 2021
Make Your Money Work Better for You
Dunkin'
Dunkin' dates back to 1948, when William Rosenberg opened the Open Kettle, a restaurant in Quincy, Massachusetts, that sold coffee and doughnuts. Two years later, he renamed the restaurant Dunkin' Donuts, and in 1955, the first franchise opened. In January 2019, the company rebranded to just Dunkin', likely a reflection of the expanded menu offerings that now include breakfast sandwiches, snacks and wraps, bagels, teas and frozen drinks.
Dunkin' has expanded from its New England roots and now has more than 11,300 Dunkin' locations worldwide, including 8,500 restaurants in 41 states. As it grows westward, franchising opportunities exist across a number of states, especially in the Midwest and Sun Belt. In 18 states, mostly in the East, and Washington, D.C, only existing franchisees may open a new restaurant. And it isn't cheap. The estimated initial investment for a new restaurant can range from $109,700 to just over $1.6 million, and that doesn't include the real estate. Cost also depends on the number of restaurants a franchisee takes on, their size, location and more. There's a royalty fee of 5.9% and an ad royalty fee of 5%, Entrepreneur magazine reported. Successful applicants also must have a desire to open multiple units, as well as a minimum of $250,000 in liquid assets and $500,000 in net worth, per unit.
Check Out: Franchises That Could Make You Rich
Krispy Kreme
The first Krispy Kreme opened in July 1937 in Winston-Salem, North Carolina, and the chain has grown to nearly 1,400 retail shops in 33 countries. It calls itself the Home of the Original Glazed Doughnut but has grown its variety to include cake, iced, filled and chocolate doughnuts. To celebrate National Doughnut Day, Krispy Kreme will give each customer a free treat on June 4.
Krispy Kreme doesn't publicly list information regarding franchising costs, but Entrepreneur magazine said the initial investment is a minimum of $275,000 but can run as high as $1.9 million. The cash-on-hand requirement for a franchisee can total as much as $3 million, and franchisees will pay a royalty fee of 4.5% and an ad royalty fee of 1.5%.
See: What These 20 Food Network Stars Did Before They Were Famous
Make Your Money Work Better for You
Honey Dew Donuts
Another New England chain, Honey Dew Donuts has 145 stores and more than 65 "franchise families," as the company calls them. In 2023, Honey Dew will celebrate the 50th anniversary of the opening of its first store. The menu has expanded from donuts to include sandwiches, bagels, pastries, muffins and frozen drinks.
The initial investment in a Honey Dew franchise has a wide range, from $94,000 to $704,000, depending on whether the shop requires new construction or whether it will occupy an existing location in a strip center, for example. The royalty fee is 7% of sales, as well as a 2% fee for marketing.
Find Out: How Much Money You'll Spend on Food in Your Lifetime
Duck Donuts
Duck Donuts opened in Duck, North Carolina, in 2007, the creation of the DiGilio family — vacationers who found their destination lacked fresh doughnuts. Duck Donuts are made to order and served warm, with customers choosing their toppings and icing. Choose anything from a lemon-iced doughnut with powdered sugar to the "Chocolate Covered Banana" doughnut, which is topped with banana icing, mini chocolate chips and chocolate drizzle.
The Duck Donuts website lists the initial franchise fee at $40,000 for a U.S. location, and the company is targeting 250 stores in 25 states. The estimated cost to open a franchise runs between $351,164 and $541,448, depending on the size of the store and the location. Costs include construction, signage, equipment, startup advertising and the franchise fee. In addition, the company requires a franchisee to have at least $150,000 in liquid funds and a minimum total net worth of $500,000.
Discover: The Most Expensive Fast Food Items Only Cost This Much
The Dapper Doughnut
Established in 2015, The Dapper Doughnut is the newest entry on the list. It offers four opportunities for franchising: a full-size retail location, express retail, a food truck or catering. Dapper is known for its hot, fresh mini-doughnuts, but its menu includes a full line of coffees and teas along with soft-serve frozen desserts. There currently are eight locations in the U.S. and Canada.
The initial investment in a Dapper franchise depends on the type you choose. A catering outlet is the least expensive, ranging from $79,700 to $213,500. Investment in a full-service location is $177,000 to $353,000, making it the most expensive option. The company also requires franchisees to have a minimum net worth of $500,000 and at least $250,000 in liquid capital to help cover costs.
More From GOBankingRates
Photo Disclaimer: Please note photos are for representational purposes only.
About the Author