Digital Growth Fuels Bed Bath & Beyond Sales, but Earnings Fall Short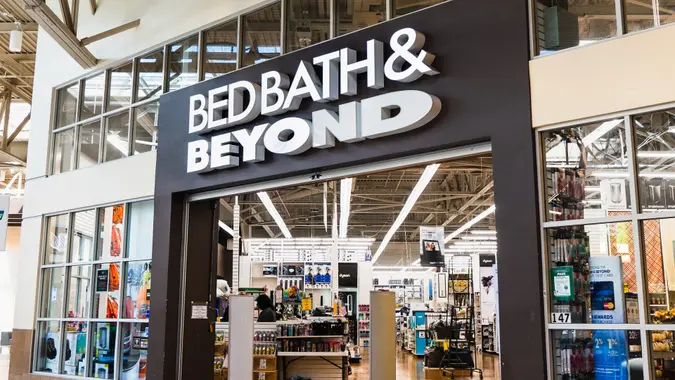 Sundry Photography / Shutterstock.com
Bed Bath & Beyond's sales rose 2% for the fiscal third-quarter, climbing for the second consecutive quarter, the company reported today.
See: Bed Bath & Beyond to Close 200 Stores as the 2020 Retail Apocalypse ContinuesFind: Stores You Love That Soon Might Be Gone Forever
The sales were fueled by digital sales growth, the company said, reflecting the ongoing pandemic trend of increased online shopping. Digital sales grew 77% compared to the previous year.
"We knew this holiday season would be like no other and we took several steps in advance to help our customers shop safely and with ease, including over 100 meaningful improvements to our digital-first, omni-always customer experience and enhancements to our contactless new Store and Curbside Pickup and same day delivery service offerings," Mark Tritton, Bed Bath & Beyond's president and CEO said in a statement.  The company saw an increase of more than 2 million customers in the quarter.
However, shares (NASDAQ: BBBY) tumbled Thursday, after the company reported quarterly sales of $2.6 billion, a decline of 5% from a year earlier, missing Wall Street analysts' expectations. The company also did not provide specific financial guidance, due to the significant COVID-19-related headwinds.
See: 47 CEOs Taking Pay Cuts to Help Their Companies Survive the CoronavirusFind: Walmart and Instacart Team Up to Fight Amazon and 17 More of the Biggest Business Moves of 2020
The company said that the decline is primarily due to the "significant portfolio transformation, including the planned divestitures of non-core banners and store closing activity as part of the company's network optimization initiative." In July, the company announced it would close 43 of its stores by February.
Make Your Money Work Better for You
The company also said it would not provide financial guidance for its fiscal 2020 fourth quarter outlook,  given the significant COVID-related headwinds, "including heavy store traffic declines, major shipping constraints and higher freight costs."
"The company is assuming that its stores will remain open and not be required to close due to government restrictions," according to a statement.
More From GOBankingRates: