How Ikea Keeps Its Prices Low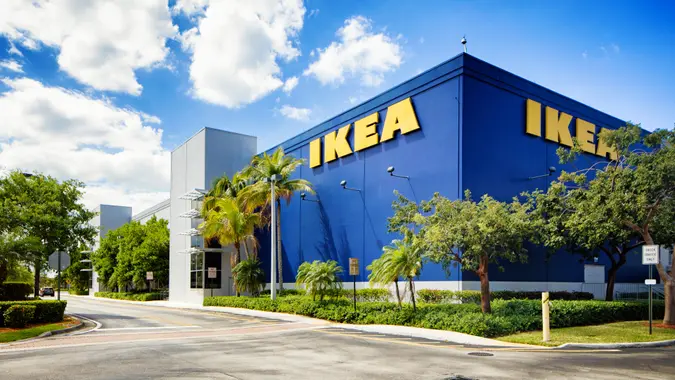 NicolasMcComber / Getty Images
IKEA is more than just a furniture store; it's a cultural phenomenon that has spawned jokes, memes and comedy sketches and become as beloved to furniture shoppers in the U.S. as in the founder's native country of Sweden.
Small Business Spotlight 2022: GOBankingRates Celebrates Small Businesses Across the US
Check Out: 9 Best Dollar Tree Items for Fall 2022
While everyone loves to make fun of the way the Swedish home furnishing company makes you put all of its iconic furniture together yourself, the fact is it's cheaper than a lot of its competitors.
Keeping costs low has been part of IKEA's model since Ingvar Kamprad founded the company in the 1950s (the IKEA name is derived from Ingvar Kamprad's initials plus Elmtaryd, the family farm, and Agunnaryd, the town where he grew up).
The entrepreneur always wanted to do more than just turn a profit, according to IKEA's website, and making products that were affordable for all has been built into the company since the beginning. So how does IKEA keep its prices low?
Make Your Money Work Better for You
Bulk Production
One of the big costs that furniture companies must contend with is the cost of production — the labor and machinery involved do not come cheaply. IKEA keeps its prices to consumers low by producing many of the components in bulk, according to House Digest. Making the process even more efficient: Many parts are used in multiple furniture designs (e.g., you might find the same style of legs on a dining room table and a desk), which enables higher production quantities for cheaper cost.
Take Our Poll: Are You Struggling To Keep Up With Your Utility Bills?
Bulk Purchasing
Making products in bulk means IKEA also purchases materials in bulk, which is the best way to earn a discount in the manufacturing process. Just like you, the consumer, pay less for bulk items at places like Costco or Sam's Club, IKEA gets a cost break for producing in higher quantities, according to House Digest.
Flat Packaging
The very thing that IKEA is known for — DIY assemblage of your furniture — is not just a way to save space in the warehouse but part of a strategic system to save money used by Kamprad when he founded the company, according to IkeaMuseum.com. Kamprad had seen the packaging used by another Swedish company and knew a money-saving (and space-saving) idea when he saw one.
Make Your Money Work Better for You
High Sales Volume
You're not going to find IKEA in very many small towns. That's because IKEA's business model relies on high-volume sales, allowing it to earn the profits that keep the costs low for customers. That's why IKEA stores generally can be found in cities with populations of 500,000 or more where people need to buy furniture frequently — such as people who rent, college students and families.
Price Before Design
While IKEA tries to be innovative in design, it never does so without considering costs. According to QuerySprout, all products are priced before the design is made, keeping the consumer in mind. The price shapes everything from design to materials to how much it will cost to transport the item.
Self-Service
IKEA is a unique experience in more ways than one. As you wander the aisles of products through the show room, you're not likely to encounter any pushy staff trying to get you to buy something, like you might at regular furniture stores. This absence of staff working a hard sell, and an emphasis on self-service, is another way that IKEA saves money on labor costs and passes savings to customers. Occasionally, this can be frustrating if you have a question or a problem finding something, but seasoned IKEA shoppers figure it out soon enough. 
Make Your Money Work Better for You
The Customer Transports the Goods
Another clever way IKEA saves money is by letting consumers pick up and take home their flat-pack items the same day they shop. By shipping fewer items, IKEA saves a significant amount of money and can pass some of those savings on to customers.
Don't Forget the Food
Perhaps the most brilliant idea of IKEA's has nothing to do with furniture at all; it's the food hall, where you can purchase delicious items such as IKEA's famous meatballs, marinated salmon, a variety of pastas, entrees and sweet treats.
According to QuerySprout, IKEA purposely sets prices on food to be the lowest within a 30-mile radius, and it works: IKEA shoppers spend nearly $2 billion on food alone each year. The whole point of selling food is to attract customers, improve their experience and perhaps keep them in the store longer.
More From GOBankingRates
Make Your Money Work Better for You